The Volkswagen ID Buzz concept, an all-electric reinterpretation of the iconic VW Microbus, generated huge enthusiasm and public crowds when it debuted in January at the Detroit auto show.
Today, the company announced its board had officially approved production of the vehicle, a distinctive entry in a growing lineup of electric cars planned for 2020 and later.
The electric bus won't be available for purchase until 2022, two years after the Volkswagen ID compact five-door hatchback arrives in 2020.
DON'T MISS: Volkswagen's 5 electric cars start in 2019: what we know so far
The announcement came in an unlikely venue: the Pebble Beach Concours d'Elegance in California, one of the world's most prestigious automotive events.
Herbert Diess, the chairman of the Volkswagen brand board of management, confirmed production of the electric ID Buzz in a June magazine interview, but today's announcement is formal confirmation that the electric Microbus struck a chord with the public.
Not so long ago, the Volkswagen Bus wouldn't have been allowed on the hallowed grounds of Pebble Beach, though service workers might arrive in one that had to be parked around the back.
Volkswagen I.D. Buzz Concept
Today, the ID Buzz sat proudly on the lawn of the famed golf course. All week, a fleet of historic split-window Microbuses—some immaculately restored, some still used as daily transport after 50 years—have ferried VW executives and journalists around the town of Monterey.
Putting the "21st century Microbus" into production may be "a bold decision," as VW termed it in today's announcement. But it could also give the company a distinctive entry amid what will likely be a growing fleet of long-range five-door electric hatchbacks and sedans from the major automakers of the world.
As Diess noted at a dinner for journalists, the old split-window Microbus with its V-front remains a recognized automotive icon around the world even today.
READ THIS: First high-volume VW electric car must arrive by 2020, CEO says, mostly for China
While the company focused on "Hippies and families in the Sixties, or Surfer Dudes and Van Lifers today" for its announcement, in reality the VW ID Buzz represents a remarkably spacious take on a very different kind of vehicle.
With a battery in the floor, its long wheelbase and short overhangs give it the size, interior volume, and capacity for up to eight passengers and their gear.
That puts it squarely centered in a family segment: minivans in the States, and Multi-Purpose Vehicles (or MPVs) in Europe.
Volkswagen I.D. Buzz concept, 2017 Detroit auto show
Clearly the concept struck a chord. After showing it at auto shows in Detroit and Geneva, Diess said, "we received a large number of letters and emails from customers who said, 'please build this car'."
An interesting part of VW's announcement today is that the future electric bus is a joint venture of the Volkswagen and Volkswagen Commercial Vehicles brands.
Translated, that means both passenger versions and an array of commercial variants will arrive when the vehicle is launched, seven decades after the original Volkswagen Type 2 transporter van.
CHECK OUT: Volkswagen ID Buzz electric Microbus concept at Detroit auto show
"Along with a minibus version, we'll also [offer] an ID Buzz Cargo variant for zero-emissions delivery of goods," said VW Commercial Vehicles CEO Eckhard Scholz.
He noted that planned Level 3 autonomous driving would be ideally suited for emission-free urban delivery of packages and other goods.
Commercial versions will likely range from panel vans to two-seater cargo versions.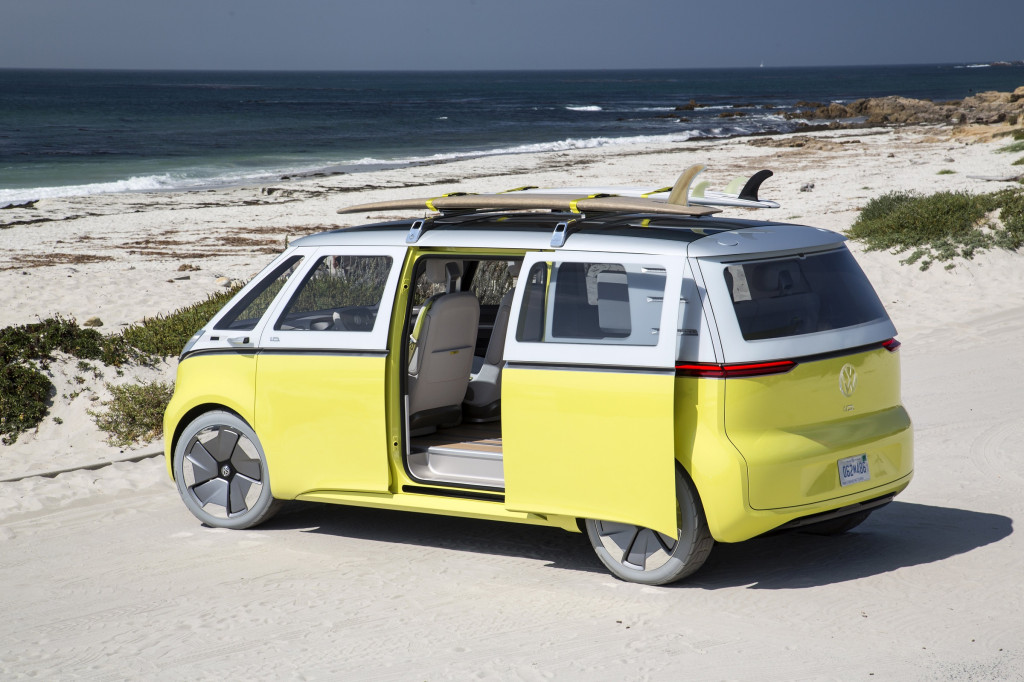 Volkswagen I.D. Buzz Concept
Perhaps there will even be a drop-sided pickup truck to echo the rare and treasured versions used as shop trucks by Volkswagen dealers half a century ago.
An animated 30-second video accompanied the announcement, complete with a hashtag (#TheBusIsBack) that will likely be used for teaser images to stoke interest over the five years before the ID Buzz enters production.
Volkswagen provided airfare, lodging, and meals to enable High Gear Media to bring you this first-person report.
_______________________________________