Which eagerly-anticipated electric car did we finally get to drive this week?
And, how many cars did Tesla Motors actually manage to deliver last year?

This is our look back at the Week In Reverse--right here at Green Car Reports--for the week ending on Friday, January 8, 2016.
First, a note: Regular readers will notice there's no longer a video accompanying this weekly roundup.
Our data showed us that while these articles are popular, few of you who read the articles actually watch the video--only about one in four readers some weeks.
So we're redirecting that budget to other videos, which you'll see in the weeks ahead.
Now, on to the past week--which included the huge Consumer Electronics Show in Las Vegas and several interesting electric cars.
2017 Hyundai Ioniq leaked
Friday, we saw the first real photos of the production 2017 Hyundai Ioniq, the Korean maker's new hybrid vehicle--which will also have plug-in hybrid and all-electric versions.
On Thursday, we published this year's edition of our very popular annual electric motorcycle buyers' guide.
Wednesday was a big day: We showed the production version of the 2017 Chevrolet Bolt EV 200-mile electric car,  which General Motors CEO Mary Barr unveiled at CES in Las Vegas.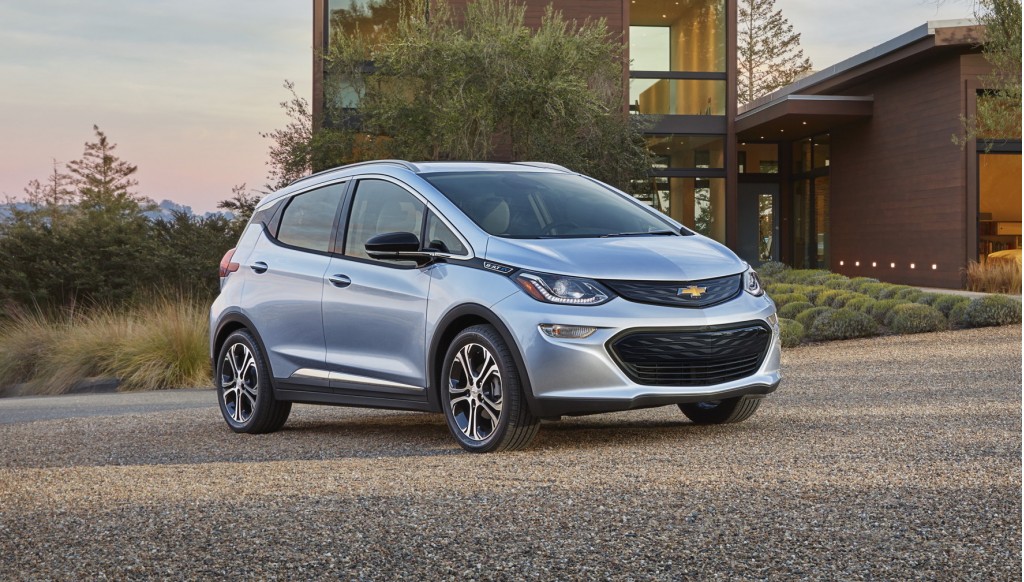 2017 Chevrolet Bolt EV
And, we got to drive a development prototype of the Bolt EV on a limited course.
Our assessment: We are quite impressed, and can't wait to drive the real thing later this year.
That was far from the only electric car at CES, though. We also wrote about the perplexing Faraday Future FFZero1 concept electric supercar.
This was Faraday's big coming-out party, but we still know nothing about what vehicles it intends to build; what customers it hopes to sell them to; whether they'll be bought, shared, or rented; and how it expects to make money.
Faraday Future FFZERO1 Concept, unveiled at 2016 Consumer Electronics Show, Las Vegas
The last unveiling at CES was the Volkswagen Budd-e concept, which was VW's idea of an "affordable, long-range electric" Microbus.
It may go into production later in the decade; in interviews with company executives, we got technical details on VW's new MEB electric-car architecture and battery packs.
We also learned more about the 800-Volt CCS fast-charging VW Group says it will use for its long-range electric cars.
Volkswagen Budd-e Concept
On Tuesday, we released our first drive report on the 2016 Chevrolet Malibu Hybrid, the full-hybrid version of Chevy's impressive new Malibu mid-size sedan.
The new car replaces an unloved predecessor that lasted only three years; the new one is an excellent car, and the hybrid is rated at a striking 47 mpg combined.
Monday, we announced the winner of Green Car Reports' 2016 Best Car To Buy award: the 2016 Chevrolet Volt plug-in hybrid.
Unlike some past winners, there seemed to be broad support among our readers for this choice--with some even calling it the only logical winner.
2016 Chevrolet Volt, Catskill Mountains, NY, Dec 2015
Over the weekend, we covered Tesla's 2015 deliveries of its electric cars, which totaled just over 50,000 vehicles.
Only 208 of those were the new Model X electric crossover utility, but the company says it built more than 500 of them. Deliveries should ramp up over the next few months.
Finally, we published a first-person narrative by reader Jeff Pantukhoff of San Clemente, California, on why he replaced his 2013 Chevy Volt with a 2015 BMW i3 REx.
We'll see you next week. Until then, this has been the Green Car Reports Week in Reverse update.
________________________________________________