It was one of the thorniest issues facing the powerful California Air Resource Board: Did the ability to swap electric-car battery packs qualify for "fast fueling" incentives meant to prod carmakers to build zero-emission vehicles that could add 300 miles of range in no more time than filling the tank of a gasoline car?
Last October, CARB kicked the can down the road, saying it might take a year to decide on the question.
Now the answer has come down, and it has winners and losers.
The big loser is Tesla Motors, the electric-car maker that demonstrated battery swapping for its Model S luxury sedan last June, but never provided further details or explained in detail how its swapping system would work.
MORE: Why Tesla Launched Battery Swapping; Is It Now In Danger?
The winners, on the other hand, are Honda, Hyundai, and Toyota, all of which will qualify for the incentives--via the small numbers of hydrogen fuel-cell vehicles they've said they will sell in those California markets where hydrogen-fueling infrastructure exists.
2015 Hyundai Tucson Fuel Cell at Hyundai headquarters, Fountain Valley, CA
Tesla Motors [NSDQ:TSLA] loses because it had previously been earning extra "ZEV Gold" credits for this fast-fueling ability, increasing its supply of the credits that can be sold to other automakers for cash.
The final proposed changes, posted on CARB's web site, apply to the "famously complex" ZEV-mandate regulations, in the words of ChargedEVs.
The rule requires the ability to add 95 percent of a vehicle's full energy capacity in 15 minutes or less. Maximum credits are awarded to vehicles that can "accumulate at least 190 or 285 miles, respectively, in 15 minutes or less."
In practical terms, that restricts the credits to either electric cars whose entire battery packs can be swapped out for new ones or hydrogen fuel-cell vehicles.
Even the upgraded Tesla Supercharger quick-charging system can't quite hit that bar--so Tesla showed what it claimed was battery swapping on the Model S last summer.
DON'T MISS: Tesla Shows 90-Second Battery Swapping For Model S, Details Rollout Plans
The revised rules issued for public comment on April 3 now require makers of battery-electric cars to provide usage data proving that the batteries are actually being swapped, and how many miles were covered using battery swapping and in total.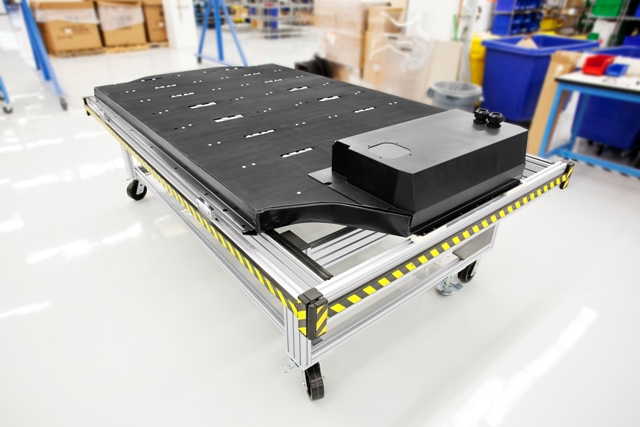 Tesla Motors - Model S lithium-ion battery pack
Fast-refueling credits would then be granted based on the proportion of total miles covered. Makers of hydrogen fuel-cell vehicles, however, would not be required to provide usage data.
One analogy might be the "flex-fuel" capability built into many larger American sedans and light trucks.
EPA corporate average fuel-economy, or CAFE, rules gave extra credits if vehicles could run on E85 ethanol fuel--even though only a tiny fraction of them ever burned even a drop of that fuel, which is not widely available.
Revised EPA rules will require makers of flex-fuel vehicles to show that they're actually operating on non-gasoline fuels before the additional credits can be awarded.
While Tesla had said last year that it expected to equip every Supercharger DC fast-charging location with battery swapping eventually, the company has lately back-pedaled.
2015 Hyundai Tucson Fuel Cell at hydrogen fueling station, Fountain Valley, CA
Earlier this year, CEO Elon Musk said battery swapping would be tested along the San Francisco-to-Los Angeles corridor.
And while Tesla Motors has earned more than $100 million in revenue from the sale of various regulatory credits to other carmakers, it routinely says that it expects such sales to decline--and does not include it in projections of future revenue.
California says it expects to have 100 hydrogen fueling stations open by 2020, at a total cost of $100 million or more.
But hydrogen vehicles on the road that year are widely expected to be only a small fraction of the total number of plug-in electric vehicles, which will likely exceed 1 million by then.
Meanwhile, CARB is accepting public comments on the revised rules through April 18.
_______________________________________________