At six years old, the Volvo C30 has come of age. Popular in Europe as Volvo's safety-conscious answer to the hot hatchback.  


With a range of engine options available, the four-seat hatchback represents Volvo's lightest and smallest car. 

It comes as no surprise then that it is the model chosen by Volvo to be electrified in a three year test program involving 250 vehicles. 

Ahead of the start of the project, Volvo invited us to its headquarters in Gothenburg Sweden to get a sneak peak of its revolutionary vehicle.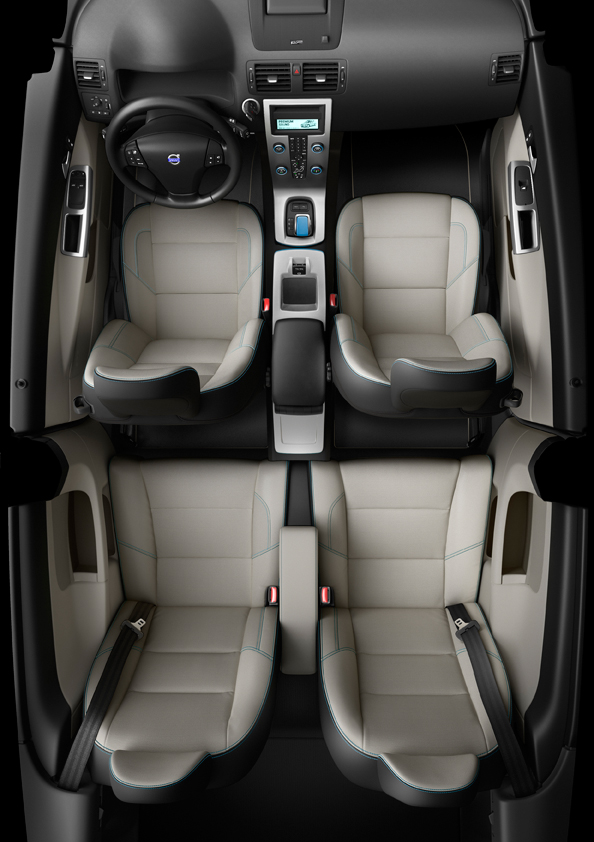 Volvo C30 Electric
Basic Facts
The 2012 Volvo C30 Electric features a front-wheel system driven by an 82 kilowatt (110hp) motor capable of accelerating the car from 0-62 mph in 10.5 seconds. Top speed is a little over 80 mph.
Swiss firm Brusa has provided Volvo with power electronics for the test fleet, controlling the 400V electric drivetrain. Future plans for production vehicles remain undisclosed. 
Power is provided courtesy of a 24 kilowatt-hour EnerDel Lithium-Ion battery pack. In conventional operation, only 22.5 kilowatt-hours of the pack is used.  This gives between 60 and 100 miles of real-world range.
Recharging takes place in around 8 hours, using a 240V, 10A Level 2 charger. 
A final key difference between the C30 Electric and its gasoline counterpart is the redesigned front crumple zone. The absence of a heavy, energy absorbing engine has driven safety-conscious Volvo do develop an entirely new front crumple zone designed to absorb and deflect head-on impacts away from the fragile battery pack. 
The proud display of a crashed C30 Electric at the Detroit Auto Show earlier this year emphasises Volvo's commitment to crash protection in this vehicle. 
Climate Control, Hybrid Heating
Also of note, but worthy of several paragraphs is Volvo's approach to battery thermal management. Since Volvo is a Swedish company used to building cars for cold climates, the C30 features not one, but two climate control systems. 
Using liquid heating and cooling, the C30 Electric ensures that battery, passengers and motor are all at respective optimum temperatures.  Pre-heating of cabin and car are possible when plugged into a mains outlet, but in addition Volvo has designed a hybrid heating system for very cold weather. 
By including a 4 gallon E85 tank and an ethanol-burning heater, Volvo claims the C30 can operate in temperatures up to -22 degrees Fahrenheit (-30 degrees C) without any significant drop in range - provided ethanol is used to help keep the car warm. 
First Impressions
Externally, there is very little to differentiate the C30 Electric from its gasoline and Diesel-powered siblings, aside from the electrical recharge socket embedded in the front grille. 
Internally, the C30's seating arrangement and load space remain unaltered, with room for four adults and a few small bags. 
With three doors, the C30 is not the ideal family car, being suited more to city dwellers needing the occasional use of the backseat. 
Unlike other C30s, the centre console of the C30 Electric extends beyond the front seat passengers into the rear. Underneath it resides the battery pack, which is housed in an area of the car outside of its conventional crumple zones. 
Volvo C30 Electric
Classic Volvo Quality
Admittedly, our time behind the wheel was an agonisingly-short ten minutes, but in that time we were able to familiarise ourselves with the initial character of the car Volvo affectionately calls a "rolling laboratory". 
While Volvo may view its 250-strong test fleet not ready for general consumption, the build quality of the vehicle we drove was far better than some production electric cars we've driven.  
Fit and finish was in line with expectations and everything was in reach. Volvo's signature 'floating' center dash houses conventional radio, telephone and climate controls. Like its internal combustion engined siblings, standard features include dual-zone climate control, heated front seats, cruise control and automatic windscreen wipers. 
Volvo C30 Electric
Simple Displays, No Gimmicks
One of the criticisms many readers have of both the 2011 Nissan LEAF and 2011 Chevrolet Volt is the way in which both vehicles communicate remaining and instantaneous power consumption. 
Instead of representing remaining power as miles remaining, Volvo has chosen a more tangible primary method of determining state-of-charge. 
Just like any gasoline car, the C30 Electric uses an analogue 'fuel' gauge to represent how full the battery is.  A red zone warns drivers when they need to start thinking about refuelling. Go beyond this and at around 6 miles remaining a yellow warning light illuminates, forcing the car into a power restricted 'limp-home' mode. 
Like power remaining, power consumption is dealt with in a similarly familiar way. 
In the place of a tachometer, Volvo uses a power meter to represent instantaneous power drain. Drive smoothly and without too much power demand, and a smaller gauge below the power gauge rewards you by pointing to a green portion on an 'economy' dial. 
While Volvo plans a Human Machine Interface display similar to those found in other cars, its goal is to provide information without being distracting to the driver. As the system is still under development, our test car did not feature this.  
Subtle Differences
Interestingly, the C30 Electric features 550 newly designed components out of 3,500 components found in every C30. 
The parking brake system represents some of the redesigned components.
Due to the large 618lbs of battery pack placed under the center of the C30 there is no room for a conventional parking brake. Instead, an electrically actuated parking brake is in its place, operating a pair of servo operated brakes on the rear wheel. 
Just like many electric cars, the C30 Electric does not use a conventional gearbox. Instead, the faux-automatic shifter moves between Reverse, Neutral and Drive/Highway.  Changing direction requires the car to be stationary with the foot brake depressed, but moving between the two forward modes of Drive and Highway are possible on the move. 
Volvo C30 Electric

Regenerative Brakes, Coasting
Switching between the Drive/Highway operating modes allows the driver to control the amount of engine-simulation regenerative braking applied by the C30. 
Operate the car in Drive mode, and the C30 responds when you lift off the throttle with simulated engine braking. During this time, it applies light regenerative braking to slow the car down. 
But operate in Highway mode, and the car coasts when lifting off the accelerator, providing a way to manually override the regenerative braking to provide a pulse-and-glide driving experience. 
Performance and Handling
Admittedly we weren't able to fully test the C30 in the ten minutes we spent behind the wheel. However, our impression of the 0-62 time certainly seemed inline with the claimed 10.5 second time Volvo cites. 
Pull-away is measured, with Volvo's usual build quality keeping outside noise at a minimum. 
On the heavily gritted and icy roads around our Gothenburg test center the C30's traction control coped admirably with traction found quickly and safely. 
As with the gasoline C30, steering was precise and direct, giving far more driver feedback than the 2011 Nissan LEAF, for example. 
One noticeable difference between gasoline and battery powered C30 is the extra weight present in the C30 Electric.  An overall weight increase of between 450 and 650 lbs helps improve cornering capabilities as well as providing a more grounded ride for passengers on rougher roads. 
Volvo C30 electric car after crash testing, shown at 2011 Detroit Auto Show
No Production Plans Yet 
At the moment Volvo plans to lease the 250 strong test fleet to corporate customers only, with results of the three years test scheme influencing future strategy.
However, with Volvo's impressive V60 Plug-in Hybrid due to debut in a few weeks at the 2011 Geneva Motor Show the company is clearly keen on following a plug-in vehicle line for future years. 
A final point to note however, is Volvo's continued access to Ford's platforms even though Volvo is no-longer owned by Ford. 
Ford's new 2012 flexible Focus platform could provide the perfect platform for Volvo's first production plug-in vehicle. Naturally, Volvo did not comment on the possibility of a shared platform electric vehicle in the future - but we're sure its silence on the subject speaks just as loudly as its C30 test fleet. 
Volvo's C30 Electric illustrates an excellent first attempt at an all-electric vehicle. Obviously we're keen to drive one for a much longer period to fully evaluate the vehicle,  but if our short experience behind the wheel is indicative of the test fleet we're confident the C30 fleet will perform admirably. 
Volvo provided airfare, accommodation and meals to enable HighGearMedia to bring you this review.