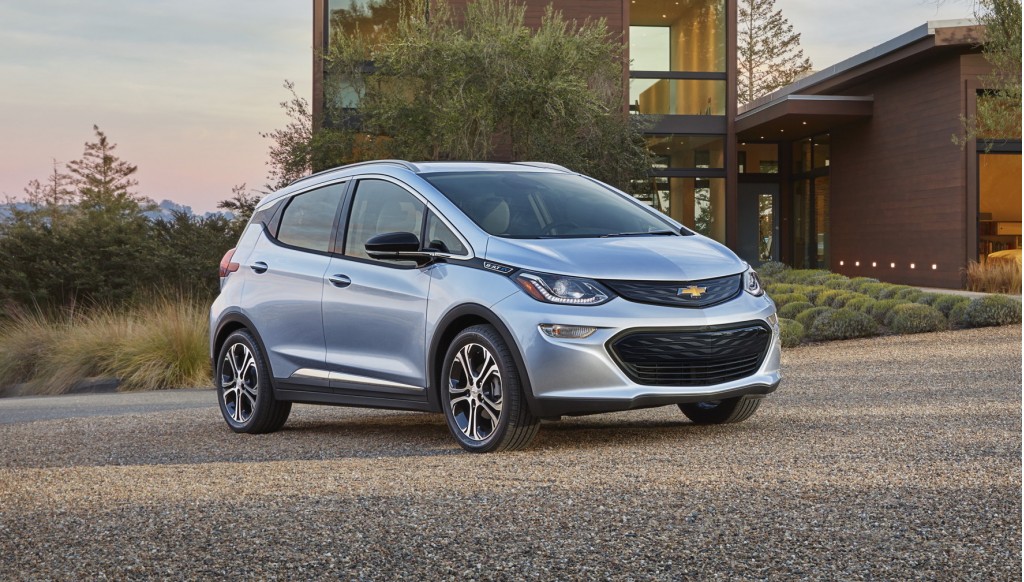 2017 Chevrolet Bolt EV
The 2017 Chevrolet Bolt EV may be the most eagerly awaited electric car since the original Nissan Leaf and Chevy Volt (plus everything Tesla).
Its claimed 200-mile range and pre-incentive price of $37,500 will make it unique if it launches this December as expected.
And there's been much press coverage of whether or not the Bolt EV will compete with the Tesla Model 3--and what that will mean if so.
DON'T MISS: Tesla A 'Fringe Brand': Former GM Product Czar Bob Lutz: Video (Sep 2014)
A mass-market, apple-pie brand like Chevy doesn't appear to be a natural competitor for a tech-forward luxury brand like Tesla.
On the other hand, Chevy Volt buyers aren't like any other Chevy owners in income, location, attitudes, and other characteristics.
They're the kind of buyers the bowtie brand has had great difficulty attracting after 30 years of Japanese-brand incursion into mass-market cars. They're coastal, forward-looking, and often more highly aware of environmental issues.
2014 Chevrolet Spark EV - First Drive, Portland, July 2013
By announcing the Bolt EV with a specific range and price, GM immediately seized the lead and raised the bar in affordable long-range battery-electric cars.
And it put the designers of the Nissan Leaf, BMW i3, Volkswagen e-Golf, and other affordable models with lower ranges on notice that they'd better up their game, quickly.
As for the Tesla Model 3, to be revealed this March, production was originally announced for the "end of 2016" when it was called the Model E.
The latest date is late 2017, and analysts remain skeptical that Tesla can hit that target, given its history of lateness with every previous model.
Tesla factory, Fremont, California
So the Bolt EV will pioneer a category--affordable long-range electric cars--just as the Model S pioneered the first desirable long-range electric cars in 2012.
But beyond competing with a Tesla model whose production date remains fairly uncertain, we think the Bolt EV has a more overarching purpose.
That would be to neutralize Tesla Motors, the first serious startup auto company in the U.S. since just after World War II, which we conclude GM has come to view as a serious threat
ALSO SEE: It's Official: General Motors Now Sees Tesla As A Threat (Jul 2013)
In the auto industry, Tesla was largely dismissed as a sideshow even after its all-electric Roadster struggled into production in 2009.
But that changed when the company showed a Model S body-in-white at the 2011 Detroit Auto Show.
It was swamped with engineers and executives from all over the world, who basically concluded that this was the structure for a real all-electric, high-performance luxury car.
Toyota Motor Corporation president Akio Toyoda, at Tesla stand, 2011 Detroit Auto Show
Eighteen months later, in the summer of 2012, Tesla delivered its first few Model S production cars.
And within nine months, every global carmaker had gotten a chance to drive, test, tear apart, or otherwise spend time with a Model S.
That was when things changed.
CHECK OUT: GM's 200-Mile Bolt EV Mantra: 'For Regular People, Not Elites' (Jun 2015)
The German luxury makers, for example, started to take battery-electric cars far more seriously once Tesla had shown what could be achieved.
In its Warren Technology Center and its Detroit headquarters towers, General Motors convened a panel under then-CEO Dan Akerson to study how much of a threat Tesla posed.
As it worked to strengthen its recovery from the 2009 bankruptcy and government-backed restructuring, the GM of 2013 was working on a second-generation Volt plug-in hybrid--its plug-in halo car.
2016 Chevrolet Volt, first drive in California, July 2015
Sales of the first-generation Volt had not met highly-publicized targets. They also exposed the huge challenges of selling a new kind of Chevy to a very different type of buyer through existing, old-school franchised dealers.
Yet here was Tesla, already starting to eat into sales of the largest luxury sedans from Audi, BMW, and Mercedes-Benz in California, one of their richest markets. Without a single dealer, no less.
"In the old days, they would've said, 'It's a bunch of laptop batteries and don't worry about it and blah, blah, blah,'" GM's then-vice chairman Steve Girsky told Bloomberg at the time.
READ THIS: Why Tesla's Elon Musk Must Sell 6 Million Electric Cars To Make History
GM never officially commented on the results of its study of Tesla, but events, statements, and products in the 30 months that followed paint an interesting picture. 
Here's the timeline.
June 2013: GM's then-CEO Dan Akerson assigns "a small team to study [Tesla] and how it might threaten the 104-year-old automaker's business," according to Girsky.
September 2013: The market capitalization of Tesla Motors [NSDQ:TSLA] hits 43 percent of the value of General Motors [NYSE:GM].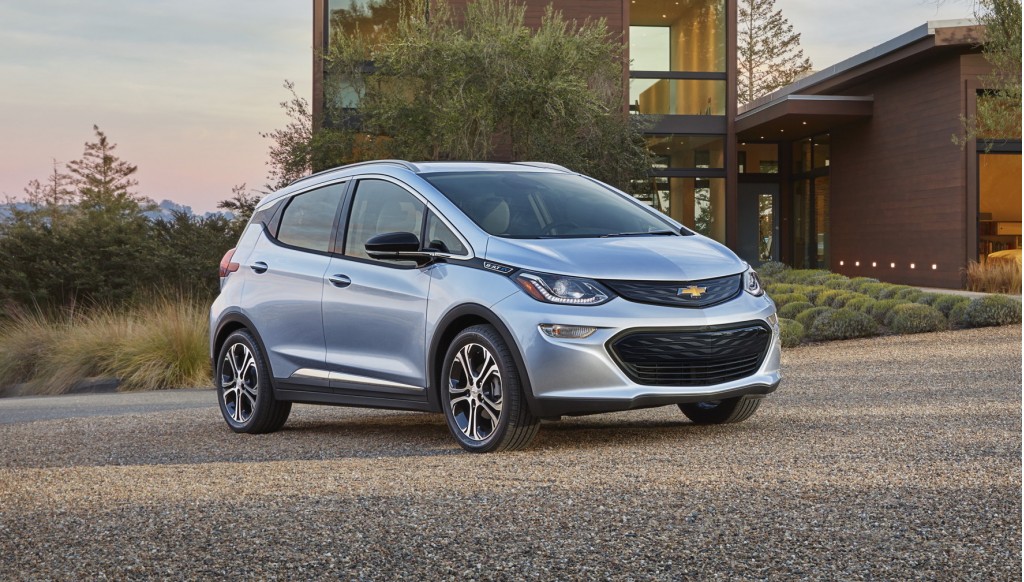 2017 Chevrolet Bolt EV
September 2013: The Wall Street Journal reports that GM is developing a $30,000 battery-electric car with a 200-mile range. (Tesla CEO Elon Musk responds, "Am happy to hear that GM plans to develop an affordable 200 mile range electric car. Right target. Hope others do same.")
January 2014: Financial analysts hit the airwaves discussing whether or not General Motors should buy Tesla outright--and whether it could even afford to do so.
July 2014: Rumors emerge that GM's 200-mile electric vehicle will be an adaptation of the current Chevy Sonic subcompact. (While the Sonic and the Bolt EV will both be built at the Orion Township assembly plant, they share only a few components under the skin, according to Bolt EV team members interviewed earlier this month.)
September 2014: GM's former product czar, Bob Lutz, says Tesla is destined to remain a "fringe brand" until it actually launches its Model 3, in an interview on CNBC.
Chevrolet Bolt Concept - 2015 Detroit Auto Show live photos
January 2015: GM CEO Mary Barra unveils not only the 2016 second-generation Chevrolet Volt but also the Chevy Bolt Concept at the Detroit Auto Show. The Bolt was intended to be a last-minute surprise, but a high-ranking executive who spilled the beans ruined Barra's "Steve Jobs moment."
April 2015: GM's legislative affairs group testifies against a bill permitting direct sales of Tesla cars in Maryland, despite support for the bill from lobbyists for Maryland's franchised car dealers. The bill's sponsor, Delegate Kirill Reznik, described GM's actions this way: "And then GM showed up, and as I like to put it, pulled the pin on the grenade and threw it."
GM CEO Mary Barra and Chevy Bolt EV electric car image at 2016 Chevrolet Cruze launch, Jun 2015
June 2015: GM CEO Mary Barra says the Bolt EV electric car is "for regular people, not for the elites," while launching the 2016 Chevrolet Cruze compact sedan. GM's executive chief engineer for electric vehicles, Pam Fletcher, said GM will make "electric cars approachable to the all, not just the elite," in a media session earlier the same day.
September 2015: Tesla CEO Elon Musk announces that the Tesla Model 3 will be unveiled in March 2016, with production to begin in "about two years." Analysts remain skeptical about the new date.
October 2015: GM's product chief Mark Reuss reveals that Chevy partnered deeply with LG Chem to get the Bolt EV designed, engineered, tested, and validated on such an aggressive schedule. LG Chem designed, engineered, and tested the battery system, several other electromechanical components, and the infotainment module; Reuss calls the collaboration "unprecedented."
Mark Reuss discusses GM-LG Chem partnership on Bolt EV electric car [photo: Jeffrey Sauger for GM]
November 2015: Lutz does another round of media interviews, including laying out Tesla's continuing history of losses. The resulting headlines ask, "Is Tesla Doomed?" (Lutz noted, correctly, that CEO Elon Musk has said the company won't be profitable under Generally Accepted Accounting Principles until 2020 or later--more than 15 years after its founding.)
January 2016: GM CEO Mary Barra introduces the production 2017 Chevrolet Bolt EV at the Consumer Electronics Show in Las Vegas, and takes a swipe at Tesla's sales model. "Unlike some EV customers," she says, "Bolt EV customers never have to worry about driving to another state to buy... service... or support their vehicle."
December 2016 (projected): The earliest Chevy Bolt EV production cars are delivered to the first buyers, most likely in California--possibly on December 5, 20 years to the day after GM delivered its first EV1 electric car.
1996 General Motors EV1
What does this timeline tell us?
We'd argue that it indicates an intensifying program of private and public actions by GM to counter Tesla directly, neutralize its competitive advantages, and attempt to force Tesla into a franchised-dealer model under a "level playing field" rationale.
The Bolt EV is likely to do well among current electric-car owners, and it's necessary for GM to meet California's zero-emission vehicle sales goals, which start to rise sharply in 2018.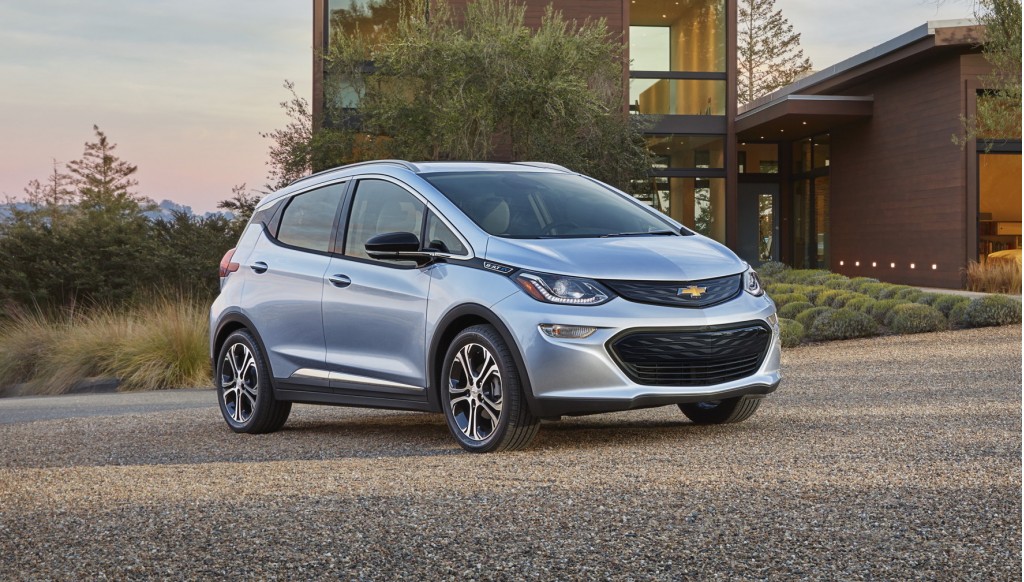 2017 Chevrolet Bolt EV
But sales of the Bolt EV, or profits on the car, may not be the main point. Unlike Tesla, GM is sufficiently profitable that it can afford to lose money even on the marginal costs of the Bolt EV, let alone the fully amortized costs.
There's a strong historical precedent for that: Toyota is wide accepted to have lost money throughout the first generation of its Prius hybrid, and into the second generation as well, before it started to break even.
2001 Toyota Prius Sedan
Tesla Motors will have to raise considerably more capital than it has now before it can start any kind of Model 3 production in volume. Ramping the car to Musk's promised 500,000 units a year will almost surely happen only after 2020.
From California, CEO Musk graciously welcomed GM to the market, suggesting that Chevy's entry will expand the overall market.
But in Detroit, GM may see the market for electric cars as less expansive or slower to develop--and view it as more of a zero-sum game.
If that's the case, GM doesn't need to compete with the Model S.
2016 Tesla Model S
But the Bolt EV sits in the heart of the mass-market electric-car segment (however large it may be), matches the announced specs of the Model 3--if not its brand or likely design--and can be priced at essentially whatever GM wants.
And that could bleed Tesla in its plans for making money in the higher-volume segment.
We also think GM has concluded that Tesla's lack of franchised dealers is a strong competitive advantage.
Tesla's Stores and direct-sales model let the Tesla control the buyer experience and education, which existing franchised dealers are poorly prepared to offer.
Tesla Store Los Angeles [photo: Misha Bruk / MBH Architects]
They also eliminate third-party profit from everything from unnecessary undercoating to points added into car loans, which irritate informed consumers.
We think GM has decided that Tesla's Model 3 plans--however long they may take to get it into production--pose a direct threat to GM's own plans to be the largest U.S. producer of plug-in cars.
Hence the fast development, aggressive pricing, and generous publicity around the Bolt EV.
Let the games continue.
_______________________________________