Lithium-ion battery cells are expensive, challenging, and time-consuming to develop. And they can be hard to get right, as the current woes of A123 Systems show.
Even the large car companies that develop their own cells--Toyota is the largest among a small number--want to spread their costs.
Today BMW announced that it would collaborate with Toyota on research into future cells, and the two companies had already begun that research.
Specifically, the companies are investigating new materials for the electrodes (anode and cathode) and the electrolyte through which ions pass to deliver electricity from the cell.
The cells will likely be used in future electric cars, plug-in hybrids, and other low- or zero-emission vehicles.
The announcement extends an agreement, signed last December by Toyota Motor Corp. and BMW Group, for the two companies to collaborate on future "environment-friendly" vehicles and technologies.
At that time, BMW said it would supply 1.6-liter and 2.0-liter diesel engines to Toyota, starting in 2014, presumably for use in Toyota and/or Lexus vehicles to be sold in Europe.
That agreement is similar to one in which Mercedes-Benz will supply diesel engines to Nissan, for its Nissan and/or Infiniti vehicles, and will build four-cylinder engines in the U.S. together at a Nissan plant. That collaboration goes far deeper, however, and extends to shared platforms for small vehicles.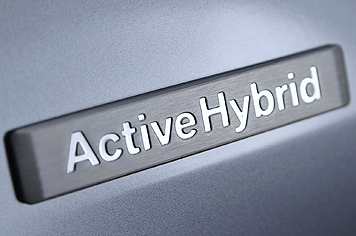 BMW ActiveHybrid logo
Toyota, Japan's largest automaker and the second largest car company in the world, is moving away from its historical isolation and go-it-alone stance.
Under new CEO Akio Toyoda, it has negotiated a number of joint ventures and cooperative development deals with a variety of other carmakers. In the past two years, it has:
This latest agreement marks the third lithium-ion cell partner for BMW.
The cells for the battery pack in its 2010 BMW ActiveHybrid 7 came from the French-American partnership JCI-Saft, and the cells in its 2012 ActiveHybrid 5 and 2013 ActiveHybrid 3 come from A123 Systems.
+++++++++++