The surprise partnership between Tesla Motors and Toyota announced two weeks ago generated a lot of head-scratching. The big question is, What does Toyota get out of the deal?
It's easy to see what Tesla gets:
more capital (Toyota will invest $50 million in Tesla just before its planned public offering);
a nearby auto factory (NUMMI in Fremont, California) in which to build its 2012 Model S electric sports sedan;
access to Toyota's undeniably world-class production engineering; and
access to Toyota's array of global platforms, components, and supply chains
Tesla Motors and Toyota logos
2010 Toyota Prius
Tesla Model S Sedan
prototype 2012 Toyota Prius Plug-In Hybrid, April 2010
#WIN: Tesla
In other words: Tesla gets access (at least in theory) to many of the elements it desperately needs to become a volume carmaker.
But Toyota is known for developing technologies in-house, as it did with the Hybrid Synergy Drive system that cemented its position as the leader in hybrid-electric cars. And its only investments in existing car brands have been Asian (Subaru and Daihatsu, to name two).
So why'd Toyota do it? Here's our list of possibilities, some subjective handicapping, and the risks for each:
(1) BUZZ: It's positive PR to counter Nissan (likelihood: 40 percent)
The electric 2011 Nissan Leaf has been a smash success in the U.S. and Japan. The first year's production was completely spoken for just weeks after it went on sale. That must gall Toyota, which prides itself on technology leadership and sells far more cars than Nissan.
After waves of lousy PR during the sudden-acceleration crisis, including CEO Akio Toyoda being hauled in to testify before the U.S. Congress, Toyota desperately needs to point to something positive.
And if there's one thing Tesla has, it's positive buzz. Anyone who drives the all-electric 2010 Tesla Roadster comes away a convert. Plus CEO Elon Musk couldn't be more unlike the faceless, grey-suited salarymen who wield the true power.
THE RISK: Elon Musk's ego, and his tendency to say things that aren't necessarily quite true.
(2) SHAKEUP: CEO Toyoda wants to make a point (likelihood: 30 percent)
Purely because it's so un-Toyota, this deal got a lot of press. And the muttering and speculation has continued. Hey, you're reading this article, right?
Remember that CEO Toyoda is relatively new in his position. All new CEOs need to put their stamp on the companies they run, to make it clear they mean business.
This deal probably couldn't have been imagined by the folks who used to run the show. It clearly draws a line in the sand. It's a signal that, as they say, attention must be paid.
THE RISK: Nothing comes of it and Toyota quietly has sever its ties or, perhaps worse, Tesla fails--publicly and spectacularly.
Tesla Motors and Toyota logos
(3) FEAR: Toyota has lost its technological mojo (likelihood: 30 percent)
The 2010 Toyota Prius was evolutionary, rather than revolutionary. It fixed the most glaring problems of the 2004-2009 Prius and incrementally improved power, gas mileage, and features. It's also probably profitable for the company, at last.
But Toyota has admitted it bet on the wrong lithium-ion cell chemistry for the 2010 Prius. So while it was meant to have a lithium-ion battery pack, it had to be released with the same old nickel-metal-hydride technology the company had used since 1997.
With Toyota's dysfunctional management communications laid bare by the acceleration recall catastrophe that broke last fall, Toyota may fear it has gotten complacent, sclerotic, and uncompetitive. Buying in Tesla engineering might let it leapfrog other makers.
THE RISK: Its cars may be bland, but Toyota engineering is tried and true. Is Tesla's? There's no track record, so no one knows.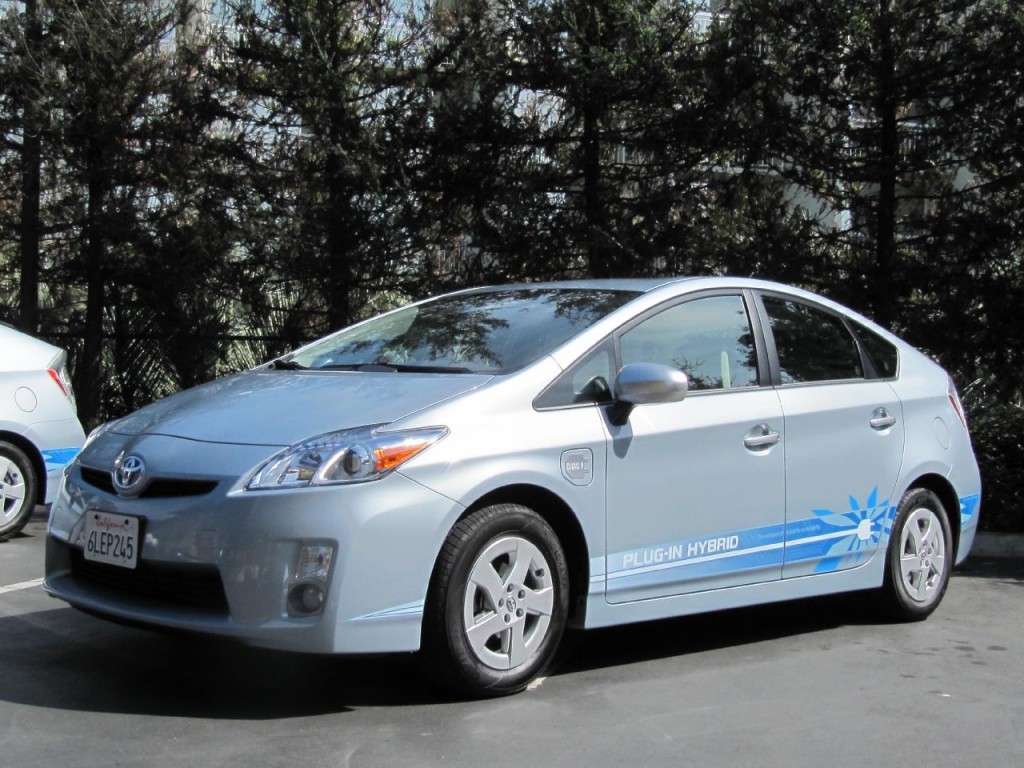 prototype 2012 Toyota Prius Plug-In Hybrid, April 2010
2009 Lexus LS 600h L
2010 Lexus HS 250h
(4) EVOLUTION: Toyota's hybrid may be a dead end (likelihood: 30 percent)
The 2010 Toyota Prius is the third generation of the iconic hybrid-electric vehicle. And Toyota has publicly committed to offering a hybrid version of every one of its major model lines over the next several years.
But some believe hybrids are an evolutionary dead end.  Within 10 years, they say, hybrids will be bypassed by simpler extended-range fully electric vehicles (like the 2011 Chevrolet Volt) with highly specialized range extenders.
THE RISK: Low, since Toyota is investing very little.
(5) PRESTIGE: The Lexus brand needs help (likelihood: 25 percent)
Analyst Aaron Bragman of IHS Global Insight raises another possibility: Toyota wants Tesla to add prestige to its Lexus luxury line, whose hybrids aren't doing well--and haven't earned anything like the prestige of its iconic Prius.
"Wouldn't Tesla make an interesting luxury green brand for Toyota, since the Lexus hybrids aren't doing so well (the RX aside)?" he asks. "It leaves Lexus to be the premium traditional luxury, and Tesla to be the hybrid/electric luxury alternative."
Like any other venture-funded startup, Tesla is likely destined to be bought. "I've been predicting for years," says Bragman, "that this is Tesla's endgame"--though he admits he expected it to be prior investor Daimler, not Toyota.
THE RISK: Tesla cars in Lexus dealerships would add pizzaz, but is there really technology behind the buzz?
Eagle-eyed readers will have noticed that our percentages add up to more than 100 percent. We think this deal has more than one reason for happening. But will it change everything for electric cars?
Nope. The deal may help Tesla survive, and it could help Toyota move faster in launching EVs than it otherwise would have.
But with "real" electric cars from real automakers landing in dealerships within the year, the world is changing pretty fast anyway.