As any experienced journalist knows, you hear lots of good stuff in the corridors and private conversations of any large industry event where media are present.
That applies to auto shows too.
Which is how we came to hear an intriguing rumor about the possible production direction of the next-generation Volkswagen Beetle.
DON'T MISS: VW ID: more details of all-electric concept car at Paris Motor Show
Our source for this story knows who he is, but out of professional courtesy, we've kept his name out of this article.
Here's the background.
At the Paris Motor Show media preview that wrapped up a week ago today, Volkswagen unveiled its I.D. Concept for a Golf-sized electric car with 200 or more miles of range.
Volkswagen I.D. electric car concept, 2016 Paris auto show
A production version of that car, to be built on a dedicated "MEB architecture" for electric cars, will launch in 2020, the company said.
Like the similarly-sized MQB architecture for transverse-engine vehicles, the MEB platform is likely to underpin a considerable number of vehicles after that.
It's likely that the I.D. will emerge as its own dedicated model, but its platform might also be used underneath electric versions of existing nameplates.
ALSO SEE: Was Paris a tipping point for electric cars? We mull it over
One of the notable, and somewhat unexpected, features of the Volkswagen I.D. was its single rear-mounted electric motor.
That's a layout that is presently shared by only five other electric cars: the tiny and aging Mitsubishi i-MiEV, the high-tech BMW i3, in both battery-electric and range-extended versions, the Smart Electric Drive family, and the Tesla Roadster and Model S.
So what other well-known Volkswagen had a motor mounted in the rear?
1960 Volkswagen Beetle from the Jerry Seinfeld collection - Image via Gooding & Company
The answer to that is actually a trick, because the answer is, "All of them until the late 1960s."
But the best-known is obviously the Volkswagen Beetle, the world's best-selling car from the early 1970s until many generations of Toyota Corolla trumped it in the late 1990s.
A whole host of other vehicles, most notably the Type 2 Microbus and the Type 3 Squareback and Fastback, used related air-cooled and rear-engine designs.
CHECK OUT: 1967 Volkswagen Beetle 'eBug' electric car first drive
Today's VW Beetle is actually the second generation of a revived version, launched in 2012 to replace the "New Beetle" introduced in 1998.
Industry insiders say the current Beetle is due to be replaced for the 2019 model year.
As of April, however, suggestions emerged that perhaps a replacement would be delayed or even canceled due to the escalating costs of the Volkswagen diesel scandal.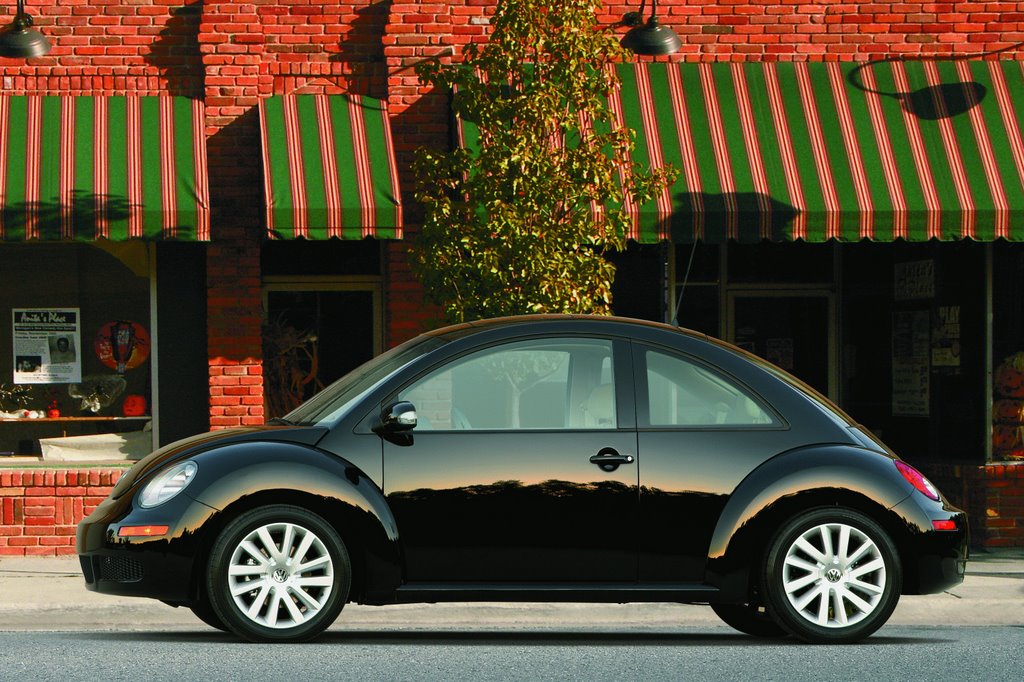 2009 Volkswagen New Beetle
That doesn't appear to be the case, we hear, since the Beetle is an iconic car for Volkswagen—and carries with it a lot of good feelings among car buyers that the VW brand could likely use over the next few years.
Instead, right now, our source said, VW Group's product planners are having energetic discussion about what underpinnings to build it on.
It was widely assumed that the next Beetle would sit on the MQB architecture that underlies the Golf, the European version of the Passat, the upcoming three-row crossover utility to be built in Tennessee, and the Audi A3, among other VW Group vehicles.
But now, our source tells us, VW product planners are strongly considering switching the next Beetle to all-electric power, putting it on the MEB platform instead.
The decision hasn't been made yet, we gather, but the two approaches are said to be in strong contention.
1967 Volkswagen Beetle 'eBug' electric-car conversion, owned by Richard Hugo [photo: David Noland]
Not only would that buff up the image of the Beetle as friendly (to the environment as well as for owners), but it would return it to its rear-engine roots.
Should any decision emerge, we'll keep you posted.
_______________________________________