It had to happen sooner or later: a fire in a Tesla Model S.
And indeed, as first covered by Jalopnik, Tuesday's fire in one example of the luxury electric sedan outside Seattle, Washington, generated a remarkable amount of media coverage.
Tesla Motors [NSDQ:TSLA] issued a statement on the accident yesterday:
Yesterday, a Model S collided with a large metallic object in the middle of the road, causing significant damage to the vehicle. The car's alert system signaled a problem and instructed the driver to pull over safely, which he did. No one was injured, and the sole occupant had sufficient time to exit the vehicle safely and call the authorities.
Subsequently, a fire caused by the substantial damage sustained during the collision was contained to the front of the vehicle thanks to the design and construction of the vehicle and battery pack. All indications are that the fire never entered the interior cabin of the car. It was extinguished on-site by the fire department.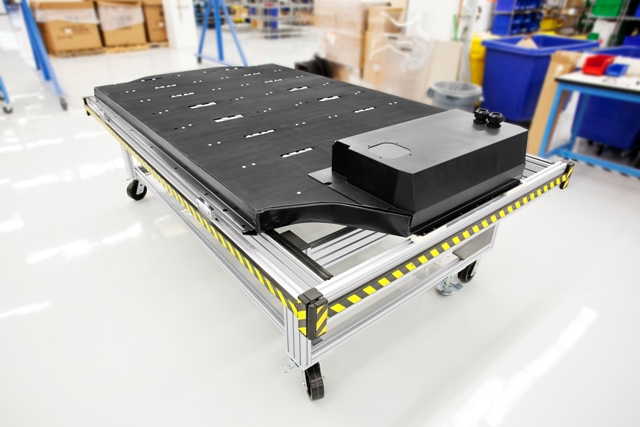 Tesla Motors - Model S lithium-ion battery pack
The Regional Fire Authority of Kent, Washington, issued a report on the incident, obtained yesterday by the International Business Times.
That document indicated that the car's lithium-ion battery pack was on fire when firefighters arrived, and that spraying water on it had little effect.
When the firefighters switched to dry chemical extinguisher, they could suppress the fire--but they had to puncture numerous holes into the battery pack to extinguish it completely.
The lithium-ion battery pack of the Tesla Model S sits under the car's floorpan, stretching the width of the car and essentially from axle to axle.
A 2011 fire that occurred in in the battery pack of a wrecked Chevrolet Volt several days after the car had been crashed in a NHTSA test generated enormous media coverage and even a Congressional hearing.
The cause was later determined to be that wrecking-yard personnel had not de-energized the battery pack, which is the standard safety procedure for any wrecked car with a high-voltage battery.
The NHTSA later issued a report saying the Volt was as safe as any other car, and "no discernible defect existed" in the range-extended electric car.
Chevrolet also offered an optional upgrade to the battery pack to avert fluid leakage; few Volt owners took advantage of it.
Meanwhile, Tesla stock fell from $193 on Tuesday to $180 yesterday amidst coverage of the fire.
Deutsche Bank analyst Dan Galves issued a report suggesting that the fire didn't change the company's fundamentals as an investment opportunity.
_______________________________________________