The Trump Administration has had a challenging start on numerous fronts, but its work to slash emission rules and eliminate regulations continues.
The EPA administrator, climate-science denier Scott Pruitt, has said he isn't "currently" planning to target California's ability to set its own emission rules.
In March, the agency reopened comments on the 2022-2025 vehicle emission rules that it had finalized under the Obama administration.
DON'T MISS: Automakers seek deal to delay EPA's 2022-2025 emission rules
That commenting process continues, and it remains unclear whether the EPA emission limits will be altered, delayed, or eliminated altogether.
The agency has to make those decisions based on scientific evidence, and environmental groups will clearly be watching closely for any signs that process has been affected by political considerations.
Meanwhile, the NHTSA has not yet set the corporate average fuel economy rules that cover the same period—which must correspond to the EPA's emission rules for carbon dioxide.
EPA administrator Scott Pruitt [photo from 2014]
Automakers have sought to delay both sets of regulations, arguing that the rising popularity of crossover SUVs has challenged the assumptions about vehicle mix under which the rules were projected in 2010 and 2012.
But states have been doing their own planning to counter any rollbacks or delays in the linked fuel-economy and emission rules.
Two weeks ago, New York state attorney general Eric Schneiderman announced that a coalition of 14 state attorneys general and the Pennsylvania department of environmental protection will fight any such attempts.
READ THIS: Bill to give more CAFE credits to light-truck makers introduced in Congress
The group said it had sent a letter to EPA administrator Pruitt warning him that it would take legal action if the agency "attempts to weaken air pollution standards set for passenger cars and light-duty trucks for model years 2022 to 2025."
It noted that the agency had approved the 2022-2025 standards only after a rigorous review process that produced a Technical Assessment Report hundreds of pages long documenting the costs, benefits, and models used for the decision.
That report concluded that automakers had successfully met emission standards for model years 2012 through 2017 at a lower cost than originally projected, using more conventional technologies like multispeed automatic transmissions and less costly electrification than expected.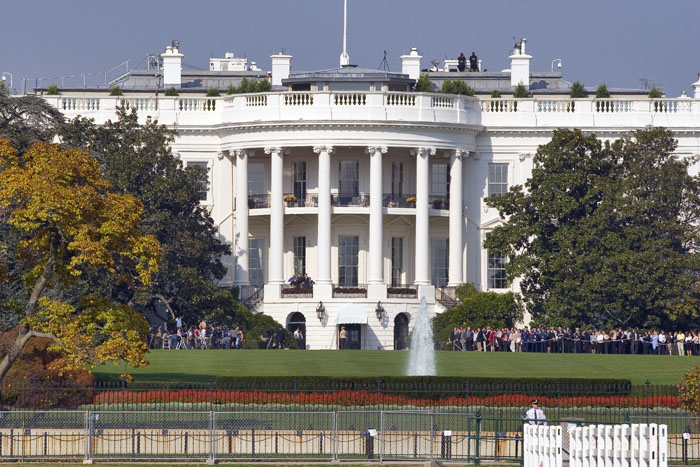 The White House, Washington, D.C. [Creative Commons license by dcjohn]
Over the lifetimes of the vehicles sold during the 2017-2025 model years, the standards are expected to cut greenhouse-gas emissions by 2 billion metric tons—equivalent to the annual emissions of 422 million cars currently on the road—and save approximately 4 billion barrels of oil.
The public, meanwhile, appears to be largely skeptical of plans to roll back fuel-economy standards—and that's true even in the heart of carmaking states.
CHECK OUT: Trump EPA backs away from attacking California emission waiver
According to a survey conducted for the Natural Resources Defense Council, 67 percent of Michigan residents and 64 percent of Missouri residents support fuel-efficiency standards that increase vehicle mileage from today's 25 mpg to 40 mpg by 2025—even after hearing the arguments made by groups seeking to loosen those rules.
The percentage of residents in those states who told surveyors they want the standards lowered is low: 21 percent of Michiganders, and 22 percent of Missourians.
Green Car Reports respectfully reminds its readers that the scientific validity of climate change is not a topic for debate in our comments. We ask that any comments by climate-change denialists be flagged for moderation. Thank you in advance for helping us keep our comments on topic, civil, respectful, family-friendly, and fact-based.
[hat tip: Dave Cooke]
_______________________________________