These do not appear to be the best of times for President Donald J. Trump, but his agenda of eliminating regulations and promoting fossil fuels continues to roll out.
This week, Trump appeared at the EPA to sign an executive order that directed the agency to reopen and reassess its Clean Power Plan for reducing carbon emissions from generating electricity in each state.
The event was sparsely attended and, as reported by The Washington Post, some agency employees wore buttons saying "Scientific Integrity" as a silent protest.
DON'T MISS: Trump Administration goal: undo every climate-change effort
Meanwhile, Politico reports that the U.S. Department of Energy has banned use of the words "climate change" by its Office of International Climate and Clean Energy.
DoE employees fear that's the prelude to a wholesale reorganization of the department to eliminate large portions of its scientific research under new head Rick Perry, formerly governor of the fossil-fuel-producing state of Texas.
But back to the EPA, where employee morale is at rock-bottom, according to a letter from agency climate scientist Michael Kravitz, sent to The New York Times and published at potentially great risk to his career.
Flower developed by Toyota to offset emissions from its Prius facility
"Our standard weekly newsletter now contains articles mainly about flower shows and photo contests," he writes, "rather than articles about environmental protection."
"I hope the nightmare ends soon," Kravitz concludes.
Assuming that doesn't suddenly happen, how might Trump's eradication of Obama's climate-change legacy play out?
As the Brookings Institute, a progressive think-tank, pointed out in an analysis, an executive order cannot directly overturn a regulation.
So the EPA must technically reopen its investigation and issue a new finding on whether the Clean Power Plan should be changed or repealed.
The agency is now run by administrator Scott Pruitt, a climate-science denier who sued the agency he now runs more than a dozen times to prevent it from enforcing emission rules while he was attorney general of the fossil-fuel-producing state of Oklahoma.
Oklahoma attorney general Scott Pruitt, 2014
Virtually every analyst assumes that the agency will, one way or another, issue a finding that the Clean Power Plan should be repealed.
But, as Brookings noted, "the EPA is currently legally obligated to regulate CO2."
"Since the Supreme Court has ruled that CO2 is a pollutant under the Clean Air Act, if EPA chooses not to regulate CO2, it will be sued."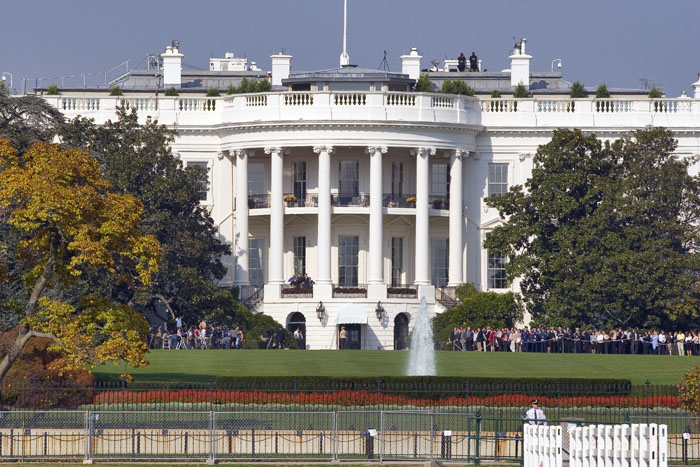 The White House, Washington, D.C. [Creative Commons license by dcjohn]
Thus whenever the EPA completes its rethink and issues its recommendations, it will almost surely be challenged in court by California and a group of Northeast states.
Those states, through their legislatures and attorneys general, have indicated they support climate science and intend to fight to preserve action to lower emissions of climate-change gases, primarily carbon dioxide and methane.
How that will go remains to be seen, but it is likely to take at least a couple of years.
However, the executive order also contains several actions that can be implemented in a relatively short period of time:
Reversing Obama's moratorium on new coal mining leases on federal lands;
Removing the consideration of greenhouse gases from permit reviews under the National Environmental Policy Act;
Formally abandoning Obama's roadmap on how to achieve U.S. emissions reductions
Eliminating a tool for cost-benefit analysis in regulatory review called the "Social Cost of Carbon"
But, the Brookings analysis concluded, "Removing and replacing the Clean Power Plan would entail a long, arduous process, and Trump's path is fraught with obstacles."
President Donald Trump (Photo courtesy Gage Skidmore/Wikimedia Commons)
It draws a parallel between the failure of the American Health Care Act—which couldn't satisfy both political moderates and the absolutists who wanted nothing less than a full repeal of the Affordable Care Act—and the challenges faced by the Trump administration in the all-but-impossible task of "bringing back coal" while continuing support for politically popular clean energy.
Data from the U.S. Department of Energy analyzed by the Sierra Club, an environmental advocacy group, shows that clean-energy manufacturing, installation, and service, including energy-efficiency efforts, employs far more people in the U.S. than does fossil-fuel extraction, refining, and transportation.
But fossil-fuel companies and their lobbyists are strongly supported throughout the highest levels of the new administration, so their interests will clearly be paramount in its policy efforts henceforth.
Re-engagement by states will be crucial to keeping U.S. climate-change efforts from slowing considerably, the Brookings analysis concludes.
The damage to the reputation of the U.S. and its respect for science, however, remains a different and equally challenging matter.
Green Car Reports respectfully reminds its readers that the scientific validity of climate change is not a topic for debate in our comments. We ask that any comments that deny the accepted scientific consensus on climate change be flagged for moderation. Thank you in advance for helping us keep our comments on topic, civil, respectful, family-friendly, and fact-based.
_______________________________________