While Panasonic had already agreed to help Tesla construct and operate its huge Nevada "gigafactory" for electric-car batteries, the scope of that commitment is now becoming apparent.
The company's CEO now says it will invest tens of billions of yen--10 billion yen is equal to about $92 million--in the massive $5 billion project.
MORE: Tesla, Panasonic Sign Gigafactory Pact; Nevada Site Work Already Underway?
This big investment will only be the start, The Wall Street Journal reports.
At the recent CEATAC show in Chiba, Japan--near Tokyo--Panasonic chief executive Kazuhiro Tsuga said the company will follow it up by "pouring in further installments of similar amounts."
Panasonic--which also owns a portion of Tesla--has also formed a company in the U.S. to oversee production of batteries at the gigafactory.
The plant's primary purpose is to produce batteries for the Tesla Model 3 electric car, scheduled to go into volume production in 2018.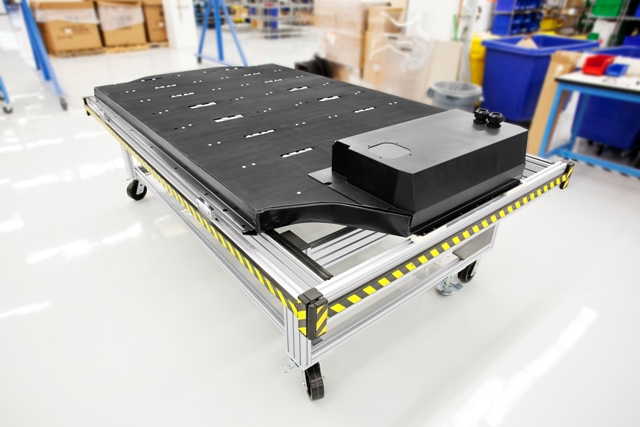 Tesla Motors - Model S lithium-ion battery pack
The financing commitment fleshes out an agreement between Tesla and Panasonic announced in July, which will see the two companies work together to build the factory.
Tesla will manage the plant itself, while Panasonic will supply lithium-ion cells and investment in equipment needed for manufacturing.
DON'T MISS: Tesla's Battery Gigafactory May Achieve Nirvana: $100 Per Kilowatt-Hour, Report Says
Precursor materials, including raw lithium, will come from a network of supplier partners.
In a call with investors in July, Tesla CEO Elon Musk said he expected Panasonic to cover 30 to 40 percent of the factory's total cost, estimated at around $5 billion. Tesla will contribute about half the total.
Until the gigafactory is fully operational, Panasonic will continue to supply batteries for the Model S--as well as the upcoming Model X crossover--from its Asian plants, as it has so far.
2014 Tesla Model S

The projected cell demand is sufficiently high that Tesla will also continue to buy cells built at those existing plants in Japan.

Predicted to be the largest cell plant of its kind in the world, the project's massive scale is expected tolower the price of batteries, allowing Tesla to sell the Model 3 for around $35,000--and potentially achieve the magic number of $100 per kilowatt-hour.

That is viewed by many as the price at which electric cars will be able to compete directly with internal combustion on price, which would be the milestone at which electric cars could soar in sales.

_______________________________________________