Now it's official: Panasonic and Tesla Motors will build the "gigafactory," a huge lithium-ion cell fabrication and battery-pack production facility in the western United States.
Today Tesla will report its second-quarter earnings after the market closes, and CEO Elon Musk was bound to face questions about the progress of the massive plant.
Right on cue, at 12:30 am Pacific time this morning, the company issued a press release announcing that a formal agreement between the electric-car maker and the battery supplier had been signed.
MUST SEE: Riding The Harley-Davidson LiveWire Electric Motorcycle: News Video
News that the two companies had reached an agreement leaked out earlier this week, via a report in Nikkei Asian Review.
The so-called gigafactory would be the largest lithium-ion cell fabrication plant in the world. It's required to support Tesla's plans for greatly expanded electric-car production.
Project Tiger site at USA Parkway Business Park, Reno--for Tesla gigafactory? [photo: Bob Tregilus]
Tesla to manage plant
"Tesla will prepare, provide, and manage the land, buildings and utilities," according to the announcement.
"Panasonic will manufacture and supply cylindrical lithium-ion cells and invest in the associated equipment, machinery, and other manufacturing tools based on their mutual approval."
READ: Decoding Toyota's Electric-Car Disdain: A Role For Fuel Cells
Precursor materials, including raw lithium, will be provided--presumably from sources both domestic and overseas--by a network of supplier partners.
Tesla will use the cells produced at the gigafactory, along with other components also built there, to produce battery modules and packs for use in its future Model III electric car.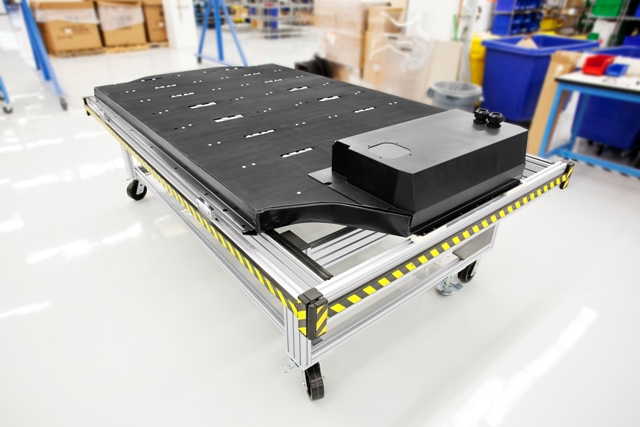 Tesla Motors - Model S lithium-ion battery pack
Roughly half the factory will be devoted to cell production by Panasonic, with the other half occupied by suppliers and module and battery-pack assembly.
The projected cell demand is sufficiently high, however, that Tesla will also continue to buy cells built at Panasonic's existing plants in Japan.
The batteries built by the gigafactory will largely be dedicated to the Model III, now scheduled to go into volume production during 2018. But the release also says some of that  production will be intended for the stationary storage market.
"The Gigafactory is planned to produce 35GWh of cells and 50GWh of packs per year by 2020," the announcement concludes. "Tesla projects that the Gigafactory will employ about 6,500 people by 2020."
Recent earthmoving at USA Parkway Business Park, Reno--for Tesla gigafactory? [photo: Bob Tregilus]
Earthmoving underway?
This morning's announcement says nothing about the location of the Tesla gigafactory, for which four states are competing: Arizona, Nevada, New Mexico, and Texas. Ultimately, Musk has said there may be more than one gigafactory required to meet its cell volume needs.
But it seems increasingly likely that construction on a gigafactory site in Nevada has already begun.
Located at 2641 Portofino Drive in the USA Parkway Business Park off Interstate 80 east of Reno, it's apparently known as the Tiger Project.
Project Tiger site at USA Parkway Business Park, Reno--for Tesla gigafactory? [photo: Bob Tregilus]
That location had earlier been identified as the gigafactory site in a post last week on Transport Evolved by local writer Bob Tregilus, who provided photos of earthmoving underway at the Business Park.
According to Reno resident Joey Deligatti, all workers involved--including the heavy-equipment operators--have been required to sign confidentiality agreements,
The entire project is fenced and guarded, and it appears that the area of the site and the volume of dirt being moved--140,000 cubic yards--match the gigafactory dimensions given earlier this year by Tesla.
_______________________________________________