Many among the Detroit auto media were skeptical of Tesla Motors for years, correctly noting just how hard it is to start a car company and build a genuinely appealing product--electric car or not.
But as Tesla continues to sell Model S electric luxury sedans, expanding into Europe and China as well as North America, some of those skeptics seem to be coming around.
MORE: Tesla Gigafactory Faces Skepticism From Panasonic, Analysts
Most recently, John McElroy, a strong proponent of natural-gas vehicles, suggests that Tesla is not in fact only a car company, but an energy-storage enterprise.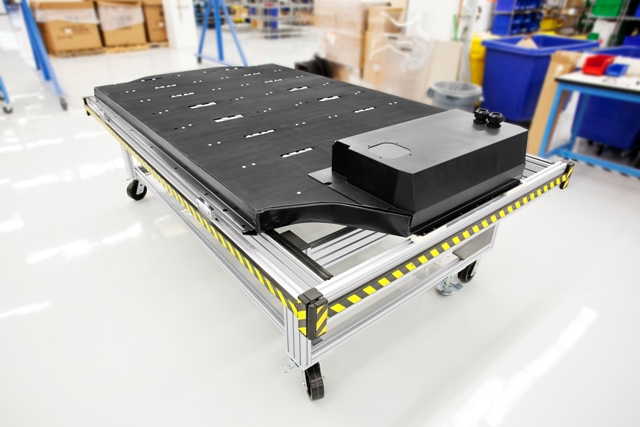 Tesla Motors - Model S lithium-ion battery pack
Tesla too pricey to buy?
McElroy's recent article in Ward's Auto, Who Does Tesla Want To Buy?, suggests that the company's soaring stock price has made it too pricey for either Daimler or Toyota to buy outright. Each company now owns a small stake in Tesla Motors [NSDQ:TSLA].
Instead, he says, while Tesla's proposed gigafactory would allow it to "make and sell batteries for its own electric cars...it also plans to sell battery packs to electric utilities and others."
We suspect that the gigafactory may end up as a joint effort among not only Tesla and its cell partner Panasonic, plus raw-material suppliers for batteries, but also Musk's Solar City or another entity that's closer to the static energy-storage field.
DON'T MISS: Tesla's Lithium-Ion Battery Gigafactory: What You Need To Know
(The gigafactory could even conceivably be its own separate company, jointly owned by these partners--perhaps with the opportunity for a stock offering down the road. But that's a different story.)
Solar Panels by Flickr user Chandra Marsono
Batteries to store renewable energy
Still, McElroy correctly identifies the fundamental synergy between the interests of electric-car makers and electric utilities.
Under pressure to reduce the carbon footprint of their generating grids, utilities are experimenting with what's called "grid storage": construction of ways to store and buffer irregular and unpredictable generation of renewable energy source, largely wind (which comes mostly during the low-demand nighttime) and solar (often interrupted by clouds).
MORE: Electric Utilities Now Fighting Home Solar As Threat To Their Business
One of the most promising storage methods is simply a climate-controlled bunker filled with racks of the same large-format lithium-ion cells in the modules used in most plug-in electric cars today.
Tesla uses thousands of smaller format cells, but the modules inside its pack could serve the same purpose.
2014 Nissan Leaf
Nissan, A123 cells too
Tesla is far from the only company likely to enter this business. Already, batteries from both the cell supplier for the Nissan Leaf--the world's highest-volume electric car--and the cell company A123 Systems are being used for grid storage too.
NEC, the Japanese computer giant that partnered with Nissan to form Automotive Energy Supply Corporation (AESC), which supplies Leaf cells, recently bought the grid-storage portion of A123, known as A123 Energy Solutions.
The unit has now been renamed NEC Energy Solutions.
NEC is developing both a utility-scale system that will be tested in Italy and residential systems targeting Japanese households. Other cell makers have similar efforts underway to target utility storage markets.
No more power plants?
Back in Detroit, McElroy's new enthusiasm for batteries leads him to suggest that battery-based grid storage "would mean the U. S. would almost never have to build a new electric generating station again."
We think it may be a while before that scenario comes to pass.
But the future of electric cars and renewable energy seem likely to be far more closely linked than many people appreciate today.
_______________________________________________