Elon Musk, CEO of startup electric-car maker Tesla Motors, is no doubt used to skepticism.
Now he faces new doubts over the company's plans for a massive "gigafactory" costing as much as $5 billion to manufacture more lithium-ion cells than any other plant in the world.
DON'T MISS: Tesla's Lithium-Ion Battery Gigafactory: What You Need To Know
2014 Tesla Model S
Having mostly convinced disbelieving analysts, journalists, and industry colleagues that Tesla can at least design, engineer, build, and sell good-looking high-performance all-electric luxury sedans, Musk may not pay a lot of attention to "You can't" noises from critics.
Panasonic: large risk
But even Tesla's lithium-ion cell supplier Panasonic--which owns a small share of the company--hasn't yet committed to participating in the gigafactory plan.
Bloomberg noted last week that the Japanese electronics giant's president, Kazuhiro Tsuga, told reporters the project would pose an "investment risk [that] is definitely larger" than the company prefers.
Panasonic prefers to "make investments step by step," he said, adding that he "would like to cooperate" with Musk's plans. He also noted that Panasonic's battery production "depends" on Tesla sales, which it monitors closely.
Tsuga's comments may reflect the slow pace of building consensus for such a major investment on Panasonic's part.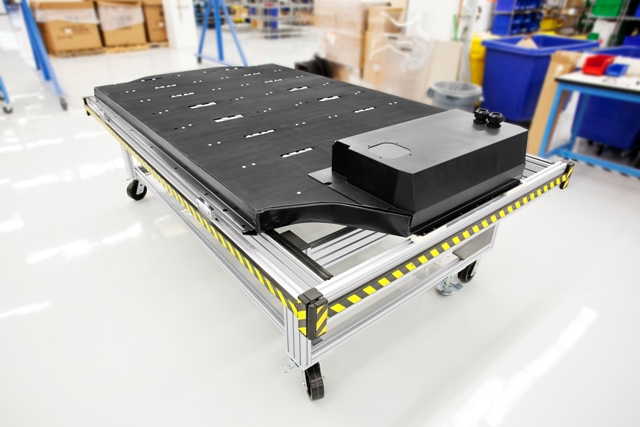 Tesla Motors - Model S lithium-ion battery pack
VW, Daimler perplexed
But it is hardly the only voice saying the gigafactory plan could be too large, and too much for Tesla to bite off.
An article yesterday in The Wall Street Journal quoted Harald Kroeger, the head of Daimler's electric-vehicle efforts, who noted that the gigafactory plan had "some huge disadvantages" to go along with its benefits.
(Daimler, which makes Mercedes-Benz and Smart cars, owns a small stake in Tesla Motors too, as does Toyota.)
And Volkswagen CEO Martin Winterkorn said he didn't "quite get it," noting that VW would not consider opening its own battery plant, as it had enough suppliers for its needs.
Slide showing candidate states for Tesla Motors gigafactory, from Feb 2014 presentation
Few details
Musk announced a handful of high-level details about the proposed plant, which could be the world's largest single factory, in late February.
The need is clear: Even at a production rate of about 25,000 cars a year, Tesla used one-third of the world's electric-car batteries.
To scale up to 100,000 Model S sedans and Model X crossovers by 2016, he needs to quadruple that supply--which Panasonic and Tesla together expect to happen.
But if the company starts production of its next model, a lower-cost sedan often dubbed the "Model E," it will need multiples of its current battery supply.
And to hit the target price of $35,000 or less for the new car, which is expected to offer at least 200 miles of rated range, Tesla will need every bit of the 30-percent cost reduction it says it can achieve with the gigafactory.
Tesla Store Los Angeles [photo: Misha Bruk / MBH Architects]
Can Tesla sell 500,000 cars?
In the end, as investment journal Barron's notes, the gigafactory will only pay off if Tesla can reliably sell half a million cars a year.
(The Barron's article also noted that Tesla has not responded to any of its inquiries since Musk hung up on its reporter a year ago.)
If Tesla can sell that many cars by 2020, it is likely to become one of the top three plug-in electric car makers in the world--along with Nissan and General Motors.
Meanwhile, rivals say they will keep pace with its cost reductions--although they are likely banking on far lower volumes of electric-car sales that Musk and Tesla anticipate.
More details are likely to emerge about the Tesla gigafactory, perhaps including a site selection. The candidates are Arizona, Nevada, New Mexico, and Texas, each of which putting together incentives to offer to Tesla.
But the financing will have to come together--from some combination of Tesla, Panasonic, and their suppliers--for Musk's plans to move forward in earnest. Stay tuned.
_______________________________________________