We love it when people send us photos. Especially photos of things that manufacturers aren't necessarily keeping front and center for the cameras.
The photo here is a "range extender" that Nissan uses to keep its 2011 Leaf electric cars fully charged for media events. The picture was taken (by a journalist who doesn't work for High Gear Media) at a recent North American Car of the Year drive event in Michigan.
The white box is a 440-Volt Hasetec quick charger connected to a portable generator powered by diesel fuel. It provides high-voltage electricity that recharges a Leaf's 24-kilowatt-hour lithium-ion battery pack to 80 percent capacity in roughly 30 minutes.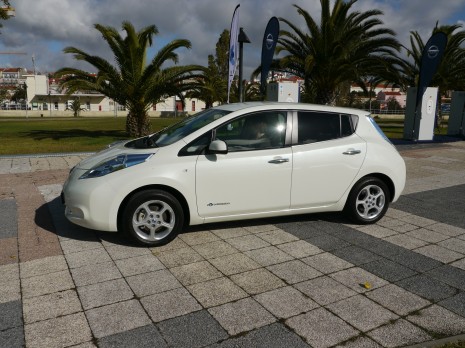 2011 Nissan Leaf
Rumor would have it that the company has a pair of these trucks that it uses at its Tenessee headquarters to recharge its fleet of Leafs there.
During our recent 2011 Nissan Leaf first drive review, we saw only 240-Volt chargers in their garage, though we'll admit we didn't look too hard.
Hasetec is a Yokohama-based company that's one of several Japanese makers of high-voltage charging systems using the ChaDeMo domestic Japanese 440-Volt quick-charge standard.
In March, Nissan itself said it plans to install a network of 200 of its own branded and less-expensive quick chargers in Japan, providing coverage within a 25-mile radius of each location that will cover virtually all of the country's populated areas.
Nissan's aggressive production plans for the Leaf--50,000 per year in 2011 and 2012, up to 250,000 starting in 2013--may make ChaDeMo a de facto quick-charge standard despite international groups not yet having settled on technical specifications for a single global standard.
A ChaDeMo quick-charge socket can be fitted to the 2011 Nissan Leaf SL as a $700 option. Our editor Marty Padgett commented in our recent 2011 Nissan Leaf roundtable that he really wants a home version of a 440-Volt quick charger.
Unless his local residential grid supports some serious power consumption, a diesel generator like the Hasetech one may be his only option. And we rather suspect his neighbors wouldn't like to have one of these parked in his driveway.
Sorry, Marty.