Pretty much everyone loves renewable energy. The problem is that wind usually blows at night--often sporadically, at that--and solar power is unpredictable. Suppose the secret to harnessing their potential was ... used electric-car batteries?
GM said today that it would work with ABB Group to develop and implement pilot projects that would test several different ways of reusing battery packs from the 2011 Chevrolet Volt range-extended electric car. ABB is the world's largest supplier of power grid systems, with many offerings in power and automation technologies.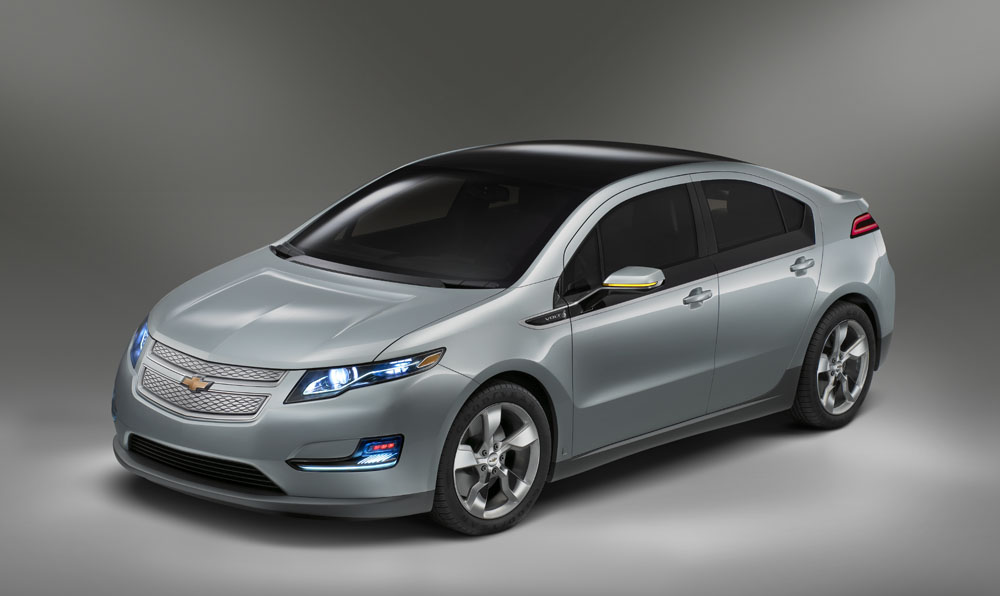 2011 Chevrolet Volt
Volt Battery Pack
From Chevies to stationary storage
Specifically, GM and ABB will study whether used batteries can "provide stationary electric grid storage systems" once they're removed from customer cars. The study was announced at the EV Battery Tech conference being held in Troy, Michigan.
The average life of a car is 10 years or more, but even after a Volt has reached the end of its usable life, its lithium-ion battery pack will still have the ability to hold energy. Not as much energy as the 16 kilowatt-hours it held when new, perhaps, but enough to make it worth saving.
So the question becomes: What can you do with old electric-car batteries to get more usage out of them? The GM-ABB team will study four different possibilities:
Renewable Energy Storage: Wind and solar power could be stored between the time it's generated and the time demand is highest.
Grid Load Management: Storing energy generated during off-peak hours and feeding it back into the grid when demand is highest would make the distribution grid more reliable. Utilities are one of the few industries that essentially cannot store its product at all, except by pumping water uphill--and it's hard to get permission for dams these days.
Community Back-Up Power: Local energy storage would offer a reserve of power that could be used during blackouts, whether caused by accidents, storms, or other kinds of natural disasters.
Time-of-Use Management: Commercial power users could store cheaper, off-peak energy on premises to help meet peak demands at periods when rates are at their highest.
Buffering energy within the national power grid improves its reliability, and being able to store renewable energy  Both improve the efficiency of the grid; the question is whether such a solution would be cost-effective. Enter the study.
If any of these applications prove plausible, the benefits are not only economic but environmental. Peak power is often generated at the dirtiest facilities, so any ability to store off-peak power and use it to buffer peak demand may prevent diesel generators or other peak facilities from activating.
"Future smart grids will incorporate a larger proportion of renewable energy sources," said ABB's head of its smart-grids initiative, Bazmi Husain. "We are excited to explore ... employing electric car batteries in a second use that could help build needed storage capacity and provide far-reaching economic and environmental benefits."
On the other hand...
Some have suggested that electric utilities would buy used electric-car batteries, rack them, and use them to store renewables. The study will no doubt prototype this solution.
We've heard skepticism--from Southern California Edison's Ed Kjaer, among others--at the idea that a utility would be willing to engage in the hassle of inspecting, pricing, and buying a stream of used batteries of different ages and sizes, from different carmakers, using different control software, with utterly unknown usage histories.
2011 Chevrolet Volt
Instead, he suggested, electric utilities may find energy-storage facilities made up of thousands of brand-new lithium cells stored in climate-controlled bunkers more appealing. If current tests prove practical, large cell orders from utilities could bring quicker economies of scale to the nascent automotive battery business.
Your very own home power station?
A more likely scenario, in Kjaer's view, is pairing a used battery pack with photovoltaic solar cells, to provide a home energy generation and storage system. Not only could the home store energy beyond the power it consumed, but with the advent of smart meters and variable power pricing, it could remove itself from the grid and power itself when peak electricity rates got too pricey.
It might even feed power back to the grid, known as reverse metering, when the electric utility most wanted additional generation capability. The benefits to utilities overall could be enormous. But that's a different article.
[General Motors]