The world of cars powered by hydrogen fuel cells is still small and low-volume, but Korean maker Hyundai unveiled its production entry into that group on Monday.
The sprawling Consumer Electronics Show is increasingly a showcase for advanced-technology and zero-emission vehicles, and the Korean maker used it to show its production-ready hydrogen SUV ahead of next week's Detroit auto show.
The 2019 Hyundai Nexo is the first dedicated hydrogen vehicle that's an SUV; the various Honda and Toyota models that preceded it have all been four-door sedans.
DON'T MISS: Hyundai FE Fuel Cell Concept previews hydrogen-powered SUV coming in 2018
The Nexo will go on sale in limited markets later this year, and it sits on underpinnings designed from the ground up around its hydrogen fuel-cell powertrain.
For a compact to mid-size SUV, the Nexo has relatively sedate specifications: its motor is rated at 120 kilowatts (160 horsepower) and 291 pound-feet of torque.
Hyundai quotes a 0-to-60-mph acceleration time of 9.5 seconds.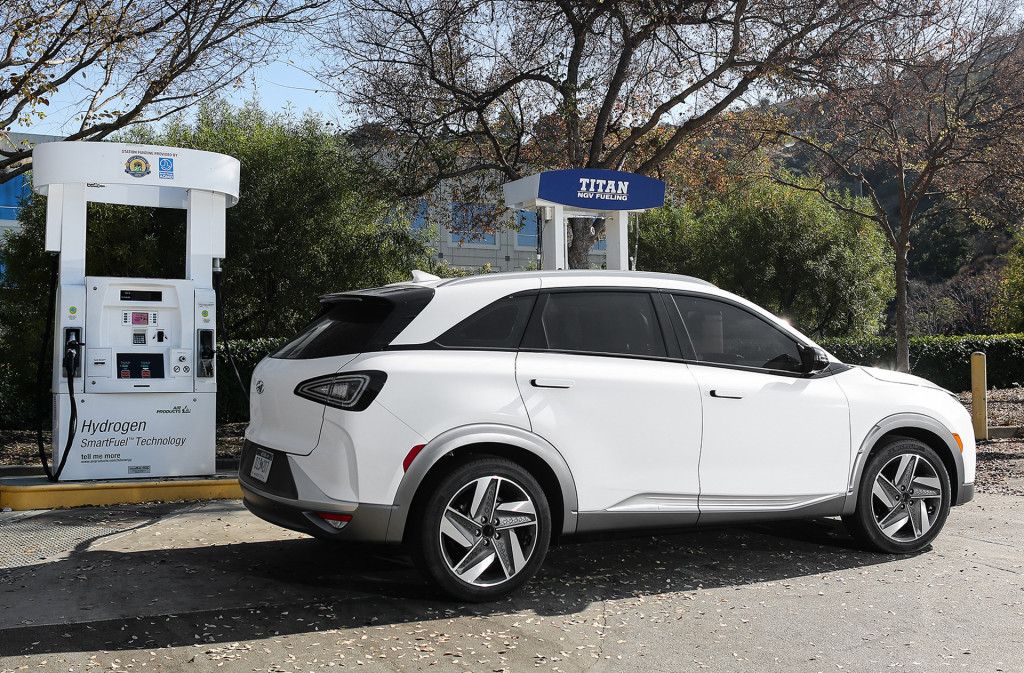 Hyundai Nexo
Hyundai Nexo
Hyundai Nexo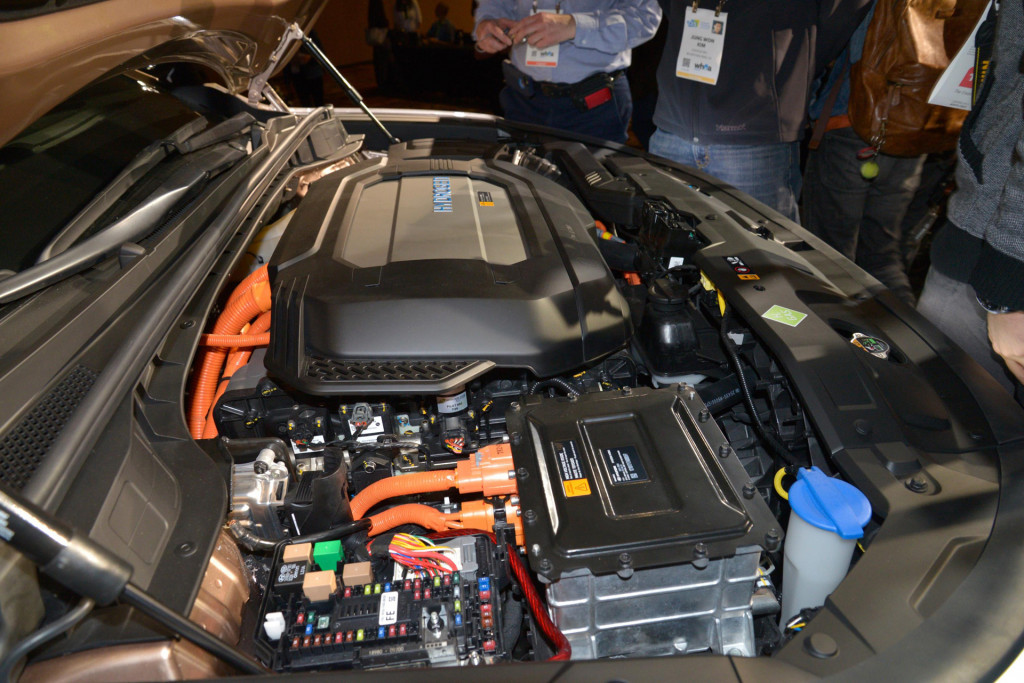 Hyundai Nexo
The more important figure—the range provided by 5 or 6 kilograms of hydrogen in its reinforced 10,000-psi pressure tanks—is estimated at 370 miles.
That compares to a rated 365 miles for the 2018 Honda Clarity Fuel Cell, and 312 miles for the 2018 Toyota Mirai, both smaller sedans.
Hyundai says the Nexo's new fuel-cell stack and other drivetrain components are more compact and weigh less than the counterparts used in the previous Tucson Fuel Cell.
READ THIS: Hyundai targets 1,400 units a year of next-gen fuel-cell vehicle: report
That vehicle, of which a few hundred were leased to Southern California drivers who lived and worked near hydrogen fueling stations, was Hyundai's first hydrogen product released to the public.
The Nexo includes some active-safety features and driver aids meant to add to its high-tech allure, including a self-driving system that will guide the car within a lane—seemingly similar to the ProPilot Assist system for Level 2 autonomy offered on the 2018 Nissan Leaf.
Other such features include a blind-spot monitoring system that displays side and rear views of the vehicle on the instrument cluster screen, and a remote summoning and parking system.
Hyundai FE Fuel Cell concept, 2017 Geneva auto show
Hyundai FE Fuel Cell concept, 2017 Geneva auto show
Hyundai FE Fuel Cell concept, 2017 Geneva auto show
Hyundai FE Fuel Cell concept, 2017 Geneva auto show
What has become the Hyundai Nexo was largely previewed at the 2017 Geneva auto show by the Hyundai FE Fuel Cell concept, most of whose design cues and mildly futuristic lines have been left intact.
The automaker also formally announced a partnership with self-driving technology company Aurora Innovation.
Hyundai has said nothing so far about pricing, and that won't come until the Nexo is closer to going on sale.
CHECK OUT: Fiat Chrysler seeks Hyundai partnership for hydrogen fuel-cell vehicles
The Tucson Fuel Cell has been offered at $499 per month on a 36-month lease, with $2,999 down—though the Mirai and Clarity have lately offered more attractive lease terms to keep their delivery numbers stable.
Like that vehicle, the Nexo will almost surely be offered only in areas of California where drivers will be close to hydrogen fueling stations.
Of the 39 functioning hydrogen stations in the U.S. as of today, 35 are in California.
That state, however, appears unlikely to realize its goal of having 100 hydrogen stations up and running by the year 2020.
_______________________________________