Last Wednesday, a broad coalition of environmental groups sued the Trump Administration over an executive order that lifted a moratorium on issuing new leases for coal mining on federal lands.
That order would have eliminated the requirement for an environmental impact study on the impacts of any form of coal extraction across a wide swath of federally owned properties.
The following day, a similar coalition sued to challenge an order that requires a decision within 60 days on moving ahead with the Keystone XL oil pipeline.
DON'T MISS: California reaffirms state emission, electric-car rules for 2025
The suits may well be joined by several states, whose governors and attorneys general have indicated some appetite to challenge the Trump's administration stated goal of slashing "needless regulations" on air, land, and water pollution and federal land-use protections.
In an article at the end of last week, The Washington Post suggested that what had been a "standoff" between Trump and environmental groups had now erupted into open "war.'
Certainly California, which was always expected to lead the resistance to Trump attempts to eliminate environmental and climate protections, has drawn a line in the sand.
Greetings from Sunny California (1912 postcard, public domain)
The same week the lawsuits were filed against Trump's executive orders, the state's powerful Air Resources Board announced that it had reaffirmed its emission limits and zero-emission vehicle requirements through 2025.
That sets up a potential battle with the national EPA, which announced two weeks earlier that it would reopen comments on carbon-emission limits enacted in the waning days of the Obama Administration.
It is widely expected that automakers will use the comment period to argue that with continued cheap gasoline and a massive switch of buyer preferences from passenger cars to light trucks, including crossover utility vehicles, the standards need to be delayed, relaxed, or perhaps lessened.
CHECK OUT: EPA to reopen emission-rule review; how important is this step?
EPA administrator Scott Pruitt has denied the accepted science of climate change, and he sued the agency he now leads more than a dozen times to prevent its enforcement of emission rules on Oklahoma's fossil-fuel extraction companies when he was that state's attorney general.
He joined a suit by 26 states to overturn the EPA's Clean Power Plan, which directed each state to develop a plan to reduce its carbon emissions from electricity generation, and empowered the agency to create such plans for states that refused to do so.
Under his tenure, the agency removed the word "science" from the mission statement of its Science and Technology Office.
President Donald Trump (Photo courtesy Gage Skidmore/Wikimedia Commons)
Shortly thereafter, the House of Representatives passed a bill making it harder for scientists—but not industry representatives and lobbyists—to be appointed to its Science Advisory Board.
In other words, the worst is expected from Pruitt's leadership, and evidence thus far can be viewed as supporting the fear that he plans to alter rules, processes, procedures—and potentially threaten the current requirement that science be used as the basis for all regulatory decisions.
The agency today appears to be in something of a state of disruption, with employees reportedly wearing "Scientific Integrity" buttons in silent protest the day he addressed the staff and the public to announce an order to reopen the Clean Power Plan decision.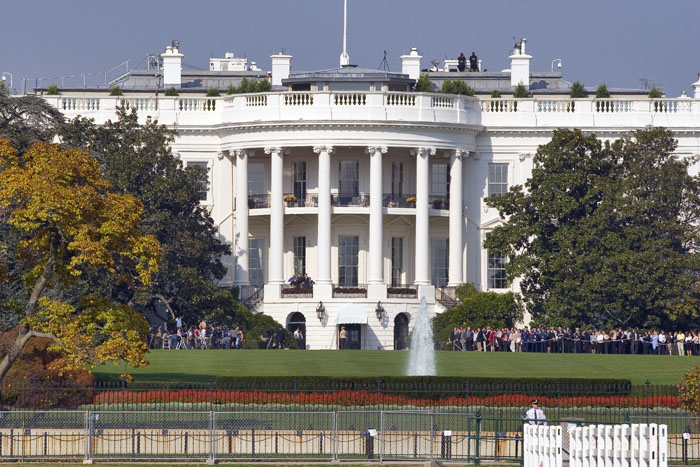 The White House, Washington, D.C. [Creative Commons license by dcjohn]
But Pruitt may face passive and even active resistance from concerned employees within the agency he is charged with reshaping.
The Washington Post reported last week as well that, following Trump's order directing the agency to re-examine the Clean Power Plan—presumably prior to eradicating it—an agency statement issued to praise the president's action in fact did just the opposite.
Misattributed to Senator Shelley Moore Capito [R-WV], it opened this way:
With this Executive Order, President Trump has chosen to recklessly bury his head in the sand.
The quotation, actually issued by Senator Thomas Carper [D-DE], continued:
Today's executive order calls into question America's credibility and our commitment to tackling the greatest environmental challenge of our lifetime.
With the world watching, President Trump and Administrator Pruitt have chosen to shirk our responsibility, disregard clear science and undo the significant progress our country has made to ensure we leave a better, more sustainable planet for generations to come.
While the Administration clearly faces all-out war from outside environmental groups and some state officials, it may also face significant resistance from within the agency.
The statement praising Trump was altered after a Bloomberg reporter pointed out the error in a tweet.
_______________________________________