The California Air Resources Board voted Friday to confirm its stricter emissions standards for 2025, setting up a potential clash with the Trump Administration.
The CARB vote reaffirms a decision by the EPA in the waning days of the Obama Administration to lock in emissions standards for vehicles in model years 2022 through 2025.
Under Trump, the EPA recently reversed that decision, electing to reopen comments and reviews of the standards. That could lead to changes, delays, or perhaps even a rollback of those standards.
DON'T MISS: Will California lead the green-car resistance? (Dec 2016)
But California and the 12 other states that follow its emissions standards are now committed to the emissions rules as currently written.
Those 12 states include Connecticut, Delaware, Maine, Maryland, Massachusetts, New Jersey, New York, Oregon, Pennsylvania, Rhode Island, Vermont, and Washington, as well as the District of Columbia.
Together, they represent roughly a third of the U.S. new-car market.
California state capitol, Sacramento
California is allowed to set its own emissions standards through an EPA waiver, and regulations allow other states to follow its stricter standards as an alternative to federal standards.
The move could increase the likelihood that the EPA, under its climate-science-denying head Scott Pruitt, could move to revoke California's waiver and force the state to comply with national policies.
No concrete statements to that effect have been made publicly so far, and California has retained former U.S. Attorney General Eric Holder to advise on any legal fights with the federal government.
ALSO SEE: What Trump did and didn't say in Detroit on EPA emission rules
CARB also voted to expand its efforts to promote electric cars, including "paving the way for new regulations to rapidly increase the number of zero-emission vehicles required to be sold in California after 2025," according to an agency press release.
California politicians have indicated a willingness to lead the resistance against President Trump on a variety of legislative fronts, but Friday's CARB vote is likely the most aggressive move yet in terms of environmental and transportation policy.
"Today ARB affirmed the technical reviews done by our own and EPA staff, as well as the work of independent analysts," chair Mary Nichols said of the vote.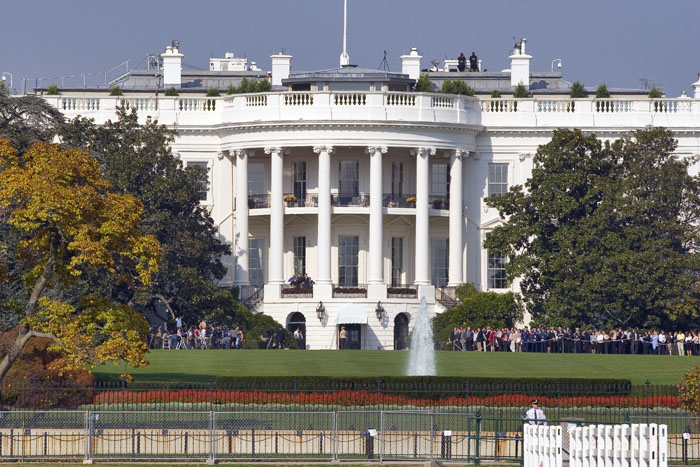 The White House, Washington, D.C. [Creative Commons license by dcjohn]
CARB participated in the Technical Assessment Report released last year showing that automakers could meet the proposed 2025 standards with current technology, and at a reasonable cost.
The report was part of a midterm review of 2022-2025 emissions standards that would have been allowed to continue until 2018.
But the EPA introduced a proposed determination to lock in the standards in November of last year, and finalized it in January.
CHECK OUT: EPA to reopen emission-rule review; how important is this step?
Regulators said no further time was needed to complete the review, but opponents of the current emissions standards have argued that it was completed hastily.
CARB's vote to reaffirm the EPA's January decision and redouble efforts to promote electric cars quickly drew praise from environmental groups.
"The Air Resources Board's re-commitment to ZEVs means the state is getting closer to a day when all Californians can breathe clean air," said Kathryn Phillips, director of the Sierra Club in California.
2016 BMW i3
The current standards will be necessary to meet California's aggressive goals for reductions in vehicular emissions.
The state is committed to reducing carbon emissions by 40 percent from 1990 levels by 2030, and will ramp requirements for its zero-emission vehicle mandate beginning with the 2018 model year.
Officials hope few new combustion-engine vehicles will be sold in California after 2030, and that a majority of vehicles on its roads are zero-emission by 2050.
_______________________________________________