Imagine appointing a lifelong pacifist, who believes it is never justifiable to take up arms against any man, to run the U.S. armed forces.
The appointment of Scott Pruitt as the administrator of the U.S. Environmental Protection Agency could perhaps be viewed in a similar light.
In his former position as Oklahoma attorney general, he sued the agency he now leads more than a dozen times to prevent it from enforcing rules that limited mercury emissions, smog, and carbon emissions generated by his state's fossil-fuel industry.
DON'T MISS: EPA to reopen 2022-2025 auto-emission rule decision: report
Now, multiple reports indicate that the first Trump Administration budget will let the new EPA head fire staff, eradicate EPA efforts to combat climate change—which Pruitt has denied—and overturn hundreds of regulations limiting pollution of air, water, and land.
The details have emerged from an administration now just 100 days into its tenure.
As a candidate, President Trump promised to eliminate the Environmental Protection Agency "in almost every form," vowing to leave intact just "little tidbits."
Oklahoma attorney general Scott Pruitt, 2014
Under Pruitt, the EPA has already rescinded regulations known as the "Waters of the U.S." rule, which put many smaller waterways under the protections of the Clean Water Act.
This week, Pruitt is expected to reopen the commenting period for vehicle-emission limits covering model years 2022 to 2025.
Those rules were finalized in January, more than a year ahead of the scheduled end of the Midterm Review, based on a voluminous Technical Assessment Report issued last July.
That report concluded the auto industry had handily met corporate average fuel-economy standards for 2012 through 2017 more easily and at lower cost than projected, largely using existing technologies rather than more expensive powertrain electrification.
The assessment, including testimony from a variety of sources, concluded that this pattern would continue for the final four years of the CAFE rules.
The auto industry and its lobbyists cried foul, and executives and lobbyists asked multiple times that the comment period be reopened. It worked.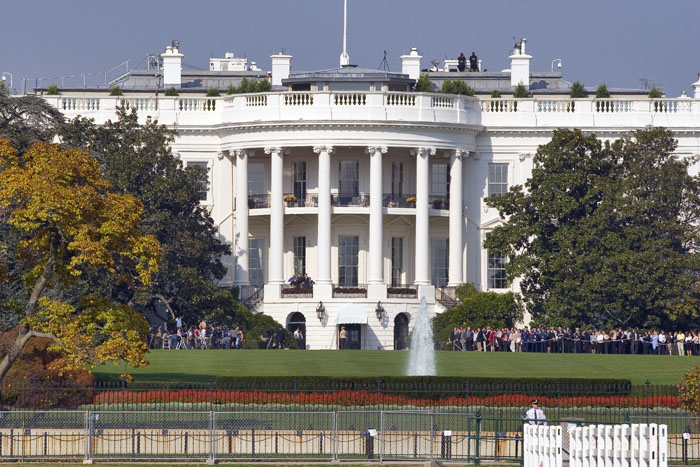 The White House, Washington, D.C. [Creative Commons license by dcjohn]
But according to reports in The Washington Post, several other D.C. outlets, and  The New York Times, those decisions are just the tip of the iceberg.
A proposed federal budget form the Trump Administration would cut the agency's funding from the current $8.2 billion to $6.1 billion in its first year alone, according to the Washington Post, which reviewed the draft.
Much of that money is passed directly through to state agencies to monitor and alleviate pollution, and funds for hundreds if not thousands of state environmental programs would be cut by 30 percent.
A total of 38 separate programs would be entirely eliminated, from brownfield redevelopment to any initiative having to do with climate change.
The budget would eliminate one-fifth of the agency's employees, slashing its headcount from 15,000 to 12,000, within 12 months.
The cuts would focus most dramatically on employees engaged in research and basic science; the Office of Research and Development could lose up to 42 percent of its funds.
As early as this week, according to the Times, Pruitt and Elaine Chao, the head of the NHTSA, are expected to announce cancellation of their agencies' joint efforts to limit climate-change emissions of carbon dioxide from vehicles.
Elaine Chao
The proposals have been so severe that three former EPA science officials penned an essay in The New England Journal of Medicine to remind the Trump Administration that the EPA is required by law to make its decisions based on actual science.
The draft budget, according to the Post, notes that the cuts "will create many challenges."
It suggests, however, that "by looking ahead and focusing on clean water, clean air and other core responsibilities, rather than activities that are not required by law, EPA will be able to effectively achieve its mission."
As part of the federal budget, cuts will have to go through the usual Congressional appropriations process.
Such dramatic changes would likely face resistance from at least some Representatives and Senators.
_______________________________________