It's often said that franchised auto dealers are one of the bigger impediments to sales of plug-in electric cars.
Vehicles with plugs require more explanation, the financial calculations are often more complicated, and home and public charging stations add a further layer of complication.
Commissioned salespeople whose pay rises as they sell more cars often don't want that hassle—if they even understand the cars in the first place, which many don't.
DON'T MISS: Most Car Dealers Are Lousy At Selling Electric Cars: Here's Why
So it's a pleasure to learn of a mass-market dealer in the heart of the U.S. who "gets it" about electric cars.
Electric-car charging station at Max Myers Chevrolet in Middlebury, Indiana [photo: Tiffany Raim]
According to electric-car advocates Chris Neff and Tiffany Raim, one such dealership is Max Myers Chevrolet, of Middlebury, Indiana—an agricultural town of 5,000.
They provided the following report, which was (lightly) edited by Green Car Reports for length and clarity.
Neff writes ...
Sometimes you find an incredible dealer experience for electric cars where you least expect it.
Meet Max Myers Motors, a full-service, family-owned, authorized Chevrolet dealer. Through friends, I had the opportunity to visit and speak with second-generation owner Neal Myers.
Despite the wintry Midwest conditions, the showroom is immaculate—and stocked with car brochures, including those for the Chevy Volt.
ALSO SEE: Electric Car Buyers Slam Dealer Experience; Dealers Don't Like 'Em Either
Myers greeted me with a handshake and a smile. It took only moments for it be abundantly clear that he is a true "car guy," like most electric-car supporters.
After small talk about a wide range of car topics, the conversation turned to the Chevrolet Volt. Since 2011, when the Volt became available, the dealership has sold out, year after year.
The customers range from out-of-state buyers to loyal repeat customers to professors at prestigious nearby universities.
2016 Chevrolet Volt, first drive in California, July 2015
When I met with Myers in February, he had already sold out of his allocation of 2016 Volts, and had a list of customers waiting for the 2017 model to arrive.
Repeat buyers
Not only is Max Myers' staff fully trained on Chevrolet's plug-in vehicles, but he continually sends them to educational training courses to improve and update their knowledge.
CHECK OUT: The Challenge For Electric-Car Sales Is Car Dealers, Again (Aug 2014)
With more than 40 years of auto experience, the dealership is adapting to the times: Myers understands electric-car drivers will become loyal, vocal, and dedicated repeat buyers.
"Do you feel that the sales cycle for electric cars is longer than it is for a gas-powered car?" I asked Neal.
Max Myers Chevrolet in Middlebury, Indiana
The majority of his Volt customers walk in the door already knowing they want the car, he said, and simply want to take it for a test drive. That process, he added, is "fundamentally no different than [for] other vehicles."
I asked if he had noticed less interest in plug-in cars due to lower gas prices.  He immediately said no, adding that those who were on the fence no longer showed strong interest—but that gas prices had no effect on those who knew they wanted the car.
Max Myers Chevrolet in Middlebury, Indiana
Free charging for all
Charging infrastructure, of course, is a big issue for electric-car drivers, and the dealership provides a free, accessible charging station to all customers and non-customers.
(It also has two more stations inside for vehicles being serviced.)
MORE BACKGROUND: Iowa Dealers Shut Down Tesla Test Drives As Rep Humiliates Them
As the conversation continued, Neal called the Volt a fantastic car. He took his family on a trip of more than 200 miles in one when they first rolled out, he said, and everything worked flawlessly.
Since then he's had the Volt on his list for long-trip cars, both to save money on gas and reduce the carbon footprint of his travels.
Electric-car charging station (parking is behind SUV) at Max Myers Chevrolet in Middlebury, Indiana
Myers said he's anxiously awaiting the 2017 Chevrolet Bolt EV 200-mile electric car, and can't wait to get one in his dealership.
(The Bolt EV will likely be released to the very first Chevy dealers late this year or early in 2017.)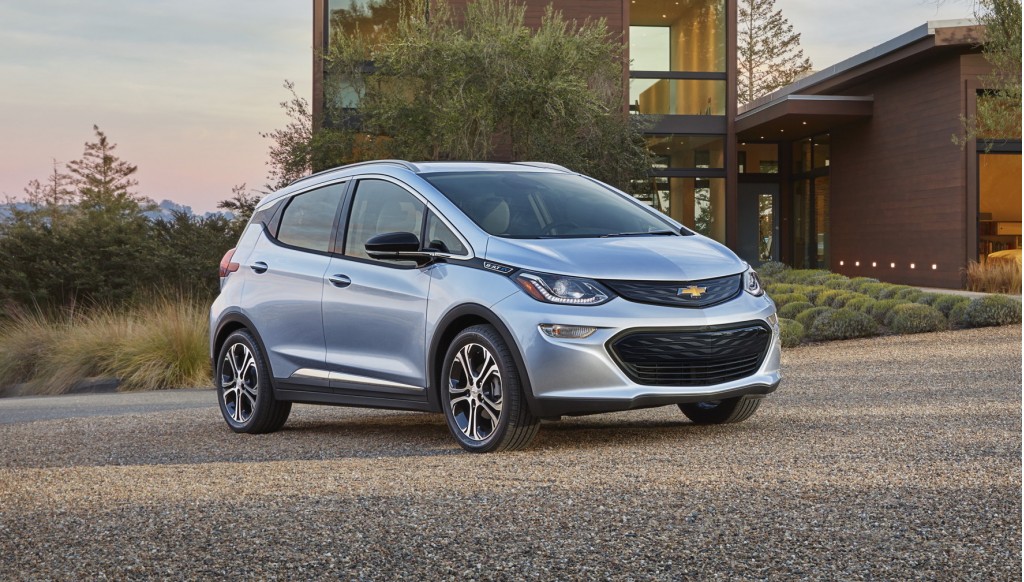 2017 Chevrolet Bolt EV
He already has customers asking about the car, which is encouraging—especially in an area that could be considered "off the beaten path."
If you're ever in the area, we encourage you to stop in and say "Hello" to the team while you charge up your car.
_______________________________________