Tesla's decision to build its massive lithium-ion battery-cell "Gigafactory" at a site near Reno, Nevada, was made in part because of generous incentives offered by the state government.
State lawmakers promised Tesla a total of $1.25 billion in tax incentives over many years in exchange for anticipated economic growth.
But thus far, Nevada may not be getting quite what its projections promised.
DON'T MISS: Panasonic Commits $1.6 Billion For Tesla Battery Gigafactory
Jobs at the site grew in 2015, as did investments by both Tesla and Panasonic--but both still fell short of projections, according to the local Reno Gazette-Journal.
A "dramatic spike" in full-time employees at the site occurred, and capital investment grew by nearly 60 percent, during the last quarter of 2015, the paper reported.
According a study by the Nevada Governor's Office of Economic Development. (GOED), Tesla and Panasonic have created 272 permanent jobs at the factory--representing a total quarterly payroll of $4.3 million.
Tesla gigafactory as photographed by drone, May 17, 2015 [screen capture from YouTube video]
They've also jointly invested $374 million in what is anticipated to be a $5 billion project.
But those figures fall short of projections made by economists hired by the GOED in 2014 to project the economic impact of the Gigafactory.
Those projections say Tesla and Panasonic should have invested $1 billion in the project by the end of 2015, and created 700 permanent jobs with a total quarterly payroll of $40 million.
ALSO SEE: Tesla Gigafactory: Drone Flyover Shows How Huge It Really Is (May 2015)
However, Tesla presented projections of its own when it applied for the tax-incentive package, including a goal of creating just 300 jobs in the first full year of work, or 2015. It missed that goal by roughly 9 percent.
State officials believe Tesla is still on its way to meeting the legal requirements for the tax incentives, which will allow it to operate essentially tax-free for a decade, the Gazette-Journal said.
If Tesla hasn't invested $3.5 billion after 10 years, it will have to pay back all of the tax credits.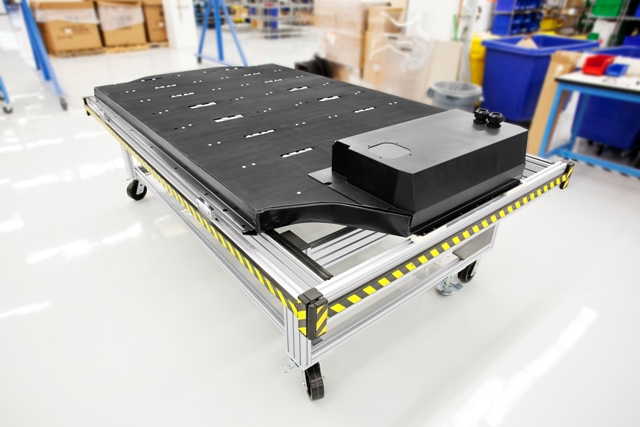 Tesla Motors - Model S lithium-ion battery pack
Panasonic--which owns a small stake in Tesla--recently said it would invest up to $1.6 billion in the Gigafactory project.
The plant itself is reportedly ahead of schedule, and already assembling some Powerwall stationary battery packs for energy storage, using cells shipped from Japan.
Battery-pack production for Tesla's vehicles is projected to begin before the end of this year, a deadline that will likely prove important to Tesla.
MORE: Tesla Model 3 March 'Debut' May Not Be A Car, But...Pictures?
The company will need the large factory to provide the economies of scale that will let it sell its 200-mile Model 3 electric car for prices starting at $35,000, before Federal, state, and local incentives.
Tesla will preview the Model 3 in some form next month and begin taking reservations from buyers. Production is supposed to start late next year or in early 2018.
The higher-volume Model 3 will be crucial to meeting Tesla's goal of building 500,000 electric cars per year by 2020.
_______________________________________________