Throughout its project to build a massive battery "Gigafactory" near Reno, Nevada, Tesla has had assistance from its current battery supplier, Panasonic.
The Japanese electronics company has agreed to help fund the project, and will use its technical resources to help set up and run the factory.
Panasonic hasn't previously disclosed the amount it plans to invest in the $5 billion project, which will provide the economy of scale to lower the prices of Tesla electric cars.
DON'T MISS: Tesla Gigafactory To Host 'Hundreds' Of Panasonic Workers Starting This Fall (Jun 2015)
Now, the company--which also owns a small stake in Tesla--says it will spend up to $1.6 billion on the Gigafactory.
That estimate came from Panasonic president Kazuhiro Tsuga, speaking to MarketWatch at the recent Consumer Electronics Show (CES) in Las Vegas.
Panasonic's continued involvement in the Gigafactory project is reportedly part of plan to grow the company's presence in the automotive sector.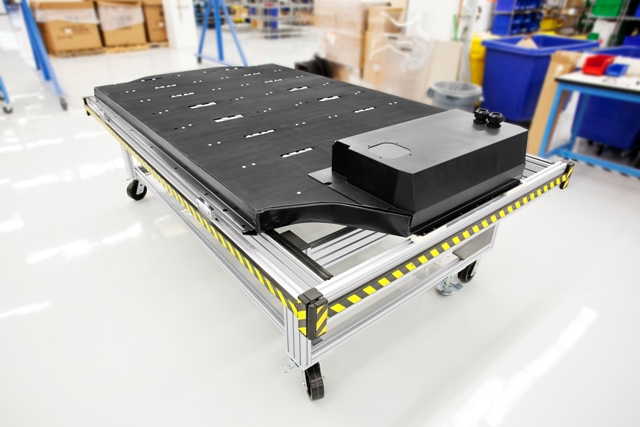 Tesla Motors - Model S lithium-ion battery pack
Sales to carmakers accounted for about 15 percent of Panasonic's revenue in 2015, but the total revenue is expected to double over the next four years, representing 25 percent of the total.
At the same time, though, Panasonic faces stiffer competition from Korean battery suppliers Samsung SDI and LG Chem.
The latter will supply battery cells and many other components for the 2017 Chevrolet Bolt EV as part of a far-reaching partnership with General Motors.
ALSO SEE: Tesla And Panasonic: Partners In Electric Cars, Foes In Home Energy Storage (Sep 2015)
The $1.6 billion investment Panasonic revealed at CES is significantly higher than the $92 million it had previously discussed.
Employees from the Japanese company were expected to arrive in Nevada at the end of last year to prepare for the start of cell production.
According to previously-released terms, about half of the Gigafactory is to be devoted to cell production supervised by Panasonic. The other half will be occupied by suppliers and assembly lines for cell modules and battery packs.
Tesla Model S undergoing assembly
The majority of cells initially will be used for its current Model S and Model X electric cars, as well as for its Powerwall home and business energy storage products.
Ultimately, though, the output will be used for the 200-mile Model 3 electric car, which is scheduled to be unveiled in March.
Tesla will need the economy of scale offered by such a large factory to achieve the Model 3's oft-quoted $35,000 base price.
MORE: Do Tesla, Panasonic Differ Dramatically On Growth Of Electric Car Batteries? (Jun 2015)
But that relies on the factory being fully operational by 2017, when Tesla has claimed Model 3 production is expected to start.
The company has delayed each of its new-vehicle launches, and the added variable of the Gigafactory could make the Model 3 launch more complex than previous models.
And Tesla needs to ramp up Model 3 production quickly to meet its goal of selling 500,000 cars a year by 2020.
If it does meet that goal, Tesla will likely account for the largest portion of Panasonic's planned automotive-market growth.
_______________________________________________