Tesla Motors CEO Elon Musk is hardly shy and retiring.
He tweets out random financial results, states as fact things that haven't quite happened yet, and regularly speaks his mind.
Yesterday, he described the troubled Boeing 787 Dreamliner's battery pack design as 'inherently unsafe,' which could add fuel to the...ahem...fire.
It came just one day after his offer to help Boeing resolve its problem with fires in the 787's lithium-ion packs, designed by Japanese battery-cell company GS Yuasa.
(It's worth noting that SpaceX, the other company Musk runs, competes directly with Boeing for certain government contracts for space-launch vehicles.)
Musk, who has run Tesla Motors [NSDQ:TSLA] for several years, laid out his thoughts on battery design in a detailed e-mail to the website Flightglobal.
In it, he termed the architecture of the GS Yuasa battery packs supplied to Boeing "inherent unsafe," and predicted more fires from the same causes due to its design.
Specifically, Musk criticized the use of large-format lithium-ion cells "without enough space between them to isolate against the cell-to-cell thermal domino effect."
He also noted that when thermal runaway occurs in the larger cells, more energy is released by the single cell than comes from a small-format "commodity" cell, of the type used by the thousands in Tesla battery packs.
And he went on to highlight what he viewed as the dangers of batteries using those large-format cells, saying they have a "fundamental safety issue" because it's harder to keep the internal temperature of a large-format cell consistent from the center to the edges.
Not surprisingly, Mike Sinnett--Boeing's chief engineer for the 787 project--counters that the company designed the pack to cope with not only a single cell failure but to contain runaway thermal events as well.
The 787 battery problems have sparked a deluge of news coverage, with the Seattle Times noting yesterday that Boeing had numerous problems with the batteries before the fires that led to the grounding of all 787 planes worldwide.
Boeing 787 Dreamliner
The chemistry used in the Boeing 787 cells is not the same as that used in today's electric cars, a point largely overlooked by many reporters.
But Musk's comments highlight a second issue: the use of large-format lithium-ion cells (some roughly the size of a very thin paperback book) versus the smaller commodity cells (somewhat larger than a AA battery) that Tesla uses.
Musk's critique, although he didn't explicitly say so, could be extended beyond the 787 Dreamliner to indict the pack design of all electric cars that use large-format lithium-ion cells.
Those include, oh, every single modern plug-in electric car except the Tesla Model S.
Tesla Motors is the sole maker that builds its packs out of thousands of small 'commodity' lithium-ion cells (from Panasonic, for the Model S) rather than using hundreds of large-format cells.
Battery-pack engineering is a complex, multifaceted art.
There's the physical design of a large, heavy component that must be engineered into the vehicle's structural design.
There's positioning of the cells inside the pack to protect against thermal runaway.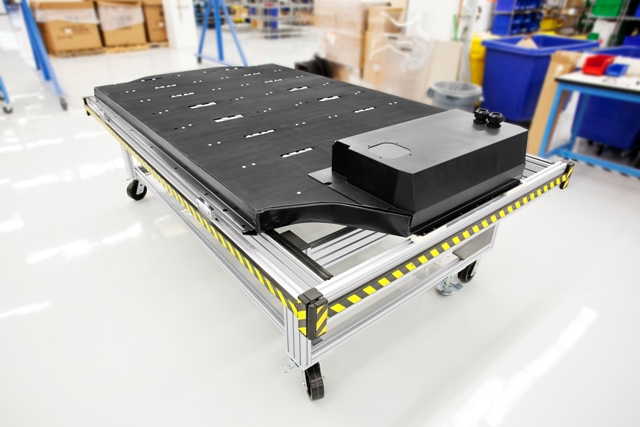 Tesla Motors - Model S lithium-ion battery pack
There's thermal conditioning, in which a pack is passively or actively heated or cooled to keep its cells within a desired temperature range, both extending their life and reducing the chance of catastrophic cell failure.
Each electric-car maker takes a somewhat different approach: Nissan uses just passive cooling in its Leaf battery electric car, but has had no recorded fire incidents at all to date.
It has, however, had problems with reduction in energy capacity early in the life of cars that cover high mileages in high temperatures.
The Chevrolet Volt, on the other hand, uses only two-thirds of its pack energy and has active liquid cooling for its pack (as does the Model S).
So has Musk has implicitly slammed the pack designs of the Nissan Leaf, Chevrolet Volt, and a host of other electric cars with battery packs of 16 kilowatt-hours or more?
If so, is this a good strategy for the CEO of a startup electric-car maker?
Leave us your thoughts in the Comments below.
+++++++++++