Last year, worldwide car buyers were pretty refrained in the color choices they made for their cars, with white accounting for 23 percent of global car sales.
But when it comes to cars like the 2012 Chevrolet Sonic five-door hatchback, vibrant colors like orange are becoming almost as popular as black, the number one Sonic color choice.
According to The Wall Street Journal, Inferno Orange is the second-most-requested color for the sporty hatch, accounting for nearly one in five orders. 
Read our 2012 Chevrolet Sonic Weekend Test Drive
Aimed at first-time car buyers, the 2012 Chevrolet Sonic combines sporty styling and efficient, 1.4-liter turbocharged engines to offer fun, affordable, practical and safe driving to young drivers. 
In order to do that, Chevrolet has made the same paint options available to all trim levels, meaning even someone who opts for the base-level $14,635 Sonic LS can choose the same paint options as someone going for the $17295 LTZ.
That in part, helps explain the paint choices.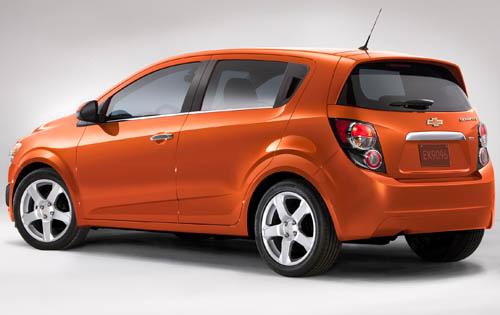 2012 Chevrolet Sonic
Black, as the most popular color, is available as a standard no-extra-charge color on every Sonic. 
Inferno Orange, on the other hand is one of two $195 premium metallic paint options, meaning more customers are likely to opt for the no-cost black.
More exciting than some of the other paint choices offered on the Sonic, Inferno Orange complements the Sonic Hatch's sporty styling with a color normally reserved for much more expensive high-performance cars like the Chevrolet Corvette. 
Unlike the 1970s however, when orange became a popular choice alongside dark brown interiors only to quickly disappear from fashion a decade later, Chevrolet believes that orange will continue to remain popular as a car color choice for many years to come.
So far, the 40 mpg highway Chevrolet Sonic has performed stunts, made music and even made orange trendy again. 
But what will it do next? Bring back disco, flares and kipper ties?
Let us know your thoughts in the comments below. 
+++++++++++