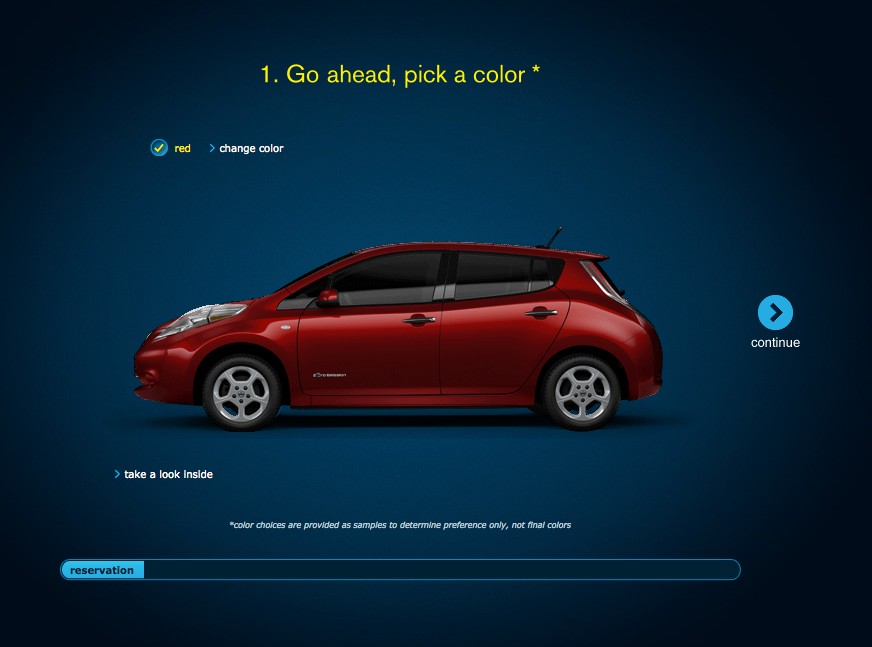 2011 Nissan Leaf ordering process
Patience is a virtue when it comes to ordering a 2011 Nissan Leaf--especially if you're not in one of the five markets Nissan's chosen to launch the car late this year.
On April 20 of this year, I was one of those electric-car geeks scanning my email every 15 minutes, waiting for the official invite from Nissan to join the Leaf queue. Sometime that evening--after the reservations line had been jammed by interested EV-heads--I went through the online configurator and designed my own red 2011 Leaf, putting down my $99 deposit on American Express.
Since then it's been a waiting game. Nissan sent out emails--nearly a dozen, in fact, pushing its other vehicles--while promising a June 30 update on my order status. When that day came, they politely punted, saying, in effect, "We'll get back to you."
Finally, last week, a firm notice. The text follows:
"Thanks for reserving your 100% electric Nissan LEAF™. We just wanted to let you know that orders will begin in your area in December 2010. We'll send you an e-mail when it's time to work with a dealer to pick your car's color, review options and get a quote. As you can imagine, the response for the Nissan LEAF has been tremendous. The Nissan LEAF order period will be staggered by state, and the timing of your reservation will hold your place. As a result, orders from states with an infrastructure to support electric driving - either in place or planned - will be taken first. But no matter where you live, you'll be among the first in your area to get a LEAF."
I'd actually gotten word from a Nissan executive a week prior--during my first drive of the Leaf at Plug-In 2010 in San Jose--that December would be my order date. A day later, Nissan confirmed that while orders would begin in Georgia in December, I wouldn't be able to take delivery of the Leaf until...April 2011.
It's a few months after the lucky Leaf buyers in California, Washington, Oregon, Arizona and Tennessee, who get their vehicles in December. And it's behind those Leaf orders taken in Texas and Hawaii, where they take delivery in January. Along with Georgia, the states of North Carolina, Maryland, South Carolina and Alabama, as well as the District of Columbia, get Leaf access in April 2011.
The rest of you? Nissan says by the end of 2011, the Leaf will be available in all 50 states.
It's just as well: it looks as if our garage will need its own subpanel for the Leaf's 240-volt charger. And my accountant has some interesting information on how the Leaf's tax credits actually will play out. Stay tuned.