The largest car rental agency on the planet, Hertz, has given its approval to the concept of all-electric cars. Hertz announced today that it would make Leaf models available at selected rental locations in the U.S. and Europe, starting next year.
With its 100-mile range, the five-seat Leaf would make a good rental for most urban trips and perhaps short-term car-sharing programs.
nissan leaf ev 011
Nissan LEAF Interior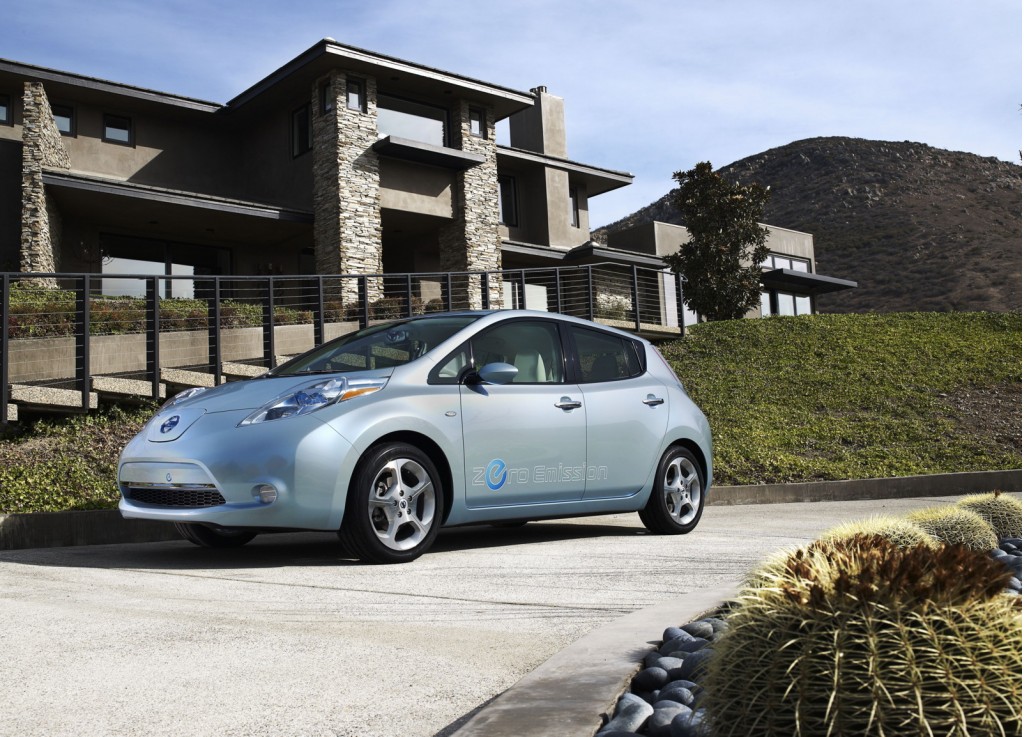 2011 Nissan Leaf prototype
Hertz no doubt has reams of data on the average mileage incurred by each type of vehicle in its fleet, enabling it to steer prospective renters toward (or away from) the Leaf, depending on whether it can meet their stated needs.
To keep the Leaf rentals available as much time as possible, Hertz will most likely install high-voltage "fast charge" equipment that allows a Leaf to recharge its battery to 80 percent of capacity in just 30 minutes.
Budget offered electric vehicles for rental in the 1990s, a program that EV advocate Chelsea Sexton called "very popular." But, she said, it ultimately foundered because Budget couldn't get enough electric vehicles to sustain and grow the program.
A full recharge of its 24-kilowatt-hour battery pack takes up to eight hours with 220-Volt current, used in U.S. for electric stoves and clothes driers, and far longer on standard 110-Volt wall power.
Nissan will begin selling the compact Leaf electric hatchback at the end of this year in certain regions, with full national roll-out to be achieved by 2012. Early Leaf owners will be provided a mix of 220-Volt and fast-charge equipment, and Nissan will track their usage.
It is the first of four electric vehicles Nissan will offer, making that company the most aggressive automaker in the field of pure electric vehicles. Other automakers will use range-extending gasoline engines, such as the one in the 2011 Chevrolet Volt, to alleviate driver concerns over "range anxiety".
Nissan has set up a website for U.S. residents to educate potential buyers (and renters) on the 2011 Nissan Leaf, which is just now finishing up a nationwide tour of potential early launch markets. It hopes to obtain 20,000 advance orders for the Leaf by the end of this year.
Hertz has a long history of renting unusual cars, mostly performance models. It offered 500 special 2008 Chevrolet Corvette ZHZ models, and even commissioned a special rental version of the high-performance 2007 Ford Mustang, the Shelby GT-H.
[AP via Fox Car Report]