Audi A3 TDI clean diesel - European model
It's well known in the car industry that a diesel engine costs 10 to 20 percent more to build than a gasoline motor of equivalent output. That's because diesels have to be sturdier, and these days all US-bound diesels are fitted with turbochargers to boost their power.
Now a European executive has come right out and said it: Americans are going to have to pay more for diesels. And that's where we pause, because we're not convinced US buyers will pay the premium--especially for brands just launching diesel for the first time.
Europe: Much cheaper diesel
In Europe, where diesels take half the new car market, diesel fuel has been taxed far less heavily than gasoline for three decades now. At first, a few countries raised gas taxes to cut consumption after two oil crises, in 1973 and 1979, but kept diesel taxes lower to mollify truckers.
Now it's become regional economic policy to reduce greenhouse gas emissions from all vehicles. That means that in Europe, a higher purchase price is offset by lower fuel consumption and cheaper fuel.
But in the States, diesel is roughly the same as gasoline, and it soared to prices as much as $1 per gallon higher than gasoline during the last price spike.
diesel and AdBlue fillers in Audi Q7 TDI
Audi A3 TDI clean diesel - European model
Euro-spec Volkswagen Golf TDI - 5/09
VWvortex reader Bajan2.0T snapped this shot of the badges on the 2010 Golf TDI that was displayed at the Toronto Auto Show.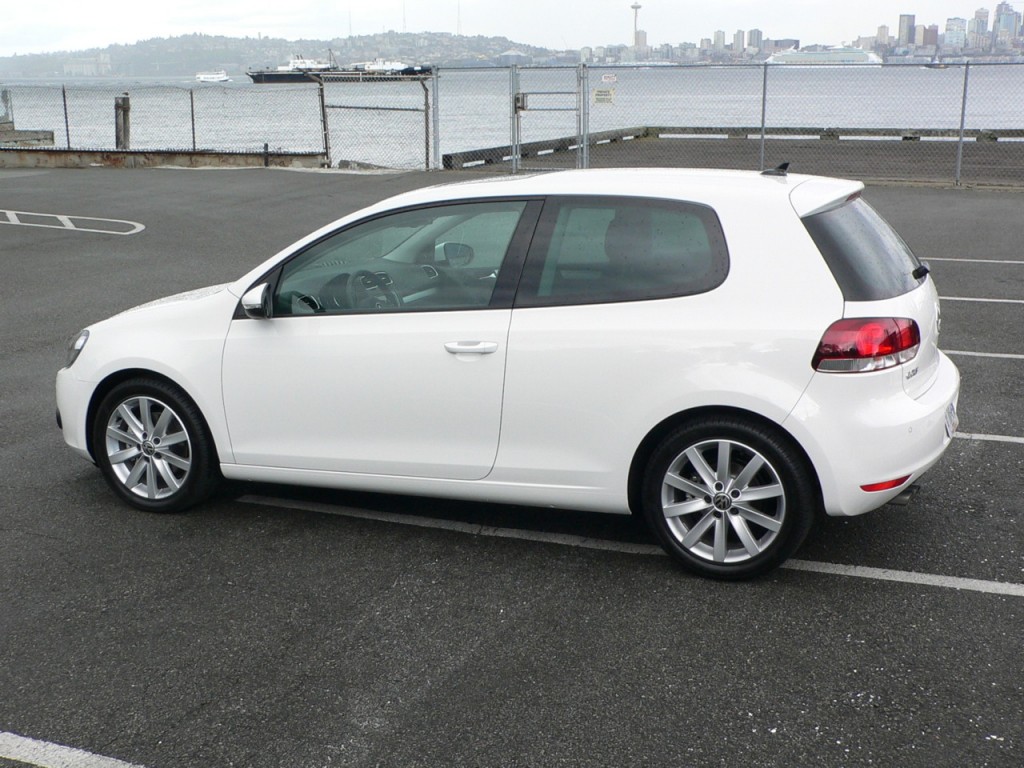 Euro-spec Volkswagen Golf TDI - 5/09
Payback: Even more variables
This means that, unlike hybrids, which simply use less gasoline per mile than non-hybrids, the math to calculate diesel payback gets more complicated. Hybrids too are more expensive, but the only variable for calculating payback is the future price of gasoline.
Modern clean turbodiesels get unquestionably higher mileage. The 36 to 39 real-world miles per gallon achieved by two different journalists in 2009 Volkswagen Jetta TDI models is far higher than the gasoline Jetta. And diesel owners have long complained that today's clean diesels, including the Jetta, return much higher-than-EPA mileage figures in real-world use.
With that acknowledged, US buyers will have to work out whether a diesel's higher cost is offset by its better mileage--and to do so, they will have to make some big assumptions not only about future fuel costs, but also about the relationship of diesel to gas prices in the future.
Audi A3 TDI vs VW Golf TDI
We liked the European model of the Audi A3 TDI that we drove last spring, but its base price of $30,775 gives us pause. That's less than 10 percent more than the 2010 Audi A3 with the 1.8-liter gasoline engine, at $28,750. So we wonder if Audi is subsidizing its diesel to get a foothold in the market, just as Toyota is said to have done with the first several years of its Prius hybrid.
Note that the 2010 Volkswagen Golf TDI--which we've often said we think will be the big winner in small diesels--is priced at $21,990. That's a substantial $3,500, or about 20 percent, higher than the base 2010 Golf with a gasoline engine at $17,490. We suspect that's a more realistic premium.
A quarter of sales
Audi expects diesels to make up 20 to 25 percent of its US sales in time.  So far, says Audi of America president Johan de Nysschen, the TDI model of the Q7 large sport utility represents 35 percent of the total, and the clean-diesel A3 an even higher share.
But neither of those translates into particularly high numbers. Through August, Audi has sold just 4,709 Q7s this year, and far fewer A3s: only 2,295. Both TDI models are for the 2010 model year, meaning we're likely only talking 2,000 diesel Audis in the US all year.
When Audi sells a quarter of its high-volume A4 sports sedan with diesels--meaning more than 10,000 a year--then we'll be getting somewhere.
But the warning, by no less a personage than Audi CEO Rupert Stadler, that Americans will have to pay higher premiums for our clean diesels makes us wonder whether large numbers of buyers will be willing to fork over that premium for a very unclear payback.
[Automotive News  (subscription required) ]