In Europe these days, it's all but de rigeur to fit auto-show concept vehicles with plug-in hybrid powertrains.
Most of the Volkswagen SUV concepts that previewed what is now the Volkswagen Atlas seven-seat crossover, on sale today, sported plugs—though no such version emerged into production.
Tuesday evening, before the New York auto show media days began, VW revealed a "near-production" concept for a shorter, five-seat version of the current Atlas, to go on sale next year as the 2020 Volkswagen Atlas Cross Sport.
DON'T MISS: Volkswagen Tiguan Plug-In Hybrid Concept Shown In Detroit (Jan 2016)
Predictably, it was fitted with a plug-in hybrid powertrain, albeit a new one that hadn't previously been shown by Volkswagen.
It adds a 40-kilowatt (54-horsepower) electric motor to the 276-hp 3.6-liter twin-turbo V-6 now used in the Atlas, powering the front wheels through a 6-speed dual-clutch transmission.
A second and more powerful electric motor—85 kw (114 hp) and 199 lb-ft—is added between the rear wheels, to provide on-demand all-wheel drive.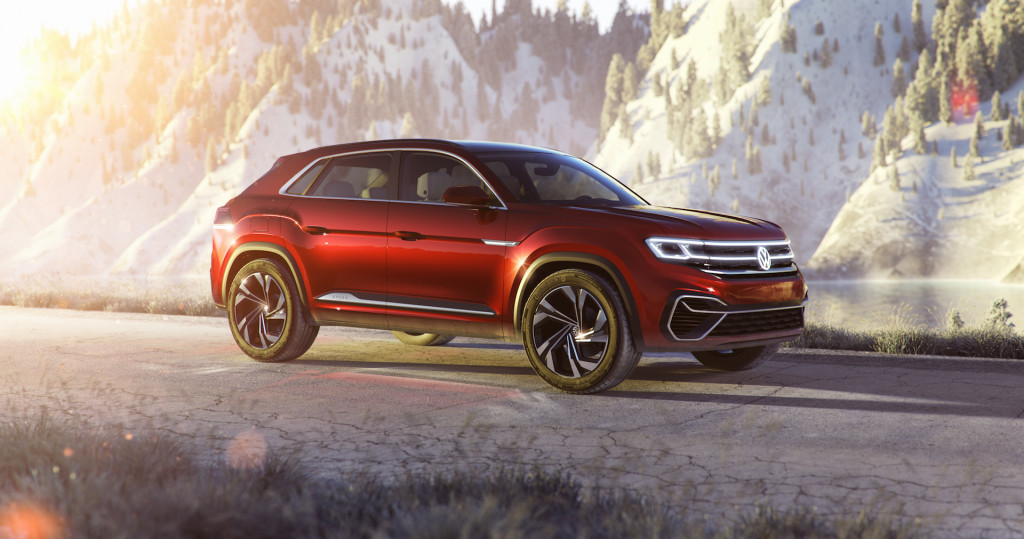 Volkswagen Atlas Cross Sport concept
Eliminating the driveshaft powering the rear wheels allows Volkswagen to site the 18-kilowatt-hour lithium-ion battery pack in the center tunnel. The company suggests an all-electric range of 26 miles from the combination.
The net power among all three sources is 355 hp, VW says, letting the Atlas Cross Sport sprint from 0 to 60 mph in just 5.4 seconds. Top speed is quoted at 130 miles.
The charge port door is located at the rear wheel arch, but Volkswagen says it is just studying the possibility of a plug-in hybrid Atlas. Unlike Audi, the Volkswagen brand has never sold a plug-in hybrid model in the U.S.
READ THIS: Volkswagen Cross Coupe Plug-In Hybrid Mid-Size SUV Concept (Jan 2015)
Perhaps more likely as an electrification option is a mild-hybrid version of the Atlas Cross Sport, which Volkswagen says would use a 2-kwh pack to deliver net power of 310 hp and 0-to-60-mph acceleration in 6.5 seconds.
Against the seven-seat Atlas, the truncated Cross Sport is 7.5 inches shorter, though its wheelbase remains the same and it will be built on the same assembly line as its longer sibling.
It sports a two-bar grille instead of the larger Atlas's three (do the bars correspond to seating rows?), but its sharply raked back end gets a large spoiler to differentiate the vehicles best from the rear three-quarter view.
Volkswagen Cross Coupe GTE Concept live photos, 2015 Detroit Auto Show
It was, in fact, previewed more than three years ago by the Volkswagen Cross Coupe concept shown at the 2015 Detroit auto show.
As well as the customary traction modes the driver can choose, from Eco to Comfort to Sport and Snow, the Atlas Cross Sport lets drivers select among E-Mode, Hybrid, GTE, Off-road and Battery Hold/Battery charge modes.
The default Hybrid mode uses battery power at low speeds, and blends energy drawn from both sources, using regenerative braking to capture otherwise lost energy.
CHECK OUT: Volkswagen's Two Diesel Plug-In Hybrid Concepts: Detroit Auto Show (Jan 2013)
The E-Mode keeps the vehicle operating solely on battery power, to the limits of its range. Battery-hold mode lets drivers conserve battery charge for later use, whether in quiet neighborhoods or zero-emission zones in center cities.
Finally, GTE is the sportiest mode, combining engine and both motors for maximum torque of 494 lb-ft.
Off-Road mode the Cross Sport uses the engine to drive the front motor acting as a generator to power the rear motor for greater traction than the battery pack alone can supply.
Volkswagen Atlas Cross Sport concept
It's not clear when or if a plug-in Atlas model would go on sale, although Volkswagen reiterated its plans to put a production version of its 200-plus-mile ID Crozz all-electric compact crossover on sale during 2020.
For all the latest about the green-car concepts and production models on display in Manhattan, see our New York auto-show news page.