The Hyundai Nexo hydrogen fuel-cell SUV that debuted last month at the Consumer Electronics Show won't be seen on California roads for many months yet.
It is expected to go on sale in the U.S. in the fourth quarter of this year, but now we have a few reports from outlets that have driven the one SUV whose only tailpipe emission is water.
The general consensus is that the Nexo is a more integrated, more refined, and likely far more practical vehicle in daily use than was its predecessor.
DON'T MISS: Production Hyundai Nexo hydrogen fuel-cell SUV appears at CES
That would be the Hyundai Tucson Fuel Cell (known in Europe as the ix35 Fuel Cell), of which the company delivered a few hundred units in total from late 2014 through early 2017.
While the hydrogen-powered Tucson was good enough for a vehicle not originally designed for that powertrain, we found its performance slow, especially at highway speeds.
The Nexo, on the other hand, is a dedicated hydrogen fuel-cell vehicle, meaning the model is not available with any other powertrain.
Hyundai Nexo
Hyundai Nexo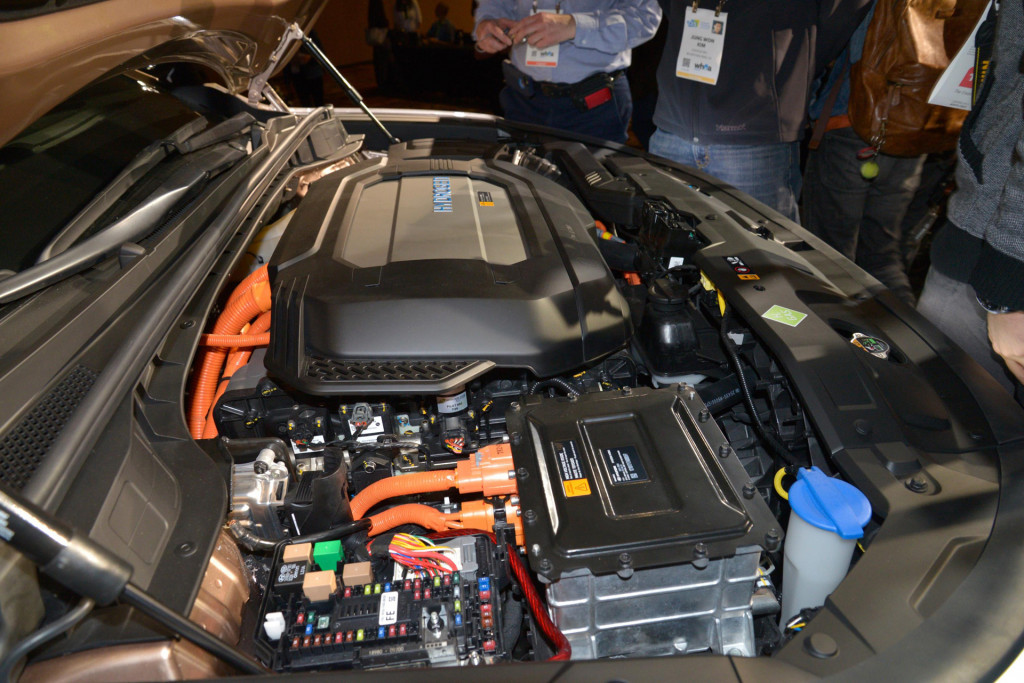 Hyundai Nexo
Hyundai Nexo
The British outlet Auto Express drove a Nexo and reported Tuesday that it found the zero-emission SUV to be a "resolved and ambitious effort from the brand."
It noted that the South Korean company's first hydrogen vehicle prototype emerged in 2001, giving it plenty of experience in refining and integrating the powertrain into vehicles with mass-market appeal.
One aspect is what it called the Nexo's "classy and distinctive" design, including "swoopy shape, flush-fitting door handles and crystal-like head and tail-lamps" and the striking 12.3-inch touchscreen display in the center of the dash.
WATCH THIS: Hyundai Nexo hydrogen fuel-cell prototype drives itself 118 miles without human input
While the quality of the interior materials surpasses that of other Hyundais, Auto Express said, it's still not comparable to what you'd find in standard premium SUVs from the predictable list of German, British, and Japanese players.
Hyundai said it expects the car's fuel-cell stack to last at least 10 years, or twice the predicted lifespan of the one used in the Tucson Fuel Cell.
That durability is combined with comparable passenger volume and cargo space to other SUVs of its size, the reviewers said, despite the large high-pressure hydrogen tanks nestled in the undercarriage.
Hyundai Nexo
Another review, this one published Monday by industry trade journal Automotive News (subscription required), focused on the Nexo's advanced active-safety and self-driving features.
It called the hydrogen SUV "zippier to drive" than the Tucson Fuel Cell, with better acceleration and more torque from a motor with a higher output of 120 kilowatts (161 horsepower) vs the Tucson's 100 kw (134 hp).
The Nexo is projected to earn an EPA range rating of more than 350 miles, Hyundai told attendees at the Seoul drive event.
But the media event in which a Nexo drove itself 118 miles along Korean roads (in conjunction with the Winter Olympics now underway) points to the car's role as a technology showcase.
Hyundai says the Nexo will pioneer the company's lane-following assist feature, which keeps the car centered in a lane while adaptive cruise control is being used. (That's similar to the ProPilot Assist feature on the new 2018 Nissan Leaf.)
It also has a self-parking feature that will let the Nexo enter a parking space with no one inside.
Hyundai Nexo
The Hyundai Nexo goes on sale in South Korea this month, will launch in Europe in May or June, and U.S. sales are projected for the fourth quarter of this year.
Hyundai is the only global automaker planning to build both fuel-cell and hybrid, plug-in hybrid, and battery-electric vehicles in volume.
Toyota has placed its bets on hydrogen, with its Mirai and future models, and won't offer a battery-electric model of its own design until 2020—and then only reluctantly.
Honda offers all four as well, but its battery-electric Clarity EV has less than 100 miles of range, rendering it uncompetitive for many shoppers.
In the end, Auto Express concluded, "As good as the Nexo is, it's still a niche vehicle that's difficult to recommend" due to the limited fueling infrastructure.