Ford CEO Mark Fields at CES 2015
Among his actions during a whirlwind first week in office, U.S. President Donald Trump met last week with the CEOs of U.S. automakers Fiat Chrysler, Ford, and General Motors.
He met on two consecutive days with Mark Fields, CEO of Ford, in fact. Fields was part of a group of manufacturing executives who met with the president separately the day before the carmaker CEO gathering.
Fields told the president, he said, that up to 1 million jobs could be at risk from current emission and fuel-economy standards—a number worth examining in greater detail.
NOTE: We have added link on page 2 to two separate analysis of the study used by Fields to claim 1 million jobs could be lost. One says the study "doesn't make any sense" in its assumptions about job loss. The other is even more direct, saying the entire analysis was done with "an inherent bias toward the conclusion that the standards are overwhelmingly likely to be economically harmful."

DON'T MISS: Ford will ask Trump to cut fuel-economy rules, CEO says; 'no demand' for hybrid, electric cars
During that first meeting, according to Ward's Auto, Trump asked each executive to list four or five regulations on their industry they felt were good, then the same number that they felt impeded their businesses.
The president said he could reconvene with the manufacturing executives in a month to discuss the topics they raised.
He asked a similar question the following day when meeting with GM CEO Mary Barra, Ford's Fields, and Fiat Chrysler CEO Sergio Marchionne.
President Donald Trump (Photo courtesy Gage Skidmore/Wikimedia Commons)
Fields recounted that visit during a panel discussion at the National Automobile Dealers Association annual conference in New Orleans last week.
The executives discussed with the president "a reasonable fuel-economy, one national standard implementation that would be aligned with market realities, affordability and jobs," Fields said onstage.
They also covered trade pacts and tax policy, Fields continued, concluding, "I think he's going to be very good for our industry"—a line that drew applause from the dealers, according to Ward's.
The industry does not want to get rid of the current corporate average fuel-economy standards and associated emission limits, Fields said.
What it does want is "one national standard for fuel economy," which Fields called "really important."
And Fields cited studies that suggested up to 1 million U.S. jobs could be at risk "if we're not given some level of flexibility in aligning with market realities."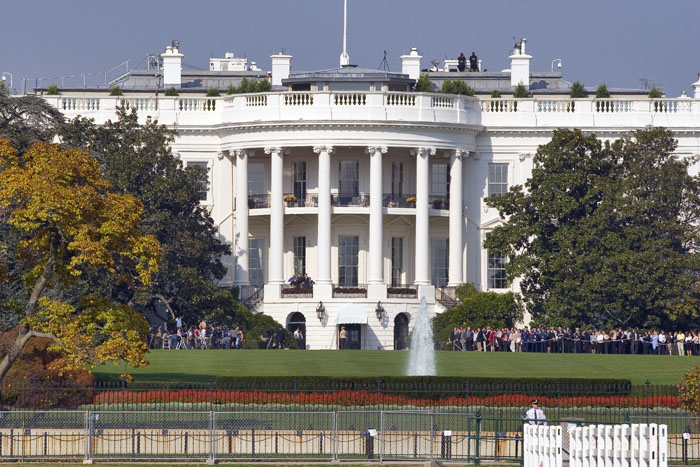 The White House, Washington, D.C. [Creative Commons license by dcjohn]
(Fields also noted the new president sought the CEOs' approval for his new gold curtains and choice of carpet in the Oval Office.)
The theme of unified national standards had been cited by auto executives even before Trump was inaugurated.
That specifically means federal action to eliminate the 2009 EPA waiver that allows California alone to set its own emission standards, as it has been doing since before the EPA existed.
That waiver permits any U.S. state to abide by the federal standards or opt into the stricter California standards, but not to set its own emission rules.
NOTE: Green Car Reports will have a separate article within a few days on those California standards and the possible impacts of abolishing the EPA waiver.
The promise of jobs was clearly a large part of the president's campaigning, however, and Fields' claim of 1 million jobs at risk seemed to deserve more attention.
Ford CEO Mark Fields at CES 2015
In further conversations with Ford, the company pointed to the following passage from a study released last September by the Center for Automotive Research in Ann Arbor, Michigan.
The projected gain and losses in automotive manufacturing and dealership employment as a result of the 2025 fuel economy mandates will affect the U.S. economy through a multiplier effect. Recent studies of the economic contribution of automotive manufacturing and new vehicle dealership employment have estimated that 5.6 jobs additional are created for every job in automotive manufacturing, and 1.3 jobs for every job in new vehicle dealerships.
Using the multipliers of 6.6 for change in automotive manufacturing employment and 2.3 for changes in new vehicle dealership employment produces an increase in overall employment on the U.S. economy in 2025 of an increase of 144,020 jobs in the case of $4.64/gallon gasoline price and $2,000 in fuel economy mandate cost and eight scenarios with negative employment change including the loss of 1.13 million jobs in the case of $2.44/gallon gasoline price and $6,000 in fuel economy mandate costs.
In other words, if the cost of complying with emission rules for 2017-2025 alone is $6,000 per vehicle, and if gasoline remains below $2.50 per gallon, then the Center projects that 1.1 million jobs could be lost—totaling those at carmakers, suppliers, dealers, and other related businesses.
2016 Ford C-Max Hybrid
Projecting the price of a barrel of oil years hence, and from that the retail price of gasoline, is not something that most forecasters can do with any degree of certainty.
But the NHTSA and EPA jointly estimated as part of the rulemaking process for what became the CAFE regulations that the real-dollar cost of a new vehicle in 2025 would rise slightly less than $3,000 over its level in 2012 due to the cost of meeting regulations.
That makes the $6,000 cost estimated by CAR and cited by Fields a clear outlier, since it applies to only a portion of the 14-year period for which the agencies estimated less than $3,000.
UPDATE: A reader has brought to our attention an analysis of the CAR study published last October by an industry consultant and a financial analyst. It says that study makes "a false argument based on assumptions that don't make any sense, with an alarmist conclusion ... contrary to what our own research has found." It's worth reading for its further dissection of CAR's claims.
FURTHER UPDATE: Also last October, the International Council on Clean Transportation has published an even more direct criticism of the CAR study, calling its cost estimates so "grossly inflated" that they "skew the end results." Those give the entire analysis "an inherent bias toward the conclusion that the standards are overwhelmingly likely to be economically harmful."
In the process of evaluating the standards in 2009, the NHTSA and EPA estimated that meeting the then-proposed rules would cost automakers $800 to $3,500 per vehicle.
During that period, CAR issued a dire prediction that said the proposed fuel-economy averages would cost carmakers and consumers from $3,750 to $9,800 per vehicle.
But in fact, seven years later, all the automakers appear to be meeting the CAFE standards.
Gas pump
Moreoever, according to a lengthy Technical Assessment issued last summer by the EPA, they are doing so at a lower cost than projected and using conventional technologies more and expensive electrification less than was projected as the regulations were first drafted.
Ford also made several additional points in a detailed response to our questions, including a reiteration of Fields' statement that the company supports improving fuel economy and reducing carbon emissions in its vehicles.
The company continues its strong support for a single national standard among regulations issued by the EPA, NHTSA, and the powerful California Air Resources Board, just as it did in 2009.
Ford was troubled by the accelerated pace of the EPA's mid-term review of the standards for 2022-2025. That review was agreed to in 2011, with the expectation that the standards would be finalized by April 2018—but not late in 2016.
Ford wants "to get that original process back on track working together with the three agencies and stakeholders," it wrote.
_______________________________________