President-elect Donald Trump nominated former labor secretary Elaine Chao to be his secretary of transportation yesterday.
She will follow current DoT secretary Antony Foxx, who himself succeeded Ray LaHood in 2013.
Foxx has focused on safety recalls following the GM ignition scandal, as well as tactics to reduce distracted driving and rules for autonomous vehicle testing.

DON'T MISS: Feds issue mandatory-noise rule for new electric, hybrid cars
The department has also just issued proposed rules on mandatory noise-making equipment for hybrid and electric cars.
Chao's selection by Trump was reported late yesterday by The Washington Post and National Public Radio, among many other outlets.
Unlike some of Trump's earlier picks, Chao is termed a consummate Washington insider and a person well versed in navigating Federal bureaucracies.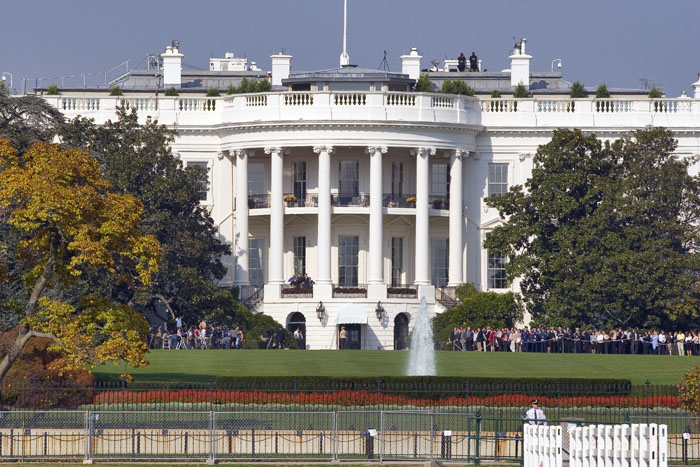 The White House, Washington, D.C. [Creative Commons license by dcjohn]
She served for eight years as labor secretary under President George W. Bush, and a deputy secretary of transportation under President George H.W. Bush.
Chao has been married to U.S. Senate majority leader Mitch McConnell [R-KY] since 1993. McConnell has said he does not intend to recuse himself from voting on her appointment.

She has run the United Way charitable foundation, served as a fellow at the conservative Heritage Foundation, and was a contributor to Fox News.

Gas prices, San Francisco, CA
"Secretary Chao's extensive record of strong leadership and her expertise are invaluable assets in our mission to rebuild our infrastructure in a fiscally responsible manner," said the president-elect in a statement.
The Trump campaign has said it would propose to spend up to $1 trillion to rebuild roadways, bridges, and mass transit in the 10 years that followed this year's election.
How that would be paid for remains unclear. Congress has refused multiple times to raise the federal gasoline tax, the historic mechanism for funding transportation infrastructure.
The federal gasoline tax has not been raised to compensate for inflation in more than 20 years. Every state now receives more in transport funding from Washington than it returns in gas-tax revenue.
Steadily rising corporate average fuel-economy standards from 2012 through 2025 plus the effects of the 2009 recession have actually reduced U.S. gasoline consumption from 2007 through 2014.
CHECK OUT: White House designates 48 electric-car charging corridors on U.S. highways
Recent Congresses have also refused to enact any new spending programs not accompanied by cuts in other government programs, often social services.
Trump has suggested that his government would issue tax credits to private investors who would fund such rebuilding.
It remains unclear whether those plans would be accompanied by an ability for the investors to levy tolls or other fees on historically free federal roads and bridges
Elaine Chao
That model has been used in various states, including Texas and California, though a number of highly publicized privately funded toll roads have failed to meet their revenue projections.
Statements on the appointment spanned a predictable gamut. National Association of Manufacturers president and CEO Jay Timmons said:
Elaine Chao is a friend and proven leader with the necessary experience and policy insights to helm the Department of Transportation during this critical time.
As manufacturers have laid out in our 'Building to Win' infrastructure blueprint, now is the time for a bold and serious investment in our nation's highways and bridges, railways and airports, seaports and pipelines.
Environmental advocacy group Sierra Club was less pleased. Its executive director Michael Brune wrote:
Our nation can't afford to have someone who has proven to be an enemy of working families and a friend of the fossil fuel industry in the driver's seat at the Department of Transportation, but that's exactly what we get with Donald Trump's pick of Elaine Chao.
History shows Chao would rather help corporate polluters than act to protect good-paying jobs or our climate.  Transportation is now the largest source of U.S. carbon emissions, so we need a leader who will protect Americans from toxic pollution.
_______________________________________