Despite record overall new-car deliveries, the market for electric cars and plug-in hybrids actually declined slightly in 2015.
Plug-in car deliveries stood at around 115,000 units, down from around 120,000 in 2014.
The results so far for January--historically a rough month for car sales anyway--don't look at all encouraging, either.
DON'T MISS: Plug-In Electric Car Sales For 2015 Fall Slightly From 2014
But that doesn't necessarily mean plug-in electric cars have lost their momentum.
Sales should bounce back in 2016 as charging infrastructure continues to expand, and automakers prepare to launch new models, predicts a recent Navigant Research blog post.
A survey from the research firm shows that lack of charging infrastructure is still one of the main reasons consumers hesitate to switch from gasoline to electric cars.
BMW and Nissan electric car fast-charging station
When asked what the primary drawback of owning a plug-in car is, 36 percent of respondents cited lack of public, charging stations, and other charging-related issues.
That included both consumers at large and a small sample of 14 owners of plug-in cars, three of whom mentioned lack of charging infrastructure as a major drawback. None mentioned range, though.
Navigant appears confident that current and future efforts by carmakers will eventually address consumers' charging concerns.
ALSO SEE: Plug-In Electric Car Sales In Jan: Steady, But Little To Celebrate
Tesla continues the buildup of its own "Supercharger" DC-fast charging network, and some other automakers are stepping up efforts to back the installation of more stations for their cars.
In December, BMW and Nissan announced an infrastructure collaboration, which is noteworthy because each of their electric cars uses a different DC fast-charging standard. (Tesla uses its own standard as well.)
BMW backed the installation of new fast-charging stations at 120 locations across 19 states--each with plugs to accommodate both the Nissan Leaf's CHAdeMO standard and the Combined Charging Standard (CCS) used by the BMW i3.
BMW and Nissan electric car fast-charging station
Dual-standard DC fast-charging stations are slowly becoming the norm for most new installations--and even retrofits--which should give more drivers access to a greater number of stations.
An influx of new models should also provide a boost to plug-in car sales, notes Navigant.
MORE: Nissan, BMW Partner To Provide More Fast-Charging For Electric Cars (Dec 2015)
The 200-mile, $37,500 2017 Chevrolet Bolt EV was the toast of CES last month, and will start production before the end of this year.
Tesla is set to show photos of its 200-mile, $35,000 Model 3 sedan in a few weeks, and has said that production will begin by the end of 2017 or early in 2018.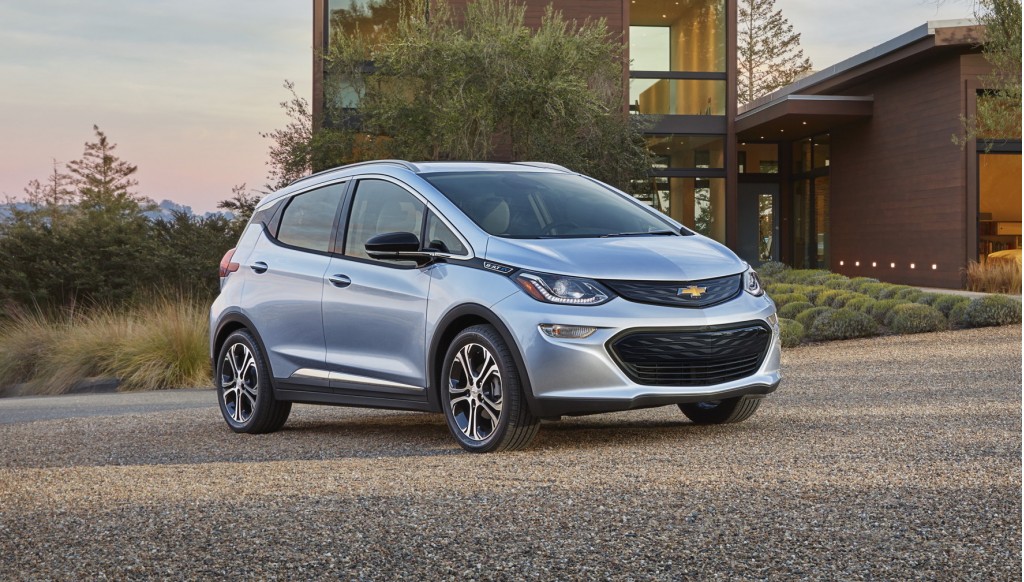 2017 Chevrolet Bolt EV
Updated, longer-range versions of the BMW i3 and Volkswagen e-Golf will also arrive soon, along with a redesigned Nissan Leaf anticipated by the end of 2017.
By the end of the decade, VW Group too will offer three long-range, all-electric luxury models: the Audi e-tron SUV, and the Porsche Mission E and VW Phaeton sedans.
Increasingly regulatory pressure on emission and fuel economy means carmakers can't afford to be short sighted.
So while electric-car sales may have stumbled in 2015, that doesn't mean they will derail the industry's commitment to plug ins.
_______________________________________________