One of the biggest challenges in designing a battery-electric car is how to configure its large battery pack.
The BMW i3, Nissan Leaf, and Tesla Model S all have flat battery packs under their cabin floors, but they are purpose-built electric cars without gasoline equivalents.
Now Volkswagen says it will move to a flat battery pack design for future long-range electric vehicles as well--likely while keeping them as part of its family of shared architectures.
DON'T MISS: Long-Range Electric VW Microbus Concept To Debut At CES
That news will be announced tomorrow, according to Bloomberg, in the latest issue of the VW employee newsletter Insight.
To be distributed tomorrow, that issue includes an interview with Dr. Herbert Diess, chairman of the Volkswagen passenger-car brand, Bloomberg reports.
Volkswagen Bulli Concept
VW will develop a dedicated vehicle architecture "that foresees the installation of flat batteries," he says, calling the design "a breakthrough" for the company.
Diess will unveil a new electric Volkswagen Microbus concept in early January at the Consumer Electronics Show in Las Vegas.
ALSO SEE: Electric VW Phaeton Delayed To 2020, May Use Audi e-Tron Quattro Powertrain
In October, just four weeks after the Volkswagen diesel-emission scandal broke, the company announced plans to expand its efforts in electrified drivetrains even as it slashed capital spending to cope with the costs of the crisis.
Specifically, a VW Group statement said, the company will develop a new "MEB Modular Toolkit" for future compact vehicles: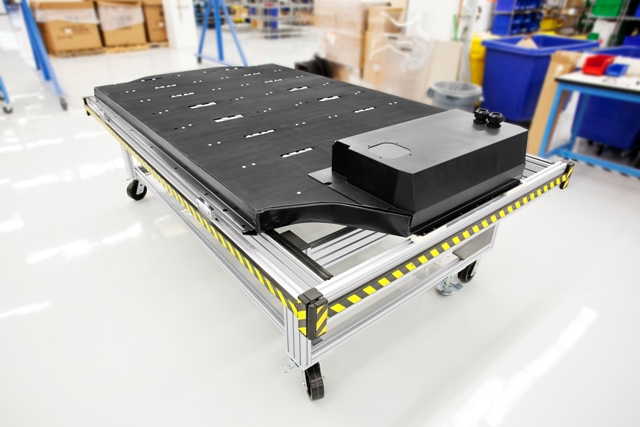 Tesla Motors - Model S lithium-ion battery pack
An MEB electric toolkit for future use in compact segment vehicles is to be developed based on the experience gained with existing vehicle architectures. This will be a multi-brand toolkit suitable for both passenger cars and light commercial vehicles and will thus leverage synergies from other electric vehicle projects in the Group.
This would likely be a comprehensive adaptation of its current MQB architecture, ultimately planned to underpin up to 4 million vehicles a year, including today's Volkswagen Golf and Audi A3 models.
MORE: VW To Focus On Electric, Plug-In Hybrid Tech, Slash Spending Due To Diesel Scandal
The current first generation of battery electric vehicles adapted from gasoline cars, including the Volkswagen e-Golf, usually retrofits battery packs under the rear seat and cargo bay.
As well as the e-Golf, additional vehicles in that category include the Chevrolet Spark EV, Fiat 500e, Ford Focus Electric, Kia Soul EV, and Mercedes-Benz B-Class Electric Drive.
Lithium-ion battery pack for 2014 Chevrolet Spark EV electric car
But a dedicated flat-battery design is likely a requirement in order to accommodate the much larger packs that will boost range from those cars' 80 miles or so to match the 200 miles of next year's 2017 Chevrolet Bolt EV.
Expect Volkswagen to discuss its electric-car plans frequently and in greater detail over the months to counter further news from the diesel-emission drama, which continues to play out in certification labs, courthouses, and regulatory agencies around the world.
_______________________________________