Tesla is currently juggling several major projects, leading to speculation about when each will be completed.
It plans to launch its much-delayed Model X electric SUV later this year, and unveil a concept version of the Model 3 sedan next year.
But the Model 3's timeliness is largely dependent on another Tesla project--the company's massive lithium-ion cell "Gigafactory," located just outside Reno, Nevada.
DON'T MISS: Tesla Model 3: Revealed Next Year, Production Starts 2017, Company Confirms
Last week Steve Hill, director of the Nevada Governor's Office of Economic Development, told state lawmakers that construction was progressing quicker than expected.
Officials now estimate that the Gigafactory will open within in a year, reports the Reno Gazette-Journal.
"Certainly one year from now, that factory will be producing batteries," director Hill stated.
Tesla battery gigafactory site, Reno, Nevada, Feb 25, 2015 [photo: CC BY-NC-SA 4.0 Bob Tregilus]
He said that more than 740 construction workers have been hired since Tesla began building in October 2014. But Tesla currently has just 12 full-time employees in the state.
In a report issued to lawmakers, Tesla said it had already spent $140 million on the project.
The construction is ultimately expected to account for one quarter of the total of the estimated $5 billion Gigafactory price tag.
ALSO SEE: Tesla Gigafactory To Host 'Hundreds' Of Panasonic Workers Starting This Fall
Beginning this fall, Panasonic will send several hundred workers to Nevada to prepare for the start of lithium-ion cell production.
The Japanese electronics company--which currently supplies batteries for the Model S and owns a small stake in Tesla--will provide funding for the project, and oversee the completed factory's operation.
The majority of cells produced by the Gigafactory will be used in the 200-mile Tesla Model 3 electric car.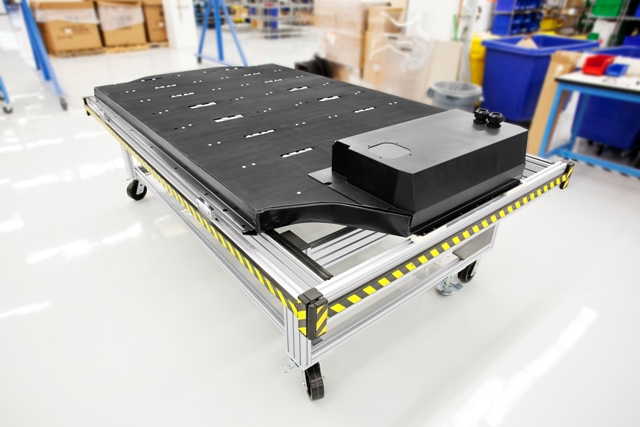 Tesla Motors - Model S lithium-ion battery pack
Tesla is relying on the economies of scale of the huge factory to allow it to sell the Model 3 at a base price of $35,000 before incentives.
Some production capacity will also be devoted to battery pack's for Tesla energy-storage venture, which will market stationary-storage systems for homes, businesses, and electrical utilities.
Demand for those packs was far higher than the company had projected, said CEO Elon Musk during the company's last quarterly financial-results call.
MORE: Tesla's New Powerwall Batteries: 7 Or 10 kWh For $3,000 Or $3,500
As part of the deal negotiated with Nevada to locate the Gigafactory there, Tesla is required to continue submitting progress updates to the state legislature.
It is also required to hire state-approved auditors to monitor progress.
For its part, Nevada is offering Tesla $1.3 billion in incentives for the project.
_______________________________________________