Green cars may be designed for practical purposes--cutting fuel consumption, lowering planetary damage--but they can be as good for a carmaker's image as they are for the environment.
The Toyota Prius established its maker as the leader in hybrid technology, while the Chevrolet Volt has been touted by General Motors as proof of the Detroit carmaker's tech savvy and willingness to take risks.
DON'T MISS: Hydrogen Fuel-Cell Car Questions: Toyota, Honda & Hyundai Respond (Part 3)
Now, Hyundai is hoping its commitment to hydrogen fuel cells will have a similarly positive effect on its image.
Rather than pitching itself to individual car buyers as a technology leader, though, the Korean company is targeting a different market initially: fleets.
In the U.K., Hyundai hopes to become as synonymous with fuel cells as Toyota is with hybrids, by targeting commercial buyers, according to a report from Business Car.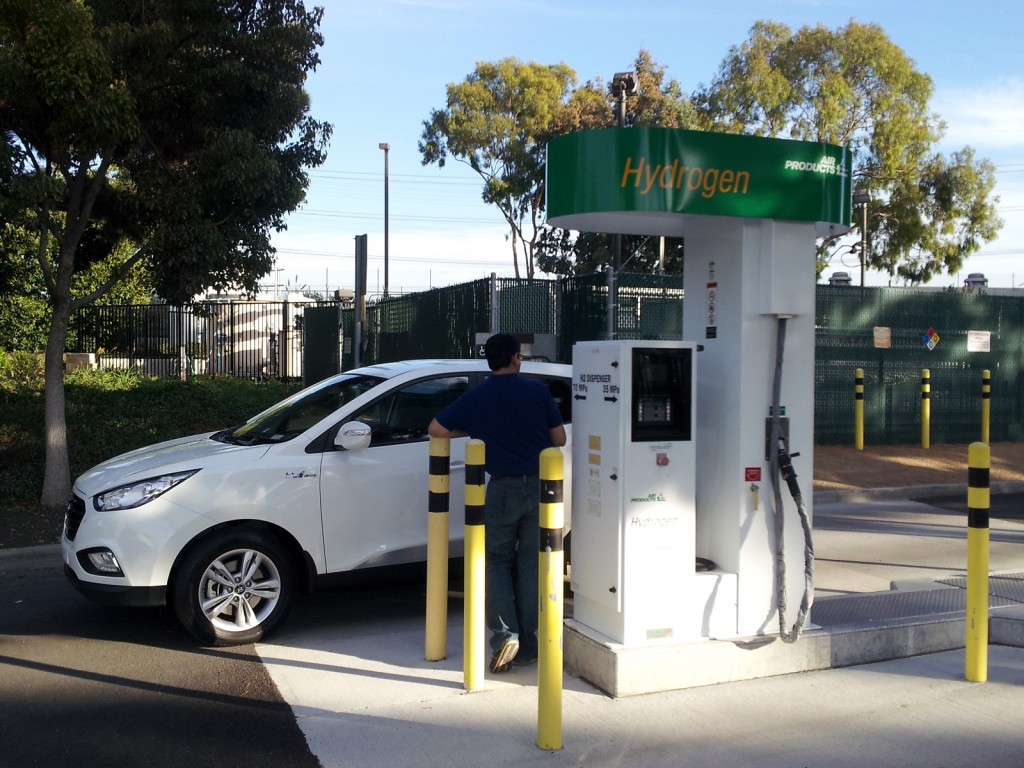 2015 Hyundai Tucson Fuel Cell at hydrogen fueling station, Fountain Valley, CA
So far, it appears to be working.
Not currently a strong player in the U.K. fleet business, Hyundai says it's been getting more attention from buyers, who are curious about its fuel-cell vehicles.
The Hyundai ix35 Fuel Cell crossover launched there at the end of October. The same compact utility vehicle is available for lease in certain parts of California as the Tucson Fuel Cell.
ALSO SEE: 2015 Hyundai Tucson Fuel Cell: Hydrogen Crossover First Drive
U.K. buyers will still have to deal with the same lack of fueling infrastructure as those in California, although the national government has allocated 11 million pounds (just over $17 million at current exchange rates) for new fueling stations.
In the U.S., the launch of the Tucson Fuel Cell has been fairly small-scale, with about 60 vehicles expected to be delivered between June and December of this year--and only to lessees who live in areas of Southern California with adequate fueling infrastructure.
Unlike Toyota and Honda--which plan to launch fuel-cell cars in 2015 and 2016, respectively--Hyundai based its vehicle on an existing internal-combustion model.
First 2015 Hyundai Tucson Fuel Cell delivered to lessee at Tustin Hyundai, June 2014
While it passed on the opportunity to pair fuel cells with a potentially-flashier new nameplate and body style, Hyundai did beat the Japanese carmakers to showrooms.
It may be starting small, but fuel cells are so far an integral part of Hyundai's ambitious green-car plans.
RELATED: Hyundai And Kia Target # 2 Slot In Green Vehicles By 2020
Along with corporate partner Kia, Hyundai hopes to become the world's number two green-car maker by 2020.
To do that, it will triple its range of low-emission vehicles--and two new hydrogen fuel-cell cars are included in those plans.
_______________________________________________