While they had to backpedal on misstated gas-mileage figures over the last couple of years, Hyundai and Kia are moving forward with ambitious green-car plans regardless.
The corporately-conjoined Korean carmakers are aiming for the global number two slot in green vehicles by 2020 (after hybrid powerhouse Toyota, presumably).
RELATED: Ford, Hyundai Dedicated Hybrids To Target 2016 Toyota Prius?
To do that, they'll triple the number of green cars in their lineups to "at least" 22 by that time from seven now, according a recent Reuters report.
The influx of new models will include 12 hybrids, expanding their deployment of gasoline-electric powertrains into both small cars and utility vehicles.
The only hybrids they currently offer in the U.S. are the Hyundai Sonata and Kia Optima midsize sedans, both of which are expected to get a refresh for the 2016 model year.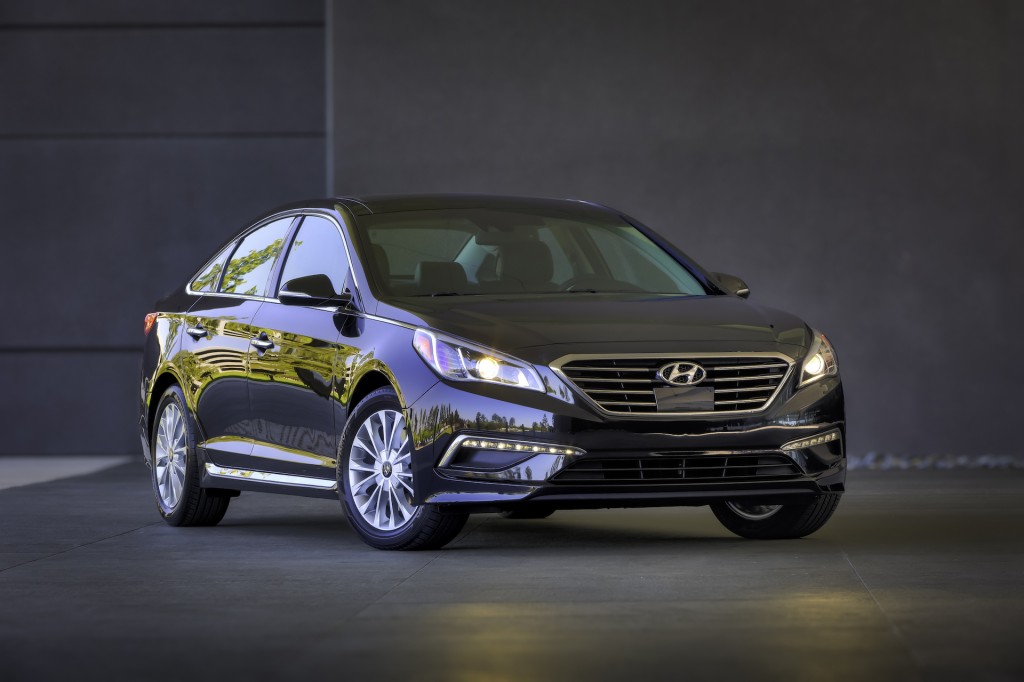 2015 Hyundai Sonata 2.4 Limited

In addition, hybrid versions of the Hyundai Grandeur and Kia K7 large sedans are sold in Korea. (The non-hybrid versions of those models are sold in the U.S. as the Hyundai Azera and Kia Cadenza, respectively.)

In addition, Hyundai is expected to launch a dedicated hybrid targeting the Toyota Prius in 2016 or 2017. Like the Prius, it will feature unique styling and its own nameplate.

The two companies' combined green-car roster will also feature six plug-in hybrids, two hydrogen fuel-cell cars, and two battery-electric cars.

Expected plug-in hybrid versions of the Sonata and Optima will account for two of those slots.

MORE: Hyundai Sonata Plug-In Hybrid Coming Next Year, Kia Optima Too

The Sonata plug-in should arrive first, perhaps next year as a 2016 model when the conventional hybrid transitions to the new body style introduced with the non-hybrid 2015 Sonata.

The Hyundai Tucson Fuel Cell crossover is already available for lease in limited numbers in California, with about 60 expected to be delivered over the seven months from June through December this year.

But Hyundai's plans seem to call for a more mainstream model within several years.

On the battery-electric front, the Kia Soul EV that recently launched as a 2015 model could be joined by two compact sedans.
2015 Hyundai Elantra
Last month, the two carmakers announced that they would build electric versions of the Hyundai Avante (Elantra) and Kia K3 (Forte) compacts.
These cars were last redesigned in 2011 and 2012, respectively, so the electric versions will likely ride on platforms designed for the next-generation versions.
The two cars together will be the first Korean-designed all-electric sedans. They're preceded only by the Samsung SM3 ZE--a re-badged version of the Renault Fluence ZE.
ALSO SEE: Hyundai, Kia To Pay $300 Million For Gas-Mileage Testing Errors
The news comes just a week Hyundai and Kia announced they would raise the fuel economy of their vehicle ranges 25 percent to meet stricter global emissions standards.
The companies also formally agreed to pay $300 million in fines to the U.S. government over misstated fuel-economy figures on the window stickers of certain 2011, 2012, and 2013 models.
[hat tip: Brian Henderson]
_______________________________________________