There's no mistaking the fact that Nissan is rapidly increasing its production volumes for its 2011 Nissan Leaf in order to clear its order books and get 12,000 Leafs delivered in the U.S. by the end of 2011. 
You'd think that by the start of next year, a Nissan Leaf might be easy and quick to buy, right? 
Not necessarily so. Or rather, it may take a little longer than you'd hope. 
Why? It boils down to two different stories we've come across in the last 24 hours. 
Firstly, according to some would-be Leaf owners, the Japanese automaker is delaying the delivery of their cars until they can prove that suitable charging equipment exists in their home. 
2011 Nissan Leaf
As Bloomberg reported earlier this week, some owners are being told that without showing Nissan proof that they have spent upwards of $2,000 on installing a dedicated 240V home charging station in their homes, their Nissan Leaf is not being delivered - despite the 2011 Nissan Leaf shipping with a 110V charging cable capable of charging it from any domestic outlet. 
Particularly troublesome for those who rent, the requirement may also be a ploy to discourage Leaf customers from choosing to forgo the expensive hard-wired charging station in favor of an unsupported but proven hack to the 110V charging cable to charge their car from any 230V drier outlet at a fraction of the cost of an official charging station.
If that Nissan-induced delay isn't bad enough for those on the waiting list, those who had decided to wait until the backlog was cleared before placing their order may have a nasty shock too.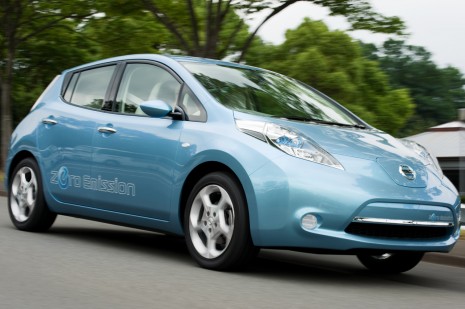 2011 Nissan Leaf
Supply chain woes caused by the Japanese earthquakes earlier this year could mean the U.S. will continue to see a limited supply of Japanese-made leafs trickling into ports for the U.S. market - and U.S. production of the car could be held off indefinitely until Nissan's supply chain and Japanese production volumes are back to full capacity.
Nissan's assembly plant in Smyrna, Tennessee was scheduled to start making batteries for the all-electric hatchback as early as September next year, with full-scale production of the Leaf due to start in December.  
Unprepared to give a firm start for U.S. production, Nissan bosses are focusing on restoring the Japanese production lines before worldwide production volumes are increased, but that could have a serious knock-on effect on Leaf popularity and sales volumes in an ever-increasingly competitive electric car market. 
With both Ford and Chevrolet poised to make large numbers of domestically produced plug-in vehicles for the U.S. market in 2012, we're not sure how many Leaf customers will continue to wait if alternatives exist. 
What do you think of Nissan's Leaf waiting list woes? Let us know in the Comments below.