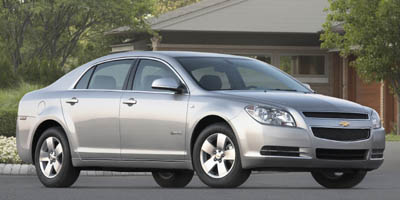 2008 Chevrolet Malibu Hybrid
Chevy's midsize Malibu sedan has enjoyed widespread praise among automotive media, but one version of the vehicle is conspicuously absent from GM's plans for 2010. The Malibu Hybrid will no longer be available next year, as GM continues to whittle away at its product lineup.
The Hybrid achieved an EPA estimated 26 miles per gallon in the city and 34 on the highway, which was only marginally better than that of the 4-cylinder Malibu LT and LTZ variants with the six-speed automatic transmission. The EPA rated the gas-only models at 22 city and 33 highway. Couple that with limited availability and a higher price tag than the Malibu LT and the Hybrid never had much of a chance.
With competition in the hybrid market growing fiercer, between the third generation Toyota Prius, the new Honda Insight and the acclaimed Ford Fusion Hybrid, the Malibu may have been left in the dust in 2010 anyway. All of the other three gas sippers offer nearly 40 mpg city and over 40 mpg highway.
To add insult to injury, the awaited two-mode Saturn Vue Hybrid will not be part of GM's sale of the Saturn brand to Roger Penske. GM representative, Brian Corbett, told Autoblog Green that the two-mode system will likely be a part of future offerings available in 2011, but the Hybrid Vue is officially dead.
So GM is in bankruptcy and now has two fewer hybrids, while hybrid versions of the Ford Fusion and Escape are ranked number one in their respective categories by U.S. News and World Report. Advantage: Blue Oval.
Sources: General Motors, Autoblog Green