The 2009 Nissan Cube isn't the first in the craze for oddly boxy vehicles, but Nissan has positioned itself to try and capitalize on this fad while it is still in full effect. The new Cube is a highly stylized asymmetrical vehicle that TheCarConnection.com first revealed to its readers back in November of 2008. In that report they said the new vehicle brings a "bubbly Japanese personality" to the tall-box wagon class. Nissan has a slightly different opinion calling the 2009 Nissan Cube's styling "witty."
So what is all the fuss about, it is just another Scion xB or Honda Element right? Well, it is true that the Scion xB and Honda Element have been in the consumer market for many years now and have become a symbol of individuality, but Nissan plans to takes the Cube to another level through its styling, inside and out. If you take a look at the outside of the Cube you will notice a wraparound rear windshield, tall slightly rounded profile, rounded side windows (Nissan says they're supposed to frame passengers like a picture), and 15 inch wheels. The real magic however is in the interior.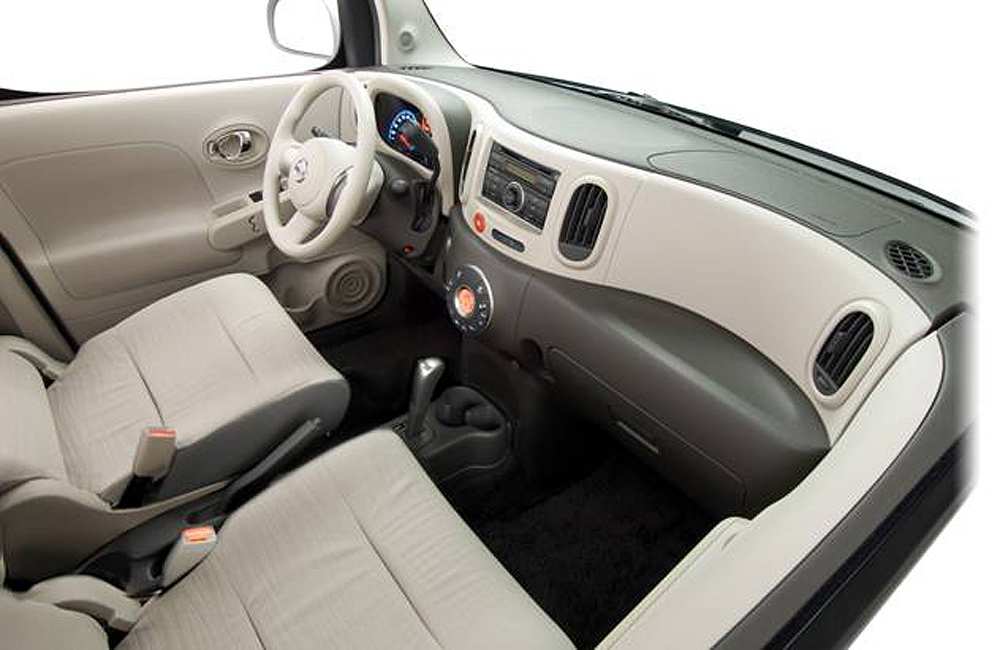 2009 Nissan Cube
The interior styling of the Cube is said to be designed after that of a Jacuzzi—and no I am afraid massaging seats aren't among the options list. As you might have guessed, comfort is the desired feeling; Nissan tries to accomplish this by giving the passenger a place where they can lounge in comfort as they are whizzed to and fro. To help add to this atmosphere the 2009 Nissan Cube is equipped with a raised sliding and reclining rear seat, full skylight, large door openings, and "Magic Rubber Bands" to hold down rambunctious cargo. The one drawback that I have found is that the Nissan Cube doesn't have rear seats that fold flat giving the Cube a cargo floor that is uneven, unlike others competitors in this class.
At the 101st Chicago Auto Show, held in February of this year, the Sun Times SearchChicago.com reported that the starting price for the 2009 Nissan Cube will be $13,990. That is only $690 dollars more than the base MSRP for new 2010 Kia Soul, another new competitor in the market. They also reported that the initial offering from Nissan will consist of four versions: base Cube 1.8, Cube 1.8 S, Cube 1.8 SL and Cube Krom (pronounced Chrome).
Verdict—the 2009 Nissan Cube is a funky box style vehicle that has good cargo room, with a good entry-level price, and comfort. However, its unique styling is probably not for everyone. 
Looking for more? Check out the rest of our new and used car photos, reviews and more here at allsmallcars.com. And if you need financing, roll over to TheCarConnection.com.