The gentle rumble under the brown station wagon's hood brings back memories of not too long ago as I sneak its 6-speed manual through the gears. So, too, the way it accelerates down a highway on-ramp—like warm maple syrup, the brown wagon moves substantially with just enough verve.
From the driver's seat of this 2011 VW Golf TDI SportWagen, the memories conjured up are good ones.
The VW TDI engine earned accolades in the early oughts for the way it combined good power and docile manners with upward of 35 mpg no matter how you drove it. 
Volkswagen TDI diesel cars stored at Pontiac Silverdome (Photo by Jalopnik)
But there are reminders of the past, not the least of which is a thin line of dust coughed up through the air vents when I cycle the air conditioner.
That's because the brown diesel wagon I'm driving spent last winter confined to a dusty parking lot in the High Desert south of Colorado Springs, with Pikes Peak looming nearby. Thousands of other TDIs, ranging from Beetles to luxurious Audi Q7 crossovers, remain captive in massive holding facilities across the U.S.
Some are finally heading home, to used car lots—stripped of some of their pride. VW and the government worked out a fix that removes the software cheats and makes the cars fully compliant with 2011-era emissions standards.
DON'T MISS: 300K bought-back VW diesels are decaying in 37 lots as it waits for ... what?
This Jetta SportWagen's CarFax shows just one previous owner who made regular service visits to the dealership and always renewed the registration on time. Everything appears normal until January of 2018, when a Michigan title was issued and the CarFax note says "Title or registration issued to manufacturer."
After 89,000 miles of apparently reliable driving, this VW was one of hundreds of thousands bought back after it was revealed that the automaker intentionally and systematically cheated on the federal government's emissions test.
This Jetta TDI wagon was one of the first approved for repair by the automaker. The CarFax shows that it has been in inventory for 6 weeks, despite an uptick in TDI ads online today alerting shoppers that these tainted diesels are back on the road.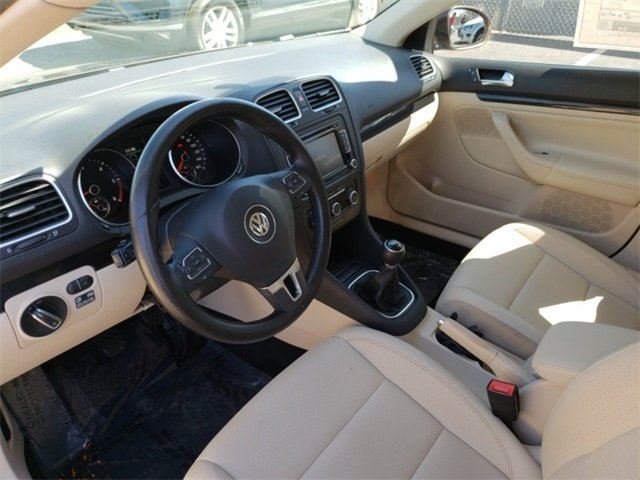 Interior of 2011 Volkswagen TDI Sportwagen listed for sale after emissions repairs
This Jetta wagon didn't sit on the dealer lot that long when it was new, but demand for TDIs greater back then.
VW bragged in a press release in January of 2011 when this Jetta's original owner took delivery that "22 percent of Volkswagen models were sold with TDI Clean Diesel engines" the year prior.
It's hard to imagine how that owner reacted when allegations first came out in the fall of 2015. VW's buyback offer a couple of years later was generous. Owners received well above book value for their used diesels.
Interior of 2011 Volkswagen TDI Sportwagen clean Carfax report
I don't know what this wagon's owner drives today. For about $12,000, I could be this wagon's third owner, since VW held its title for a few months.
It's a compelling offer. The Jetta shows few signs of use and I like its specification, a nice combination of brown metallic paint and a 6-speed manual transmission. Even the synthetic leather upholstery, which VW called Biscuit back then, holds appeal for the way it would hold up to our rambunctious terriers.
I don't have an unfixed Jetta wagon for comparison since few owners didn't take VW up on its buyback offers, so it's hard to draw a direct comparison.
Interior of 2011 Volkswagen TDI Sportwagen Carfax report shows new manufacturer ownership
This Jetta feels solid and it accelerates smoothly. The dealership test drive takes me on the highway, where the trip computer shows 40 mpg for a few miles of cruising.
Around town, there's that same hint of lag I remember from when these cars were new. The 6-speed sneaks through the gears and the clutch feels good, almost new.
READ THIS: In pictures: Volkswagen TDI diesels await their fate in Pike's Peak shadow
The diesel engine sounds louder than I remember, but that's probably because today's diesels like the Ford F-150 Power Stroke I drove recently are several generations newer. And the F-150 costs double what this Jetta did.
 This Jetta is too old to qualify for VW's certified pre-owned program, which stipulates cars are no older than 2012 and that they have less than 75,000 miles. The dealer has wagons that qualify in stock, but they're more expensive.
The jovial VW salesman doesn't pressure me, other than the gentle "well, you never know when the right buyer is going to walk in" reminder.
I wanted a TDI back in 2011, but I'm not so sure today.