Scott Pruitt, head of the Environmental Protection Agency, has had a very busy schedule since being confirmed to lead the agency set up to protect America's air, water, and land from pollution.
Unlike his predecessors, Pruitt—a climate-science denier and aggressive advocate of fossil fuels—has largely ignored environmental groups and public-health advocates in his months at the EPA.
Instead, he has met almost exclusively with countless heads of fossil-fuel and manufacturing industries, whose activities the agency has traditionally regulated.
DON'T MISS: Trump EPA to hold unneeded 'critique' to challenge climate science
His schedule has included meetings with Alliance Resource Partners, a coal-mining company; the president of Shell Oil Company; the chief executive of Southern Company, a coal-burning utility company; and many others.
To understand the details, The New York Times pored over a 320-page log of Pruitt's daily schedules, which listed an overwhelming number of high-profile meetings with top industry executives.
Many of the companies are old allies of Pruitt, who sued the EPA more than a dozen times to block the agency's enforcement of emission regulations on Oklahoma's fossil-fuel producers when he was the state's attorney general.
Coal-fired Nanticoke Generating Station, Ontario, Canada, now being converted to 44-MW solar farm
EPA representatives have since defended Pruitt's schedule, claiming that "the agency is now meeting with those ignored by the Obama administration."
William K. Reilly, EPA administrator under President George H.W. Bush, believes otherwise.
Reilly told the Times that if anything, the current EPA chief should meet with environmental groups more often, due to his past history with the agency and the sheer number of lawsuits he filed, almost all of them dismissed by the courts.
READ THIS: EPA to study cutting amount of ethanol in U.S. gasoline
"I would think he would feel a responsibility to bend over backward to show a sense of judicious impartiality," Reilly said.
The EPA's inspector general has also opened a preliminary investigation into Pruitt's government-funded travels to Oklahoma, which occasionally appear to include only minimal official business.
For example, one scheduled multi-day trip included only a single meeting of one hour with Sam Wade, the chief executive of the National Rural Water Association, on May 5, 2017.

Coal, by Flicker user oatsy40 (Used Under CC License)
Pruitt flew home the following Monday; the weekend trip cost $1,043.
The EPA's most imminent action is likely its effort to revisit the Clean Power Plan, signed into law by former President Obama.
That set of regulations aimed to cut emissions of the climate-change gas carbon dioxide from electric utilities by 32 percent below 2005 level, in 2030 or before.

CHECK OUT: Coming this week: Trump EPA's plan to neuter Clean Power Plan
While every state had the responsibility of crafting a plan specific to its own circumstances, and reductions in energy use could substitute for any changes to powerplants, fossil-fuel-producing states sued the Obama Administration over the plan.

The EPA will reportedly attempt to craft new numbers to show the regulations' costs outweigh its benefits, offering the chance to further deregulate energy production.
Pruitt has said the agency will draw up a different plan to reduce carbon-dioxide emissions, which it is legally required to regulate and reduce.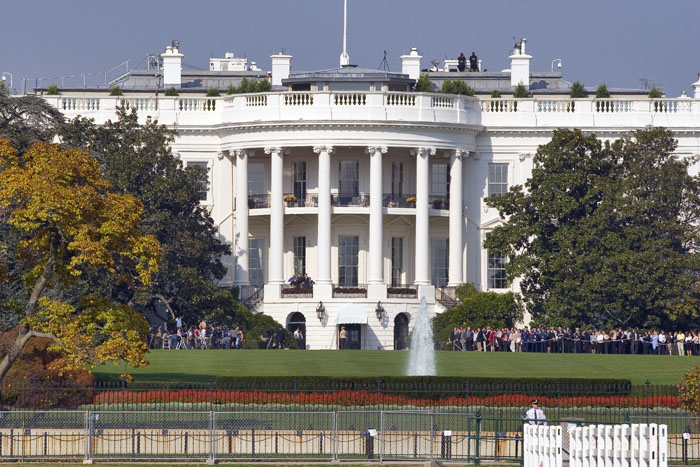 The White House, Washington, D.C. [Creative Commons license by dcjohn]
Despite the EPA's deregulatory aura under Pruitt, the U.S. Senate has pushed back, at least in one case.
After the White House under President Donald Trump issued a budget that largely ended funding for research into and implementation of clean energy, a U.S. Senate budget panel boosted funding instead.
The EPA's new analysis of the Clean Power Plan is expected before a deadline of October 7, 2017, that requires the EPA to update a federal appeals court on its plans.
_______________________________________