The new presidential administration seems poised to take a radically different approach to energy policy than its predecessor.
That approach is founded on denial of accepted climate science, and an expressed desire to promote the fossil-fuel industry, including the so-called revival of coal.
But while the White House prepares to execute what looks like a major policy reversal, a bipartisan group of governors is urging the Trump administration to reconsider.
DON'T MISS: EPA to reopen emission-rule review; how important is this step?
They emphasize not just the importance of climate change, but also something that was a major theme of President Donald Trump's campaign: jobs.
The Governor's Wind & Solar Energy Coalition is calling for Trump to support the solar and wind industries, saying they are crucial to the economies of impoverished rural areas, reports Bloomberg.
The group includes eight Republican and 12 Democratic governors.
Solar Panels by Flickr user Chandra Marsono
It seeks an array of federal funding and legislative measures to promote renewable energy, according to a letter sent to the White House last month.
These include funds to modernize power grids and increase renewable-energy research, as well as legislation to promote offshore wind farms and streamline the permitting process for wind and solar installations.
The governors' declaration follows the passage of legislation in Illinois and Michigan supporting wind and solar.
ALSO SEE: Five electric-car questions to worry about this year
Last month, more than 600 U.S. companies issued statement urging Trump not to withdraw from the Paris Climate Accord.
But the new administration, including the EPA under Scott Pruitt, has not indicated any plans to moderate Trump's negative views of renewable energy.
Following persistent lobbying by automakers, Trump is expected to announce today that the EPA will reopen the comment period for 2022-2025 EPA vehicle emissions standards.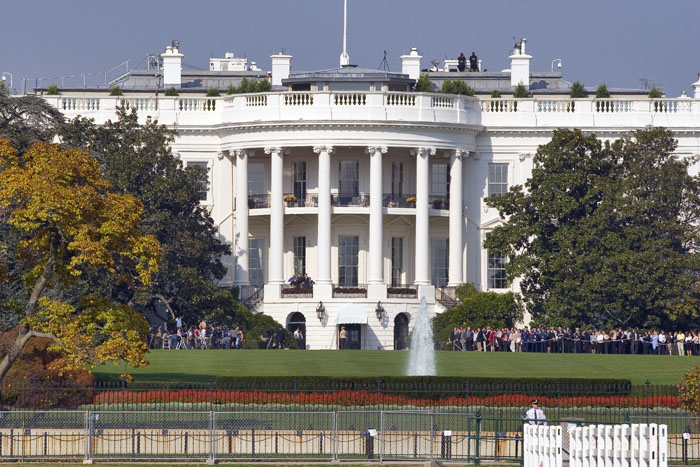 The White House, Washington, D.C. [Creative Commons license by dcjohn]
The EPA finalized those standards in the waning days of the Obama administration, but lobbyists have used the fact that officials finished the process well ahead of a 2018 deadline to argue for a return to the original timetable.
EPA boss Scott Pruitt has publicly questioned the science of climate change in his new position, and previously sued the agency he how leads on behalf of Oklahoma fossil-fuel producers as the state's attorney general.
CHECK OUT: Trump's EPA deletes 'science' from Science Office mission statement
The day Trump was inaugurated, the White House website eliminated all references to climate change.
The "American First Energy Plan" now listed on the website makes reference to expanded fossil-fuel production, but does not mention renewable energy.
Green Car Reports respectfully reminds its readers that the scientific validity of climate change is not a topic for debate in our comments. We ask that any comments that deny the accepted scientific consensus on climate change be flagged for moderation. Thank you in advance for helping us keep our comments on topic, civil, respectful, family-friendly, and fact-based.
_______________________________________