Tesla CEO Elon Musk has been appointed to a forum of business leaders being assembled by President-elect Donald Trump.
The addition of Musk and two other notable business personalities was announced Wednesday by Trump's transition team, shortly before a meeting between the President-elect and several Silicon Valley executives, including Musk.
The group Musk was named to is called the "President's Strategic and Policy Forum," and is scheduled to meet for the first time in early February.
DON'T MISS: Tesla CEO Musk, other Silicon Valley execs, to meet Trump Wednesday
Members "will be called upon to meet with the President frequently to share their specific experience and knowledge," a statement from Trump's transition team said.
The forum will be chaired by Stephen A. Schwarzman, CEO and co-founder of private-equity firm Blackstone.
When the forum was announced December 2, General Motors CEO Mary Barra was named to it, along with the CEOs of JPMorgan Chase, Wal-Mart, and Disney, as well as a former CEO of Boeing.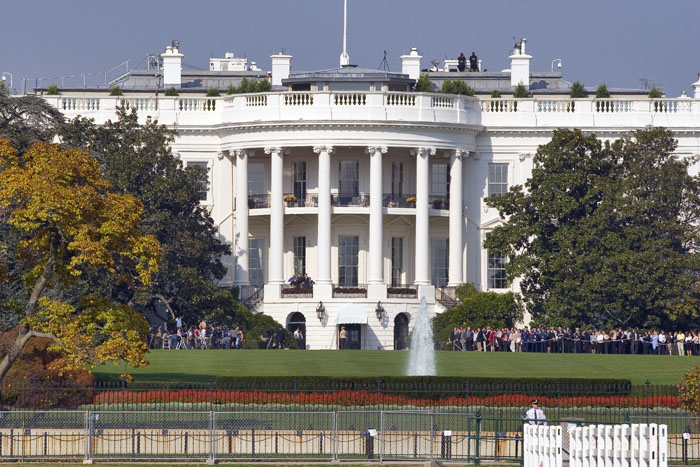 The White House, Washington, D.C. [Creative Commons license by dcjohn]
On Wednesday, the Trump transition team added Musk, as well as Uber CEO Travis Kalanick and PepsiCo CEO Indra Nooyi to the contingent.
That same day, Musk was among a group of tech executives that met with the President-elect in New York City.
As well as Musk, the CEOs of Alphabet (formerly Google), Amazon, Apple, Cisco, IBM, Intel, Microsoft, and Oracle, and the chief operating officer of Facebook, were also in attendance.
ALSO SEE: Trump: Rick Perry to lead Energy Department he vowed to eliminate
Trump maintained a solicitous tone throughout the meeting, saying he was "here to help," according to The New York Times.
Topics discussed reportedly included vocational education, trade with China, immigration, and a request by Trump that the executive find ways to use data analysis to eliminate government waste.
The meeting with "more than a dozen of the greatest tech leaders in the country," the transition team said in a statement, was to "begin a conversation and partnership in order to spark innovation and create more jobs in the U.S., particularly for working Americans."
Oil well (photo by John Hill)
"The President-elect expressed an open mind and willingness to listen," the statement continued, "which was greatly received by the industry leaders in attendance."
With the exception of noted Libertarian venture capitalist Peter Thiel, most technology executives did not back Trump in his successful quest for the presidency.
During his campaign, Trump also chided Apple for manufacturing products in China.
MORE: Trump's EPA head Pruitt: climate-science denier who sued the EPA many times
Virtually all of the executives summoned for the Wednesday meeting accept the scientific consensus that human activity has contributed to climate change.
This would seem to put them at odds with several of Trump's campaign promises, and recent cabinet nominations.
During the campaign, pledged to unlock and deregulate exploration for fossil fuels, assist in the construction of new oil refineries, and "bring back coal," among other promises.
Coal, by Flicker user oatsy40 (Used Under CC License)
Trump has named Oklahoma attorney general Scott Pruitt to head the Environmental Protection Agency, which Pruitt repeatedly sued to prevent it from enforcing its regulations.
Rick Perry, his pick to lead the Department of Energy, is a fossil-fuel supporter who once vowed to eliminate that agency.
Rex Tillerson, the CEO of ExxonMobil, is Trump's nominee for secretary of state.
All three question the scientific validity of climate change, while Pruitt and Perry have explicitly fought against the agencies they are being tapped to lead.
Green Car Reports respectfully reminds its readers that the scientific validity of climate change is not a topic for debate in our comments. We ask that any comments by climate-change denialists be flagged for moderation. Thank you in advance for helping us keep our comments on topic, civil, respectful, and fact-based.
_______________________________________________