Petro-Canada gas station, Crossfields, Alberta, with electric-car charging station
Canadian electric-vehicle policy seems to be enjoying its own annus mirabilis, or "wonderful year," during 2016.
While "a journey of 1,000 miles begins with a single step," plug-in proponents could be forgiven for wanting to advance more than a step at a time.
Here, then, are a half-dozen recent examples from north of the 49th Parallel.
1. Quebec affirms ZEV plans
During December's Paris climate conference, the government of Quebec affirmed its intent to create a California-style zero-emission vehicle mandate in the province by 2019. (The link is in French, but Google Translate suffices.)
Strategy for electrifying transportation, Province of Quebec, Oct 2013
Talk is cheap in politics, particularly for legislation as potentially contentious as a ZEV mandate. But  it's worth noting that the province does not have any automotive assembly plants that could skew its economic interests.
Quebec has also committed hundreds of millions of dollars to the development of a technology cluster around electrified transportation, and is served by a public utility (Hydro-Quebec) keenly interested in boosting its revenues through increased electricity sales.
So if Ontario, stuffed with plants making old-fashioned vehicles with internal-combustion engines, is the least likely Canadian province to implement a zero-emission vehicle mandate, Quebec would surely be the most.
2. Ontario strengthens incentives...
The province of Ontario recently raised its purchase rebates for plug-in electric cars (summarized here), and vehicle registrations should allow analysts to estimate the policy's impact on its plug-in electric vehicle sales during the coming months.
Effect of electric-car purchase incentives on Tesla Model S sales in B.C. vs Ontario and Quebec
This week, the province's right-leaning opposition party (the Progressive Conservatives) predictably denounced the government's efforts to institute a cap-and-trade system to put a price on carbon emissions. Surprisingly, the party argued for a revenue-neutral carbon tax instead.
Carbon pricing wouldn't materially impact electric-vehicle drivers, as nuclear and hydroelectricity provide more than 80 percent of Ontario's electricity.
But the Progressive Conservatives' decision to pivot left and embrace carbon pricing may suggest a willingness to continue some form of electric-vehicle policy support, if the party should come to form the next government.
3. ...as does British Columbia
British Columbia too renewed its plug-in electric vehicle policy, just this past week.
Sun Country Highway electric-car charging station, Burnaby, BC, Canada [photo: Matthew Klippenstein]
Premier Christy Clark announced a further funding allocation for the existing purchase-rebate program of C$2,500 to C$5,000. The province would also seek to purchase or lease plug-in electric vehicles, where suitable, for the government fleet.
The rebates are now capped based on the manufacturer's Suggested Retail Price, or MSRP, with vehicles costing more than C$77,000 no longer qualifying.
You can be forgiven for calling this the "Tesla clause," although it also affects the Porsche Cayenne S-E Hybrid, Porsche Panamera S-E Hybrid, BMW i8, and future Mercedes S 550e. The base Volvo XC90 T8 plug-in hybrid may just barely come in under this threshold, according to early indications.
More importantly, plug-in electric vehicles will now qualify for single-occupant access to carpool lanes. That's a potentially major selling point, since Vancouver is alleged to have the worst traffic in Canada.
Vehicle registration data in the coming months may allow us to estimate how much value Vancouver-area new car buyers place on faster commutes.
Petro-Canada gas station, Crossfields, Alberta, with electric-car charging station
4. A plug at every pump?
Turning to infrastructure, five Petro-Canada gas stations along Ontario's Highway 401 – possibly the most heavily travelled highway in North America – installed charging stations late last year.
The stations were part of a pilot program in conjunction with charging-station developer Sun Country Highway. We've previously reported on a Petro-Canada franchisee installing chargers at their gas stations in the Alberta, here.
Readers who find themselves traveling on the highway may wish to patronize these gas stations, and communicate their support and approval to parent company Suncor.
While it may not be as catchy as "a chicken in every pot", there seems to be no reason that plug-in electric-car advocates shouldn't aspire to a world with "a plug at every pump."
2012 Nissan Leaf in the autumn outside Ottawa, Ontario, Canada [photo: Ricardo Borba]
5. Canada's first used hybrid and electric-car dealer
With Quebec being at the forefront of plug-in electric vehicle adoption in Canada, it may not be a surprise that the country's first hybrid- and electric car-only used-vehicle dealership would emerge in the province. (Link available in French only.)
The new dealership is parent company Montreal Auto Prix's fourth in the municipal area, and is expected to employ the same haggle-free approach used at other locations.
The firm has sponsored students at l'Ecole Polytechnique working on a high-performance electric vehicle project and hopes it can help Quebec reach its goal of 100,000 electrified vehicles on roads by 2020. (The latter is often incorrectly interpreted to mean plug-in electric vehicles only, but in fact includes hybrids as well.)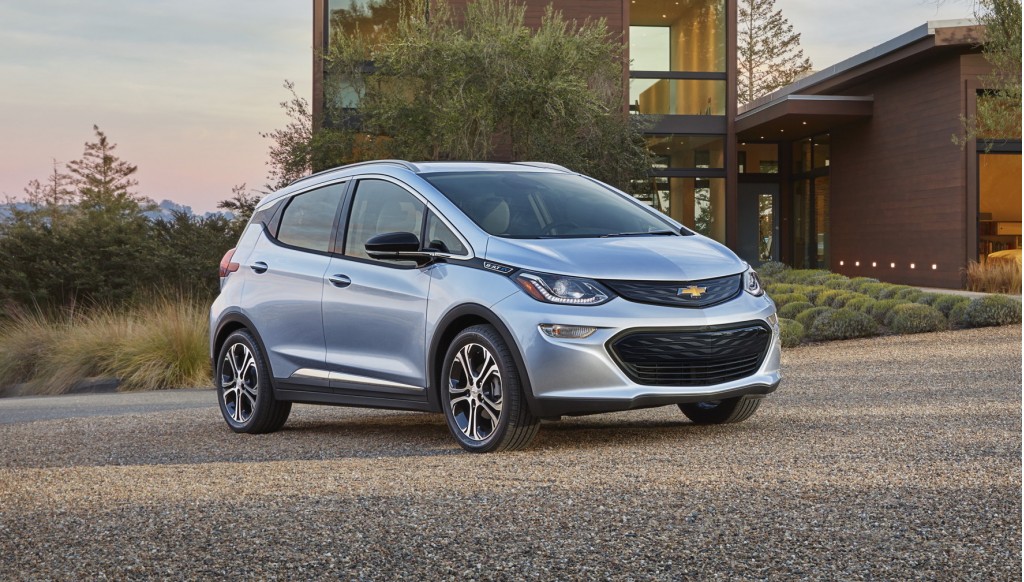 2017 Chevrolet Bolt EV
6. Early Bolt orders booming

High-volume Chevy Volt dealership Bourgeois Chevrolet now reports having 102 pre-orders for the Chevy Bolt EV for when it arrives at the end of the year.
While these aren't Tesla-esque reservation numbers, they're more than respectable, and bode well for the plug-in electric vehicle sector's chances of steadily (if slowly) eroding combustion vehicles' market share.
_______________________________________