Electric cars and organized religion aren't necessarily seen as fellow travelers, but one megachurch is bridging the two in pursuit of its mission.
The Resurrection Fellowship Church in Loveland, Colorado, has installed a charging station in its parking lot--and its pastor, Jonathan Wiggins, has leased a BMW i3 electric car for his personal use.
The church plans to add a second charging station, giving the ability to charge four cars simultaneously, for the use of its parishioners, employees, and the public at large.
DON'T MISS: Recharge As You Revere: Charge At Church, It Pays To Praise (Dec 2010)
Pastor Wiggins (he prefers to be known simply as "Jonathan") spoke with Green Car Reports about the intersection of the church's mission and electric cars.
He admits to being "a bit of a car nerd," and had actually test-driven a Tesla Roadster at the single Tesla Store permitted under Colorado state law. But that high-performance sports car was both impractical and very expensive.
It wasn't until the recent crop of more affordable electric cars and lease programs arrived that the church could consider one for his use on official business.
Resurrection Fellowship Church, Loveland, Colorado
An independent or nondenominational Christian megachurch that originally began as part of the Assembly of God, Resurrection now attracts 2,000 to 3,000 people to its weekend services.
Its mission, Wiggins says, is "to touch the community, the nation, and the world with acts of compassion, to spread God's love" both locally and globally.
Personally, he said, he began to think about the connection to environmental concerns while reading the works of the pioneering U.S. conservationist John Muir.
ALSO SEE: Ranking SW States On Electric-Car Support: CO Best, WY Worst (May 2013)
Muir, he noted, was the son of a pastor--and Wiggins said that he personally came to view "the roots of the conservation movement as not all that far removed from caring for God's earth."
After absorbing the literature that showed that driving on grid electricity was far less harmful to the environment than burning fossil fuels, an electric car increasingly seemed like a way to pursue that mission.
Meanwhile, his local BMW dealer was offering very reasonable lease terms on the then-new BMW i3. He leased the battery-electric minicar in January 2015.
Pastor Jonathan Wiggins, Resurrection Fellowship Church, Loveland, Colorado
Church members have gently ribbed him about being "the pastor who drives a BMW," he said, with one farmer suggesting he should hang the popular "bull balls" accessory from the back to reinforce his rural credibility.
The combination of state and Federal tax incentives on the car, however, kept the cost comparable to that of a similarly sized gasoline car from another maker.
Members of the congregation concerned about the cost of installing charging stations used by only a few vehicles were reassured that 80 percent of the cost of roughly $8,000 was paid through a grant from the state's Charge Ahead Colorado program, in which Resurrection is apparently the sole church participant.
CHECK OUT: Why Electric-Car Owners Should Be Happy For New Colorado Tax (May 2013)
As far as he knows, Wiggins was the very first pastor in Colorado to drive an electric car.
But, he said, he's aware of a second church in the state that is planning to install charging stations at a new facility it's building, and he's spoken with that pastor about his i3-driving experiences.
Overall, Wiggins is a fan of the church's leased BMW i3, though he notes that in talking to parishioners and the public at large, he's come to understand that in his community--as elsewhere in the U.S.--battery-electric vehicles face three key hurdles.
Pastor Jonathan Wiggins recharges BMW i3 electric car in Resurrection Fellowship Church parking lot
First is the price point, since some buyers will turn away from a high bottom line even before they learn about financial incentives.
Second, of course, is range; 80 miles, minus a significant penalty for cold weather, just isn't enough for many drivers in a state where towns can be separated by 20 or 30 miles of mountainous roads.
And third is the lack of all-wheel drive in any all-electric vehicle south of an $80,000 Tesla Model X. "Snow is a big deal in Colorado," he noted modestly.
READ THIS: Colorado's Electric-Car Credit: Applies To Used Cars Too
Still, Wiggins works quietly to educate not only church members but its 60 employees about the benefits of electric cars, both for the environment and for their pocketbooks.
And with Colorado providing a full state tax credit for the purchase of a used electric car from out of state, it has a unique opportunity to get less-expensive plug-in vehicles into the hands of lower-income drivers.
As for the self-professed Christian "car nerd," Wiggins says he's very interested in the upcoming 2017 Chevrolet Bolt EV when his lease expires next January.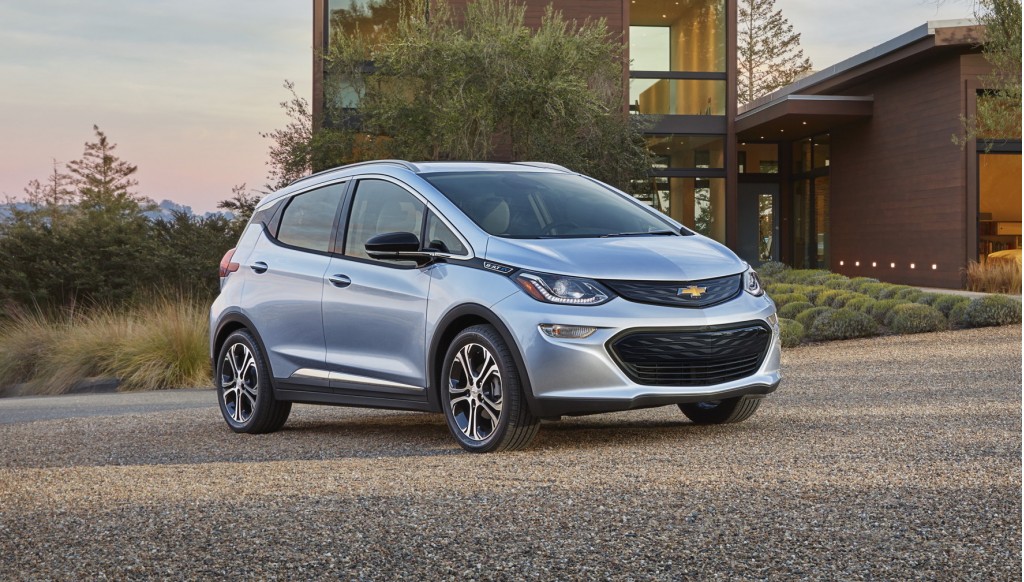 2017 Chevrolet Bolt EV
While it doesn't offer all-wheel drive, the price is actually lower than that of his current BMW i3, and its 200-mile range would give him far more margin of comfort for longer trips and in winter weather.
He plans to have a chat with his local Chevy dealer soon.
[EDITOR'S NOTE: An earlier version of this story stated that Resurrection Church is paying for the lease on Pastor Wiggins' BMW i3 electric car. He later explained that he acquires and pays for his own cars. It also said that 80 percent of the cost the charging stations at the church had been covered by the Department of Energy's Workplace Charging Challenge. In fact, the funds were provided by the state of Colorado, through its Charge Ahead Colorado program. Green Car Reports regrets the errors.]
Photos provided by Resurrection Fellowship Church media department.
[hat tip: Annie Freyschlag, Ben Prochazka]
_______________________________________