The Koch Brothers of Texas have long been bêtes noires to the progressive side of the political spectrum.
Now, it appears, the dynamic duo are taking on what they perceive as a threat to their fossil-fuel interests: electric cars.
And Elon Musk, CEO of highly visible electric-car maker Tesla Motors, responded in his usual fashion: by tweeting.
DON'T MISS: Fossil Fuel Use Must Plummet By 2050, End By 2100: G7 Meeting
The saga began Thursday with an article on Huffington Post, "The Kochs Are Plotting A Multimillion-Dollar Assault On Electric Vehicles."
It alleges that "energy giants are worried" that electric cars may "come back to life" after they were "killed" once already.
So, suggests author and freelance reporter Peter Stone, "It's time to kill it again."
Gas pump
In pursuit of that goal, he says, "refining industry sources" will spend up to $10 million a year to attack government incentives for plug-in vehicle adoption and promote petroleum-based fuels for transportation.
Behind a new advocacy group to be formed, Stone says, are two fossil-fuel executives.
One is Charlie Drevna, who until last year ran lobbying for the American Fuel and Petrochemical Manufacturers. The other is James Mahoney, a "confidante of the [Koch] brothers and member of their company's board."
The pair held preliminary talks with "several energy giants" last year, the article says. Then, Mahoney moderated a seminar on "Changing the Energy Narrative" at the secretive California retreat held by the brothers for wealthy conservative donors and activists.
Unsurprisingly, the writer notes, "Neither Mahoney nor Drevna returned multiple calls seeking comment about the new group. A Koch spokesman also didn't respond to a request for comment."
Oil well (photo by John Hill)
The article is longer than the usual Huffington Post piece, and quotes analysts and commentators on both sides of the issue.
Its general drift is that electric-car adoption may grow exponentially in years and decades to come, and the group will mount a "pugnacious" defense of the role of fossil fuels for transportation against an Administration perceived to have a bias toward phasing them out.
Lobbying sources suggest that a likely approach for such a campaign could be as simple as, "Petroleum creates American jobs."
Tesla CEO Musk provided a single-word comment on the article in a Friday tweet.
Sigh …https://t.co/VelOzAKIW6

— Elon Musk (@elonmusk) February 19, 2016
He followed up an hour later with another comment:
Worth noting that all gasoline cars are heavily subsidized via oil company tax credits & unpaid public health costs https://t.co/4li5E013Dj

— Elon Musk (@elonmusk) February 19, 2016
For context, over the past five years, Nissan has sold 200,000 Leaf electric cars, Tesla and General Motors have each sold roughly 100,000 cars with plugs, and more than a dozen other carmakers now offer plug-in hybrids, battery-electric cars, or both.
The U.S. EPA has estimated that updating a 2012 vehicle to meet corporate average fuel economy regulations in effect for 2025 will add about $3,000 in real dollars to the cost of every car, or about 10 percent of today's average transaction price.
Lithium-ion battery cells historically decline in cost about 7 percent a year--and for cars, perhaps more steeply over the past five years--and Tesla has shown how a DC fast-charging network can allow fully electric cars to travel long distances.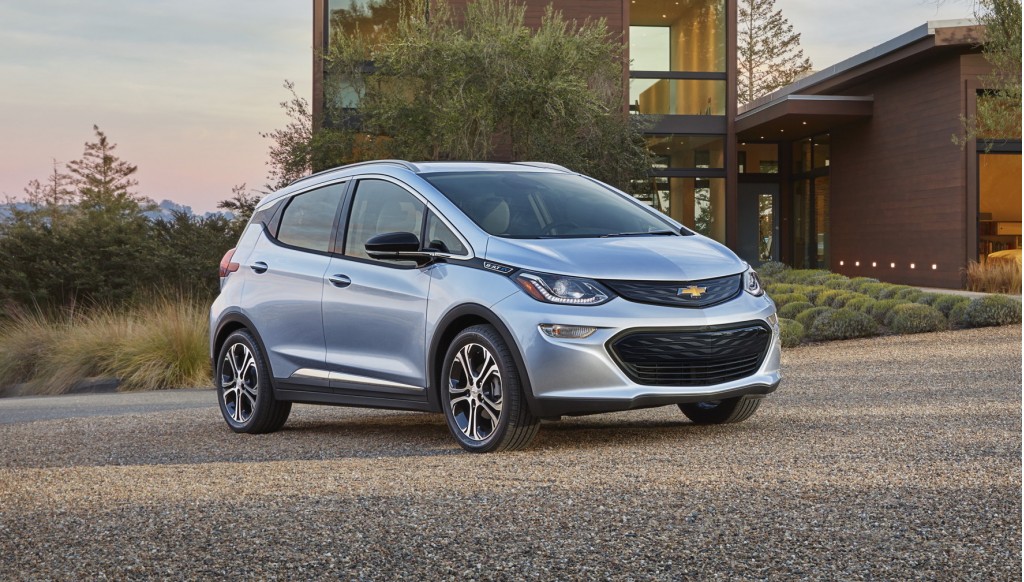 2017 Chevrolet Bolt EV
With a new crop of 200-mile electric cars coming for 2017 and beyond, industry analysts expect a new group of buyers to be willing to consider plug-in cars.
Whether and when adoption of plug-in cars accelerates is a topic for endless, lengthy, and often contentious debate in government, carmaker boardrooms, and the ranks of enthusiasts worldwide.
But if legacy energy interests are in fact planning a campaign to tout the transportation benefits of burning fossil fuels and emitting carbon dioxide into the world's air, perhaps their prospects are brighter than some had realized.
Meanwhile, as Washington Post writer Brian Fung notes, "When billionaires go to war, the rest of us grab the popcorn."
_______________________________________