Despite its name, the annual Consumer Electronics Show (CES) in Las Vegas is now effectively an auto show.
The increasing importance of in-car technology and autonomous driving has brought the automotive and electronics closer together than ever before.
Carmakers have had a big presence at CES over the past few years, and tech companies and suppliers have made numerous car-related presentations.
DON'T MISS: 2017 Chevrolet Bolt EV: Production Car Spied Before 2016 CES Reveal

That will continue this year, with several confirmed concept-car debuts, plus the unveiling of the production 200-mile 2017 Chevrolet Bolt EV electric car.
More news will likely come out of CES as the event runs its course this week, but in the meantime, here's our roundup of the confirmed green-car debuts and announcements.
2017 Chevrolet Bolt EV spy shots
2017 Chevrolet Bolt EV
The production version of the 2017 Chevrolet Bolt EV electric car will be unveiled at CES, where General Motors CEO Mary Barra will be the keynote speaker.
The Bolt EV concept was unveiled at the 2015 Detroit Auto Show with a claimed 200-mile range and base price of $37,500, before any Federal, state, or local incentives.
ALSO SEE: 2017 Chevrolet Bolt EV: Production Version To Appear At CES

To develop the production version, GM entered into an unprecedented partnership with LG Chem.
The South Korean company will supply not only battery cells, but also nearly every other powertrain component, from the electric drive motor to the onboard charger.
Production of the Bolt EV is expected to commence at GM's Orion Assembly Plant in Michigan before the end of the year.
Teaser for Faraday Future concept car debuting at 2016 Consumer Electronics Show
Faraday Future concept car
Mysterious electric-car startup Faraday Future will show its first concept car at CES.
This will provide a hint at the what the electric car it plans put into production by 2017 will be like.
Faraday won't discuss specifics, but it has hinted that the production car will feature some degree of autonomous capability, and could be marketed as part of a car-sharing scheme.
RELATED: Faraday Future Electric Car Concept Coming To 2016 CES

The car will be built at a new factory in North Las Vegas--not far from where CES is held, coincidentally.
Faraday has said it will invest $1 billion in the factory, and that it could break ground later this month.
The company will rely on cash from Chinese billionaire Jia Yueting and the expertise of staff culled from various car companies, including BMW and Tesla.
2015 Ford Focus Electric, 2014 New York Auto Show
Ford
Ford will hold a press conference Tuesday, but will not discuss the specifics of its announcement.
Recent reports have claimed Ford will announce a partnership with Google to develop autonomous cars, although neither company will confirm such a collaboration.
Partnering would make sense for both companies, though. Ford could leverage Google's years of autonomous-car experience, while the tech company would finally have an automotive OEM ally to help commercialize the technology--something it has sought for some time.
MORE: Long-Range Electric VW 'Budd.e' Concept To Debut At CES (UPDATED)--Video

Google has a fleet of custom-built autonomous electric cars, but does not consider them production ready.
Ford announced plans for an autonomous production car at CES last year, and is currently testing an autonomous prototype based on the Fusion Hybrid.
Further media rumors suggest Ford will announce that it will offer Android Auto and Apple CarPlay on many of its 2017 models.
Rinspeed Etos concept, 2016 Consumer Electronics Show
Rinspeed Etos
Swiss design firm Rinspeed has turned the Tesla Model S and BMW i3 into outlandish concept cars, but now it's turning it attention to the BMW i8.
The Etos concept adds autonomous capability and more to BMW's plug-in hybrid coupe.
In autonomous mode, the steering wheel folds away and the information displays transform into an entertainment system.
The car also features its own drone, which can film the Etos driving and upload the footage to the Internet.
In addition, the Etos itself has an array of cameras that can record 180-degree views in front and behind, as well as eliminate the need for conventional side mirrors.
As with Rinspeed's other flights of fancy, the Etos isn't meant for production, and many of its high-tech features are likely just for show.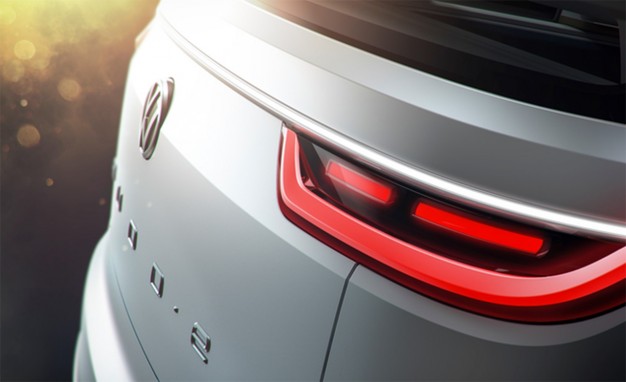 Volkswagen 2016 CES electric concept vehicle teaser photo
Volkswagen Budd.e concept
A rumor of an electric Volkswagen Bus concept for CES first circulated in September, just before the VW diesel scandal erupted.
Now, it appears an electric concept inspired by the classic Volkswagen Type 2 bus is more than a rumor.
Over the past couple of weeks, VW showed multiple teasers for the concept--including one that appears to reveal the "Budd.e" name.
VW already has this name trademarked in Germany, and it's a play on Bulli, the original name of the Type 2 bus.
In a press release announcing the concept, VW said it "marks the beginning of a new era of affordable long-distance electromobility."
That means--if it goes into production--the bus could be Volkswagen's first mainsteam long-distance electric car, alongside the Audi, Porsche, and VW Phaeton luxury cars the company confirmed over the past few months.
_______________________________________________