It's not just the cars made by electric-car startup Tesla Motors, or the fact that it's the first new automaker in decades that appears to have a serious chance of long-term success.
The Silicon Valley company is also viewed as a potential disruptor of established players.
In just three years, the Tesla Model S has emerged to become a legitimate competitor to traditional luxury cars from companies that have been around for more than a century.
DON'T MISS: Tesla Model 3 Lineup To Include SUV, Sedan; 1 Million Electric Cars By 2020
Not to mention that Tesla's direct-sales model is viewed as a dire threat by traditional franchised auto dealers, who have launched armies of lobbyists to make Tesla sales illegal in as many states as possible.
Now a new article suggests that Tesla might eventually take down a much bigger target.
Speculation about whether Tesla could mean the end for hydrocarbon vehicle fuels was the cover story in a recent issue of oil-industry trade magazine Alberta Oil (via Charged EVs).
Tesla Motors stand at 2014 Detroit Auto Show
The cover shows a Model S emerging from a black background, with the headline "Hell On Wheels."
In the article, author Max Fawcett argues that the Model S could be one of the "most dangerous" cars ever made--in terms of its impact on the oil industry.
That's because, by his reckoning, the Tesla sedan has managed to do something that no other electric car has done: "become an object of desire."
ALSO SEE: Do Tesla, Panasonic Differ Dramatically On Growth Of Electric Car Batteries?
Fawcett interviewed Quartz journalist Steve LeVine, author of The Powerhouse, a book on the development of electric-car batteries.
Widening the scope beyond Tesla, LeVine said that improved batteries are more or less inevitable, and that they will dramatically increase demand for electric cars.
He notes that breakthroughs in battery technology don't have to come from carmakers. Electronics manufacturers and other related industries could contribute to the push as well.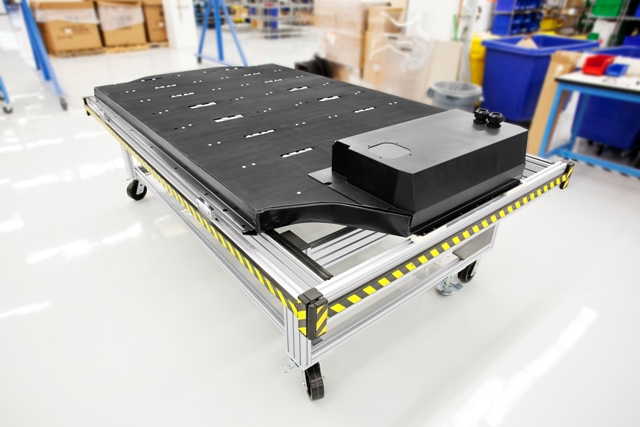 Tesla Motors - Model S lithium-ion battery pack
And LeVine notes that batteries could be paired with other energy sources--such as hydrogen fuel cells or supercapacitors--to increase the range and performance of zero-emission vehicles.
He predicts the electric-car battery industry could be worth as much as $100 billion by 2030.
That would lead to a major drop in oil consumption, a scenario the oil industry may well not be prepared for.
_______________________________________________